By Mary Loftis —
Andy Freeman thought about a new addition to the Dublin General Store for a long time, in fact ever since he and Michelle purchased the store ten years ago. The beautiful new space on the street side of the store, built this past summer and furnished over the past few months, reveals the careful planning and attention to detail the Freemans are known for.
Personally, I think our General Store is the best one in the Monadnock Region! Think about the warm greeting we all receive for just walking in the door. Think about scones and coffee, Saturday donut holes, lunch specials, pizza Thursdays, fish Fridays, festive beer tastings. And then there's the way the place looks: each change the Freemans have accomplished over the years has improved the functionality of the store while remaining sensitive to the historical quality of the building. The new dining / meeting area fits the architecture of the building so well that some people don't even notice it! The interior features bead-board paneling and ceiling and the store's hallmark green, red and pale yellow color scheme. Along with the sit-down dining area, the store now has an ADA-compliant public bathroom.
Andy himself designed the space and relied on local talent to make it a reality.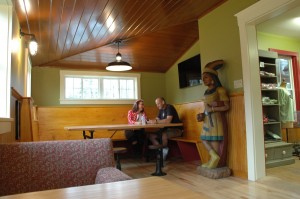 Greg Pease's careful carpentry is evident inside and out. Francis McKenna created a beautiful hand-planed wide pine table, which is surrounded by vintage stools provided by Tom Seaver. Smaller tables are flanked by soft seating repurposed from a medical center. A new addition to the space is a 13-foot pew from Our Lady of the Snows, which will adjoin a series of tables along the inside wall. Andy said his idea was to create a variety of seating opportunities, some of which will encourage "unrelated" people to sit together and converse while they eat. Mounted to the wall is a large, flat screen TV, which is available for sports events or ESPN news. It's not on continuously, however, because Andy maintains that "Quiet is okay, too!"
During the day, the south-facing room is flooded with sunlight and the lunch crowd spreads out their sandwiches; in the evening, folks come in for a light supper. The new area has had steady traffic all day long. Come winter, it will be the perfect spot to get out of the weather, meet friends and neighbors and enjoy some good "DubGen" fare.
Mary Loftis is on the staff of the Dublin Advocate.