By Brad Bates —
On October 30th a group of students and faculty had a glorious morning skiing and snowboarding through 30 inches of snow on our new ski area. When I got home later that day I scanned a list of western ski areas that opened their winter seasons early and noticed that for one day, Dublin, NH, had the deepest snow base in the nation. It has been that kind of fall at Dublin School as we enter our 76th year of educating young people from around the world.
While last year we turned to our past to celebrate an important anniversary in the school's history, this year our focus rests firmly on the present and future. At the bottom of our ski slope you will find a brand new Mews (named Mary's Mews after Colin Sistare's beloved grandmother) that is currently home to a beautiful red tail hawk on loan to new English teacher and resident falconer Henry Walters. Henry hopes to catch a juvenile male hawk this fall before the permanent snows arrive.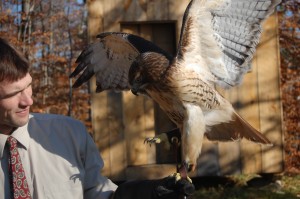 Just below the mews we are over halfway through construction of a seven thousand square foot academic, visual arts and student commons building. Carl Von Mertens and Andy Hungerford have taken the lead on that project under the watchful guidance of local trustees Bill Barker, Peter Imhoff, and George Foote. Once the building is completed, we will tear up the pavement in the middle of the campus, plant grass in its place to expand the quad, and build a courtyard between the new building and the Lehmann House. Our new access road from the north will make our campus safer and more pedestrian friendly by removing delivery vehicle traffic from the middle of campus.
Music is flowing from every nook and cranny on campus with the arrival of music teacher and composer Mario Flores. Mario has developed a number of ensembles including a jazz and rock combo, a small orchestral group, a chorus, an advanced music lab and a number of rock groups with the help of math teacher Sam Peyton Levine '05 and Dean of Students Eric Nemitz.
Veteran educators Bill and Shelly Farrell have joined our faculty this year and have started a highly successful mountain-bike team to take full advantage of our extensive trail system and the beautiful country roads in the area. We recently hosted a large league race on campus and were fortunate to have local Olympic bike veteran John Allis serve as official starter. Bill and Shelly will also coach our growing snow sports program as they work to foster an endurance sports culture on our campus.
Lucy Shonk is working with area residents to create an informal lecture series on campus that will be open to the public. We hope to include our new Perkin Observatory in one of the earlier lectures this winter. Since opening the observatory is weather dependent, anyone interested in viewing the stars at the observatory can now follow Perkin Observatory Director Jonathan Weis on Twitter at DS_Observatory or by checking our home age at www.dublinschool.org.
We hope to see many town residents on our campus this winter for our numerous upcoming events.
Brad Bates has served as Head of School for Dublin School since 2008. [Photo by Kenny Navedo '14]