By Laura Tuller —
I loved growing up in Dublin, but when I applied to college, I was ready to leave New England. Finished with my degree in Pennsylvania, I was ready to move somewhere warmer. Finishing my year of AmeriCorps service in Virginia, I was ready for a new country. In August 2010, I traveled to Taipei, Taiwan, and called it home for the next year.
During the week, I studied Chinese by morning and taught English at night. Most weekends, my friends and I ventured to different parts of the island in an effort to get out of the city, explore different landscapes, and spot as many wild monkeys as possible. One Sunday in June we took an early train to a small oceanside town on the eastern coast of Taiwan. Our plan was to walk approximately 15 miles from one town to another, and return to Taipei by train. The hike was long and hot, but not difficult, and punctuated by charming gazebos with breathtaking ocean views on one side, and herds of water buffalo on the other.
Midway through our journey we broke for lunch at a scenic overlook which had a road leading up to it so less adventurous folks could enjoy the view without having to exert themselves in the hot Taiwanese sun. When we arrived there was a large crowd of tourists, several dogs, and even a surly looking Siamese cat who had been schlepped in a backpack by a determined owner. As we sat down to our picnic we noticed a black puppy playing with a larger dog nearby. We assumed they both had owners, and thought nothing of engaging them in play. As we finished our lunch the clouds rolled in, and the view was obscured by the fog. Within moments nearly everyone else was gone, except for the puppy.
She didn't look raggedy enough to be a street dog, so we began asking the few remaining hikers if she belonged to them. Every time we inquired "Is this your dog?" they would smile knowingly and respond with "No, it's your dog," We decided to stop encouraging her, hoping that she would stay on the mountain and reunite with her owners but as we soldiered on through the fog, she trotted beside us, undeterred.
Seven miles later we had named her Stella, and our friend Dustin had volunteered to take her home.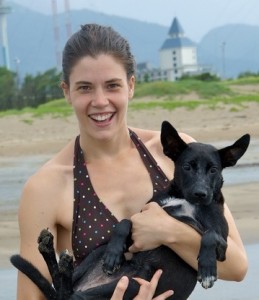 Feeling guilty that we had unintentionally lured such a good dog off the trail and into a town with a busy road, we made our way to the train station, knowing we would have to take her on as a stowaway. She seemed to understand that she was illicit cargo, hiding quietly under the seat the entire time. We reached Taipei, and Dustin made his way home with the puppy in his arms.
The next day we awoke to a startling message which said that Dustin's roommates had rejected the idea of having a dog, and that he had taken her to the city animal shelter. We did a bit of research and discovered that this particular shelter killed 1000 dogs per month. Horrified by the prospect of such a beautiful and gregarious dog being sent to death row because of us, my boyfriend Alex and I rushed to claim her. The shelter clerk told us that we could look through all of the dogs, and if we spotted her, take her home. We walked from room to room, peering into cages crammed full of barking, panting, pathetic looking animals. Finally, we found her, wiggling with excitement.
As it turned out, those people on the trail were right: she was ours. We took her home, created a makeshift dog carrier out of an Ikea bag, a piece of plywood and some foam matting, and tried to fatten her up a bit. Though we attempted find her a suitable home, everyone with whom we spoke said one of two things: 1) at 26 pounds, she was too big, or 2) she was bad luck because she had white on her feet (an ancient Chinese belief related to the color white symbolizing death). As far as we were concerned, she was perfect, and we couldn't let her go. As we made plans to return to the U.S., we researched how we could bring her on the plane. As it turned out, all she needed was a rabies shot and a health check within ten days of our trip to be admitted. China Airlines reported that she would be counted as an extra piece of baggage, and that she would come out on the other end with the golf clubs and the bicycles.
I can't vouch for what kind of ruckus she was raising in pressurized cargo, but she arrived on U.S. soil unscathed. Needless to say, she loves Dublin, and every chipmunk, squirrel and rabbit that calls it home. Though my plan is to eventually bring her to the west coast, I feel a little guilty about the prospect of taking her away from such canine paradise. However, her little body is only covered with a thin coat of fur, so this winter might change her mind.
Laura Tuller is home briefly between opportunities, and is making plans for her next adventure.