By May Clark —
By the time you read this, Christmas and Hanukkah will have come and gone, but as I write, we are still in the midst of the preparation. I want to tell the community particularly about two special December events, the Holiday Shoppe and the Winter Concert. The Holiday Shoppe is run by our wonderful PTO, and involves an opportunity for all our children to do a little secret holiday shopping for their families. They go to the "shoppe," set up in the library, to choose gifts for loved ones (purchased by PTO elves), and their families pick up the (small) tab. They wrap their special gifts and take them home to surprise everyone with.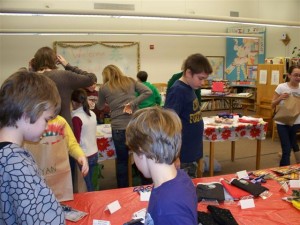 This event is one of our favorites; it's pure pleasure to watch the small faces glowing with joy and happy secrets as they wrap their chosen items. Special thanks go to all our parents who make this possible each year.
Our Winter Concert is a tradition too, where the students, dressed in their best, sing for their families, and our band plays too. Then we get a visit from Santa, who delivers a gift for each child in town, from birth through fifth grade. This extraordinary show of generosity is put on by our Fire Department, whom we thank with all our hearts.
DCS has also developed a tradition of gift giving along the lines of contributions to local or national organizations. In the past we have supported the Heifer Project, relief organizations, and local animal shelters. This year we are supporting the River Center in Peterborough, to thank them in our own small way for all the good work they do for our community.
January brings the DCS Ski Program, running for the first five Thursdays after the holiday break, at Crotched Mountain. About half our students participate, and enjoy the slopes once a week for the afternoon. Students staying home have some extra outside time and cocoa. We'll also have our second round of NWEA testing this month, for students in grades 1-5, and we will be settling in for the long winter haul, with plenty of time for uninterrupted learning.
We love visitors, just call 563-8453 or email first (mclark@nullconval.edu).
May Clark is Teaching Principal at DCS.
Dublin Consolidated School News