Larry & Nancy Ross Share their "No Fuss Decorating" In Better Homes and Gardens Magazine
By Ramona Branch —
If you bought the December issue of "Better Homes and Gardens," the popular, widely read, national magazine, you would have seen the six-page story about Nancy and Larry Ross and their beautiful Dublin home decked out for Christmas. To find out how this all came about I made a visit to the Rosses'.
RB – How did your home come to be featured in one of America's most popular home magazines?
Nancy – Our home in Peterborough had been featured in the magazine some years back.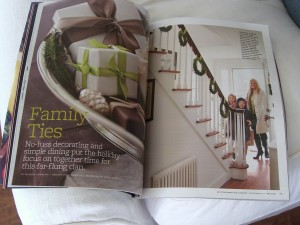 The same magazine representative, Stacy Kunstel, who had worked with us before, called me and asked if she and the magazine's East Coast editor, Chris Kennedy, could come to Dublin and see our home. After touring our house Chris said she wanted it for the Christmas issue.
RB – Tell me about the photo shoot and what that was like.
Nancy – The most interesting thing was that the shoot was done in May. So taking pictures in the beginning of summer with our home decked out to look like Christmas was a little tricky. No shots could be taken through the windows because there was no snow on the ground.
The production crew was five people who came and stayed for five days. They had tons of equipment. They went in the forest and cut a tree and decorated it with my decorations. I was told they shot 40 different individual pieces or settings. Larry and I left the house for portions of the day to make room for all of them and their equipment. Since we had gone through this once before we sort of knew what to expect. It was fun to see how this team decorated my house using many of my own decorations and mixing them with some that they brought.
RB – Who wrote the piece?
Nancy – Sharon Overton wrote the story. She lives in Oregon. She called and interviewed me for three hours over the phone.
RB – How did your daughter, Jen Cilley, and her two children enjoy being in the shoot?
Nancy – They enjoyed being included even though it was pretty tiring.
Profile of Rosses

Larry is a West Point graduate and retired military man. They moved 35 times during his career. Prior to his retirement he was Commander of the Army Materials Research Laboratory in Watertown, MA. He served as a Peterborough selectman, New Hampshire state representative, and was executive director of Monadnock Business Ventures. Nancy, an antiques expert, worked at the Red Chair Antiques for 11 years. The Rosses lived in Peterborough on Old Dublin Road for 21 years.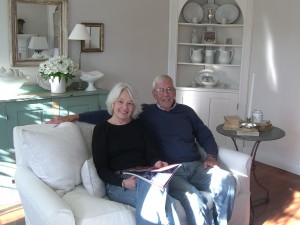 The couple has four children – Elizabeth in CA; Doug in Georgetown, TX; Jen in Bedford, NH; and Cathy in Surry, NH.
Ramona Branch is a freelance writer and editor and is on the staff of The Dublin Advocate.
Larry & Nancy Ross Featured