By Margaret Gurney —
Shelby Bourgoine, a Dublin resident and junior at ConVal, knew she wanted to go into a nursing career since she was quite young. But the 17-year old young lady took advantage of a program offered at ConVal and has now already earned a degree toward her goal.
"The program is run through the Region 14 Applied Technology Center," reported Abby Spegman in the Keene Sentinel 's Spotlight on Local Schools (12-11-11), "which serves students from ConVal and Conant High School in Jaffrey. It's been offered for more than 10 years and is always in high demand, said Mandy Fraser, the center's career coordinator. With their certification, students can be hired right out of high school, she said.
The students spend seven weeks in class, taught by staff from the Red Cross, and then do 60 hours of clinical rotation over three weeks, this semester at RiverMead retirement community in Peterborough."
Upon request, Shelby provided her own description to the Advocate, which needs no additions.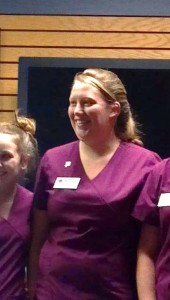 In Shelby's own words:
"This past fall I took a LNA (Licensed Nursing Assistant) class at ConVal provided by the Red Cross. It started in the beginning of the school year and ended this past week. On Wednesday (12-7) we had our graduation where we all received a certificate and pins. This class was a great experience and will help me get my foot in the door for a future nursing career. It was hard-work time managing everything but it was worth it! Along the way I had a lot of support from my friends and family! I had a lot of fun learning new things and meeting new people. There were eight of us girls who took the class, and we've all become great friends! It was so fun to practice everything we learned during class at our clinicals. I am so grateful that I was able to take this class and I wouldn't trade it for anything! On Saturday (12-10), I took my state exam to become a LNA and am currently awaiting my results."
Due to the fact that Shelby is not yet 18 years old, she is not allowed to be hired as an LNA, so currently Shelby is working as a dietary aide at RiverMead.
Margaret Gurney is editor of the Advocate.
Local High School Student Earns LNA