Locally Carved Birds on Display at Wilderness Creations —
Carved birds by local artist Tim McEachern are now on display at Wilderness Creations, LLC in Dublin. A member of the League of N.H. Craftsmen and winner of international awards, McEachern strives to "deepen nature's beauty and mystery" with his work.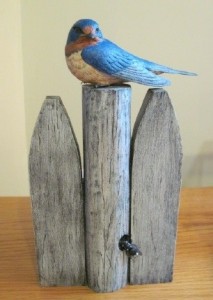 Carved from Tupelo wood and painted in acrylic and oil, each sculpture starts with extensive research to capture the exact dimensions and details of the bird, resulting in an exquisite life-like carving. Works on display include: Egret on Alligator, Barn Swallow, and Gyr Falcon. Gallery hours are Tuesday – Saturday: 10-5, and Sunday: 10-2.
For more information, please contact Wilderness Creations, LLC at 563-7010.