The Friends of the Dublin Public Library will have an annual meeting on Wednesday, January 18 at 7 pm in the lower level of the library. The meeting is free and open to all and refreshments will be served.
Professional Fiber Artist Miriam Carter, a felt maker specializing in handmade felt hats and accessories, will present a program on the art of felt making — the history and process of creating this unique fabric. A demonstration of how she creates her hats will be included so be prepared to get your hands wet!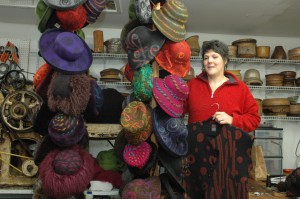 The "Friends" will host an annual Book Sale on February 16 and 18. We are still accepting donations of books in good condition. We will be happy to pick up any donated books for the annual Book Sale in February…just give Kim Allis a call at 563-8691 to arrange pick up.
Miriam Carter to Speak at Library