Join your Dublin neighbors for a frosty day of fun!
By Jen Bergeron —
The Dublin Recreation Committee invites all Dubliners to its annual Winterfest celebration on Saturday, February 11 from 11 am to 2 pm at the Dublin Consolidated School (DCS). Join us for a day of winter fun!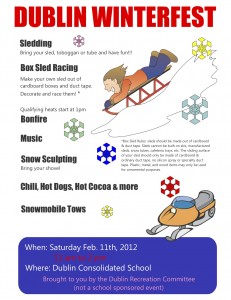 Music and a bonfire will help to keep us warm. Hot chocolate, coffee, hot dogs and chili will also be provided. WinterFest's main activities include Snowmobile Tow Rides (courtesy of the Monadnock Trailbreakers Snowmobile Club) and the infamous Box Sled Race!
Qualifying heats for the Box Sled Race will start at 1 pm. Please arrive by 12:30 to register your box sled. Rules for the Box Sled Race are as follows:
1.            The sliding surface of all sleds can be made of cardboard and duct tape only.
2.            Sleds cannot be built on skis, manufactured sleds, snow tubes, cafeteria trays, etc.
3.            Plastic, metal, and wood items may be used for ornamental purposes only.
Start designing and building your box sled now for the big race! Or be there to cheer on the racers! Either way, think snow!
For more information, contact Jen Bergeron at 563-8308 or email jberge@nullmyfairpoint.net.
Winterfest: Postponed! Not on Feb. 11