By Ramona Branch—
Dublin's Budget Committee presented the 2012 proposed town budget to citizens in a public hearing February 14. Last year's proposed budget was $1,745,316. Proposed budget for 2012 totals $ 1,813,224. This represents a 3.89 percent increase over last year's proposed budget.
Dale Gabel, Budget Committee Chair, told the audience the increase is due principally to labor market adjustment on compensation and an increase in health insurance premiums.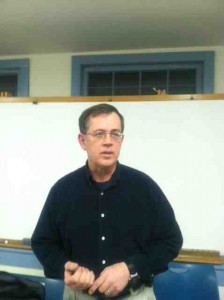 Gabel went through the proposed budget explaining any activity that had transpired in each of the 30 categories and the changes that were made.
The warrant articles that the town will vote on include:
1. Approve the town budget:            $1,813,224
2. Security, fire, access control, badging and video surveillance system:            $13,512
3. File server and server operating system:            $8,700
4. Approve safe routes to school grant to complete project:            $63,999
5. Paint exterior trim and interior foyer of library:            $7,200
6. Dublin Advocate grant:            $4,400
7. Capital reserve funds:            $143,000
8. Expendable trust funds:            $9,500
Polls will be open for voting by ballot on town officials and the ConVal School Budget and Bond Proposal (see article "Our Responsibility") on Tuesday, March 13, from 8 am until 7 pm at the Dublin Town Hall, Top Floor.
Town Meeting is Saturday, March 17, at 9 am at the Dublin Consolidated School.
Ramona Branch is a freelance writer and editor and is on the staff of The Dublin Advocate.
The Women's Club pre-town meeting will be held Tuesday, March 6, at the Town Hall. Refreshments at 7 pm and the meeting at 7:30 pm. Join Selectmen and the Budget Committee to go over Dublin's budget and warrant articles.
Public Hearing Reviews Town Warrant