The Walden School, which received special notice for its collaboration with the Firebird Ensemble and the Apple Hill Center for Chamber Music, is a summer music school offering programs that emphasize creative application through music improvisation and composition, and is located on the campus of the Dublin School.
The Walden School received the 2012 award for Small Contemporary Presenter/ Festival in an awards ceremony in January.
The 2012 CMA/ASCAP Adventurous Programming Award is the culmination of a highly accomplished year for The Walden School. In addition, The Walden School also received a $35,000 National Endowment for the Arts grant in support of its 2012 Young Musicians Program. It received the 2011 New Music Educator Award from the American Music Center in honor of its creative philosophy and curriculum, as well as its contribution toward decades of successful students. Plus, Walden School was named one of 50 finalists for the 2011 National Arts and Humanities Youth Program Award.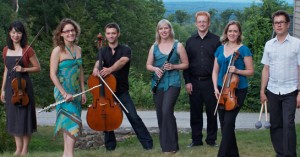 Walden Earns Programming Award