By Ramona Branch –
For Bonnie Powers food has always been her thing — fresh, local, and sustainable. She recalls when she was around eight years old she started baking cookies and brownies. Then she progressed to cooking simple dinners for her family, swapping for her regular chore of doing the dishes. Now she is turning her love of cooking and baking into a money-making home-based business. Certified with the state of New Hampshire as a homestead kitchen, Bonnie started her business making salted caramels. Then she covered the caramels in chocolate, and that became a great seller. Her product list has now expanded to include pecan sticky buns, truffles, cookies, brownies and scones. Her breads include cinnamon raisin, cranberry walnut and olive rosemary.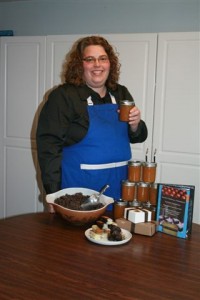 Her biggest customer is Vermont Country Deli in Brattleboro, which regularly orders up to 18  pounds of chocolate covered salted caramels. Locally Bonnie bakes and delivers her sticky buns to Ginger Snap Cafe, a newly opened café in Peterborough. A new project in the works is providing caramels packaged in gift boxes to PrintFusion, a Keene promotional products company.
On top of this rigorous schedule Bonnie is also very interested in supplying food to the hungry. She is a key player in developing the Perpetual Food Pledge Drive. The movement started at Antioch University Los Angeles. Bonnie, whose day job is webmaster for Antioch University New England, wanted to bring the concept to New England.
With her help, individuals at AUNE developed www.perpetualpfoodpledge.org. The site is a vehicle for individuals to commit to purchasing a healthy non-perishable food item each time they shop for groceries, and then donating it to those in need through their local food pantry, church or other organization of their choice. By taking the Perpetual Food Pledge, a person can become a part of the sustainable solution to squashing hunger in their area.
If you would like to learn more about Bonnie's confections contact her at EclecticWorks.etsy@nullgmail.com or 563-7703.
Ramona Branch is a freelance writer and is on the staff of the Advocate.
Bonnie Powers: Dream into Reality