Cobb Meadow School, a nonprofit Waldorf preschool and kindergarten in Dublin for children ages 3 to 6 years old, invites all to enjoy their annual puppet show, silent auction and bake sale fundraising event on Saturday, April 21, at 11 am at the Peterborough Unitarian Universalist Church (25 Main St.).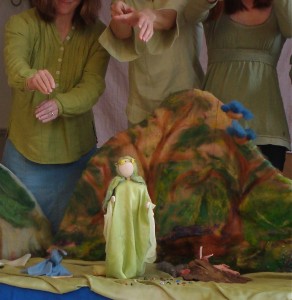 Children and adults will enjoy the Cobb Meadow Puppeteers as they present "Akimba and the Magic Cow," a light and humorous puppet show for all ages. The Puppeteers are a multigenerational troupe of Waldorf teachers, who have performed throughout New England and beyond. Admission to the puppet show is $5 for adults and $3 for children. Bidding for the silent auction begins at 10:30 am and continues after the puppet show.
Cobb Meadow School, established in 1992 by Jim and Libby Haddock in their home at 273 Cobb Meadow Road in Dublin, is celebrating its 20th anniversary, as well as its new status as a full member of the Waldorf Early Childhood Association of North America. The school is now accepting applications for the 2012-2013 school year.
For more information call Julie or Anne at (603) 563-7755 or email info@nullcobbmeadowschool.org.
Cobb Meadow School: Fundraiser