Duke Ellington's Sacred Concerts: Tickets for April 28 & 29 in Peterborough. —
A first-of-its-kind event in the Monadnock region is about to happen, and several Dubliners are a part of it. A tribute to Duke Ellington's jazz sound, his 113th birthday celebration will feature the 17-piece Amherst Jazz Orchestra, well-known soloists, two choirs from Keene State College, a 110-voice chorus, and young tap dancers from the Monadnock Performing Arts Academy.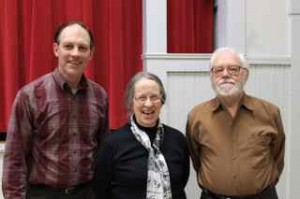 "A Tribute to Duke Ellington, featuring selections from his Sacred Concerts" will offer three concerts at the Town House in Peterborough. In addition to the usual Saturday night and Sunday afternoon full concerts, an extra Saturday matinee "Family Concert" (a one-hour version of the concert) has been added for only $5 a seat: Saturday, April 28, 3 pm, Family concert (1 hour, $5/person); and the Full concert at 7:30 pm; and on Sunday, April 29, 3 pm, Full concert (Full concert Tickets: Adults – $18 early, $20 at the door; Students – $10).
Tickets are available at the Toadstool, Rousseau's Music, and www.monadnock-chorus.org. This concert is sponsored in part by an Alfred Nash Patterson grant from Choral Arts New England, with support from media sponsor Yankee Magazine, and the Putnam and Verney Foundations.
Monadnock Chorus Presents