By Jeanne Sterling –
As Nancy Jackson arrived at the house, the coffee was ready to brew but my interview questions were nowhere near percolating. The last two interviews I conducted were with people I had known for over 45 years. This was my first 'newbie'. It wasn't long before I realized the 'newbie' tag didn't apply.
Nancy and Guy Jackson relocated to Dublin from Bolton, MA, where they had made their home for 28 years. During that time, the Jacksons were regular visitors to the region and climbed Mt.Monadnock several times a year. Guy is originally from Lincoln, MA, and Nancy grew up in Guilford, CT.
Guy is a 1967 graduate of The Dublin School. He and Jamie Meath, son of Dr. James and Mary Meath of Dublin, became steadfast friends. When Mary passed away several years ago, the Jackson sattended the services held at the Dublin Community Church.Nancy was impressed by the closeness those in attendance held for one another, and the deep sense of community was obvious.
The following spring, on her way back to Bolton from Burlington,VT, Nancy took a major detour and found herself in Peterborough, heading to Dublin. Not being in a particular hurry, and being somewhat familiar with the area, she turned around at our police station and drove down Church St., knowing it would lead to the road to Jaffrey. What she calls 'destiny,' after going so out of her way, she spotted the For Sale sign at the foot of the Hammond/Elder driveway. After meeting with the realtor and seeing the property, it took but a half hour to decide to buy it.
The couple is slowly adding their personal touches on the house – a recent addition that opens up a majestic view of Mt.Monadnockand in the forefront, the gorgeous red barn across from the house. They are honoring Ruth Hammond's memory by carefully tending to the perennial gardens she so lovingly developed, expanding the veggie garden and new plantings in front of the addition. They have two goats – Red Dog and Kahlua; two cats – Reina and Woody; and at the moment one dog, Ellie. I think by the time this article goes to press, there will be another puppy joining the group.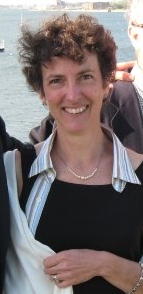 Nancy has joined the church choir (thanks to the Shonk sisters), helps with The Dublin Advocate and has joined the Riding and Walking Club. She also belongs to the Cheshire Ice Cats Ice Hockey team (she can skate backwards!) from October thru March, and she plays soccer.
The Jacksons have two children: daughter, Lydia, in Portland, OR, and son, Patrick who lives in Berkeley, CA.
Nancy Jackson, MSW, runs her consulting business, Gammy Bird, from this charming residence. You can familiarize yourself with Gammy Bird on www.GammyBird.com. Including the Gammy Bird itself! Yup, there is such a bird.
Jeanne Sterling is Advertising Coordinator for the Advocate, and writes for it frequently.
The Jacksons Have Ties to Area