By Amy Whitney —
My father, Ned Whitney, died at the age of 96 on May 6, 2012. He lived in Dublin for over 60 years. He grew up in New Jersey and Long Island and went to Groton School in Groton, MA, as a small boy. He went to Harvard College, in the days he used to tell us, "when all you had to do to get in was to apply."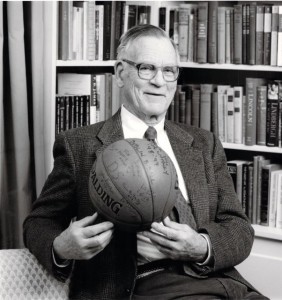 His last year in college his father died suddenly and he was only able to continue his education because of a gracious gift from his Uncle Ned. He decided after college to "get into the airplane business" and shortly afterwards he married my mother, Millicent Bowring Whitney, in May of 1940. He wrote me once about his marriage; he said, "A marriage such as Mum's and mine is fun every day. It really scares me to realize that one of us is inevitably going to leave the other alone some day." My mother died on Christmas Day in 1987.
After several years in Long Island and then in Connecticut, my parents moved to Dublin in 1951. My mother had asthma and the mountain location of the village was ideal for her health. On her first day in town she ran into a schoolmate from NYC and concluded that this town indeed was the perfect fit for them both. My father was the plant manager for Sealol, a small manufacturing company in Keene. He loved that job, all the workers and their families and ran a productive business. However, after many years the company chose to consolidate and move their whole operation to Providence, RI. My father decided that he didn't want to leave Dublin. He went to work at Miniature Precision Ball Bearing and then American Optical. He worked in quality control at AO for the rest of his professional life.
He was 63 years old when he decided to retire from business and pursue other interests. Although he had spent many years in Dublin as a selectman and as the senior warden at Emmanuel Church he now turned his focus to the Dublin School and soon became a trustee. He was deeply involved in every aspect of the school and enjoyed every minute of it. He also spent many hours either canoeing around the lake with one of his beloved Labradors or sitting on the porch of his boathouse reading the New York Times.
My father told us often that in the end he intended to be taken out of his house "in a box" but sadly that was not to be the case. He broke his hip when he fell on the bluestone terrace that he himself had laid years before. He left Dublin to be closer to family but his heart always remained in this small town.
Amy Whitney lives in New Jersey with her husband Gary Robinson on a small farm, where they raise Romney sheep, chickens and Seeing Eye puppies. Amy attended DCS through eighth grade, went away for high school, and graduated from Barnard College and Columbia University.
Edward F. Whitney: 1915-2012
Selectman 1963-1976
Budget Committee 1976-1981
Route 101 Bypass Subcommittee 1978-1990
Supervisor of the Checklist 1985-1998
Post Office Committee 1985-1989
Recreation Committee 1993-1996
Dublin Citizen of the Year 1994
Conservation Commission 2002-2008
Information courtesy of the Town of Dublin Archives and the Dublin Historical Society Archives.
The Advocate's 2010 interview with Ned can be found in the December 2010 issue on p. 4.
A Daughter's Reminiscence