More than 25 area artists will exhibit their art, which was created as part of a series. Styles vary from realistic through abstract through clay, and artists span the gap from professional through emerging, and even include a few serious beginners. All participants, with at least two artists from Dublin, have worked over the years with Mary Iselin, an instructor/catalyst at Sharon Arts Center in Sharon, NH.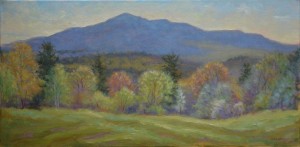 The exhibit runs from June 14 through July 14, at the Jaffrey Civic Center in Jaffrey, NH, with an Opening Reception on Thursday, June 14, from 5-7 pm. The public is also invited to a panel discussion, "Working from a Series: Gateway to Creativity" on Thursday, June 28, at 4 pm.
Jaffrey Civic Center hours are Tuesdays from 10 am to 6 pm; Wednesdays through Fridays from 1 to 5 pm; and Saturdays from 10 am to 2 pm. Contact via jaffreycntr@nullaol.com, or call 532-6527.
Art Show: "A Series of Series"