By Melissa Barden —
Jackie Lundsted of Rindge earned a national championship at the Interscholastic Equestrian Association (IEA) National Finals horse show held in Syracuse, NY, April 20-22, 2012. Jackie, a sophomore at Conant High School, rides and trains at Friendship Field Farm in Dublin under my tutelage.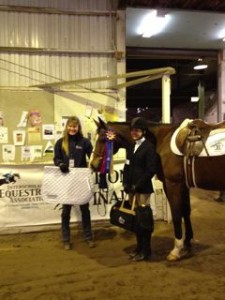 This year marked the tenth anniversary of the IEA, and just the second season for Jackie and the Friendship Field IEA team. The IEA is a national horse show organization with nearly 6,000 riders in grades 6-12 from across the United States. Unlike traditional horse shows, riders compete on unknown horses at IEA shows. Host teams supply horses that are assigned to competitors by random draw. There were a total of 68 possible mounts at the IEA national finals. Jackie's first draw on Friday proved a little tricky, but a good ride led her to the final round of competition to be held on Saturday. Saturday's draw was a horse fittingly named "Lucky." While Lucky had been a tough ride for others earlier in the weekend, Jackie rode him beautifully and commanded the win! The journey to her big win began with five regular season shows, which led her to regional, zone and then finally national finals.
To prepare for this type of competition, Friendship Field IEA team members have the opportunity to ride many different horses in their weekly practice sessions. This year's team consisted of a total of eleven riders from many area schools including Conant, ConVal, South Meadow, Mountain Shadows, High Mowing, Monadnock, Amherst, and Dublin School.
For more information about the Friendship Field IEA Team, please call me at 603-209-0582 or melissajbarden@nullaol.com.
Melissa Barden is the owner of Friendship Field Farm Boarding and Equestrian Center on Goldmine Road.