By Mary Loftis —
Mary Rajaniemi is leaving Dublin, her home for 76 years, to move to High Point, North Carolina, in June. She is packing up her cozy red Cape on Lower Jaffrey Road, which she and her husband Albert bought and renovated when they married in 1936. Typically, she is orchestrating this transition in her own forthright and organized manner, dispersing family heirlooms and deciding what to take to her new home near her daughter Pat.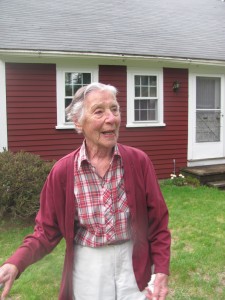 Recently I visited Mary in her charming sitting room. Next to her easy chair was a book of crossword puzzles. She told me that as a young woman she made the deliberate decision to "stand on her own two feet" and to be a lifelong learner. It's clear that she has kept this resolve into her 90s: she's sharp-witted and engaged with the world and, until a broken bone slowed her down a bit last winter, spent a lot of time walking "on her own two feet"!
Mary met Albert at the Emerald Restaurant in the center of town and married him less than a year later. She told me that she "was blessed" to find such a wonderful human being. Albert, she said, never lost his temper – although she says she did! They raised four children (Pat, Kiki, Lee and Paul) in the red Cape.
Albert served in World War II, leaving Mary in Dublin with two babies, and worked at the Woolen Mill in Harrisville when he returned. Later he spent more than 20 years as the beloved custodian at the Dublin Consolidated School. Mary recalled that on snowy days he would hang up the kids' mittens in the boiler room and shovel off the teachers' cars. Albert also served as a long-time Sunday School teacher at the Dublin Community Church and was part of a "dream team" of Selectmen, which also included Ned Whitney and Jim Cuddihee. In addition to community involvement, Albert was a skilled woodworker, and his handiwork is evident throughout their house. Mary and Albert celebrated their 70th wedding anniversary before his death six years ago.
Mary's life has been rich and happy with her family – and also with her friends. She told me that beginning in the '50s she and Beanie Wenigmann walked a measured four-mile route almost every day, talking all the while. "We walked around the world!" she said. She also reminisced about Millie Whitney, who "traded" her a pair of antique beds for three-quarters of a book of Green Stamps. Mary said, "I actually gave her a full book." In addition, there have been lifelong friends from the church, which she has attended since 1937 when Ben Andrews was the minister.
I asked Mary what she will miss most about Dublin. Without hesitating, she said, "My friends, my church, the lake, the mountain — and my swamp." Her home is adjacent to Mud Pond, which she prizes as a protected wildlife area.
Mary says that she refuses to become "maudlin" about the move because it would make it too hard for everyone else. And she's looking ahead to her new year-round home and to finding a new church. This packing-up process has clearly been an opportunity to "take stock," which Mary approaches with the spirit of gratitude.
Although she professes that she has been "lucky," it's clear to me that Mary Rajaniemi is someone who has created her own good luck.
Mary Loftis is on the staff of the Advocate.
Mary Rajaniemi Moves South