By Margaret Gurney —
Bill and Kathy Engle are leaving Dublin and moving into their Florida home. The winters are too much for them at this stage in their life, Kathy explains. Kathy is sorting through belongings to prepare for a yard sale in early June, and they plan to then put their house on Boulder Drive on the market.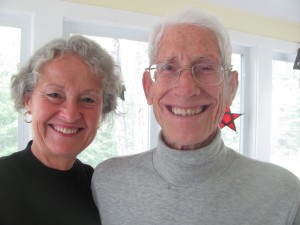 The Engles have lived here in town 14 years. They found out about Dublin when running in the New Hampshire Marathon in Bristol, NH; coincidentally Yankee ran a feature on Peterborough and so the Engles "took a look at the town on our way back to NJ and decided to look for a home in the area." Once here, Bill and Kathy, superstar athletes that they are, plunged headlong into running in all sports events locally, and Bill ran and directed the Dublin 5K with Terry Dwyer for several years. After Terry's untimely death, the race was renamed the Terry Dwyer 5K and Bill continued to run it for seven years before passing it on to Sterling Abram.
The Engles are members of Monadnock Regional Milers, which was originally a satellite of the Gate City Striders out of Nashua, and is now an independent club. Kathy also belongs to a hiking club. They regularly do yoga at the Wellness Center, Peggy Cappy being among their favorite teachers. (The Engles can be seen in many of her DVDs.)
Although semi-retired from running now, one can still see them moving swiftly along Boulder Drive with their faithful dog, a Springer Spaniel named Dusty. A fall last winter has slowed Bill down, which keeps him closer to home, and closer as well to a new kitten just adopted from the Monadnock Humane Society.
Bill and Kathy have done volunteer work for Meals on Wheels, Kathy is one of 80 local Hospice volunteers and, as an RN, is a member of the Greater Monadnock Medical Reserve Corps. The Engles joined a team to help keep the roadsides clean ("The Friends of John Denver"), and Kathy is a member of the Unitarian Church in Peterborough, where she serves on the Caring Committee. Kathy and Bill also took advantage of Keene State's CALL program and attended Friday classes for several years.
The Engles plan to stay in Dublin through August, just long enough to qualify for the National Senior Games, which will be held in Cleveland, OH, next summer.
We wish them well in their new home.
Margaret Gurney is editor of the Advocate.