By Mary Loftis—
Carol and Dick Stephens are embarking on a new life adventure, one that includes France, a country that has long captured their imaginations. They have sold their lovely post and beam home in Dublin, a private paradise developed over the past two decades on the site of a former gravel pit off Brush Brook Road. Soon they will leave for an extended stay in the apartment they purchased in Nyons, which is located in Provence two hours south of Lyon.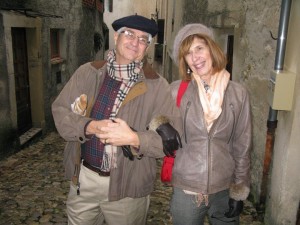 The groundwork has been laid for this move. Over the course of the past seven years, the Stephens have been spending a number of months in France every year. Carol said that her French is now good enough so that she can converse with the contractors who have been slowly renovating their apartment. She laughingly said that the scenarios described in Peter Mayle's book, A Year in Provence, accurately describe the charms and frustrations she and Dick have encountered.
Carol started the website www.chezprovence.com in 2006 to provide travel advice and France-related information. She and Dick can help travelers find rentals as well as navigate the Paris metro, among many other things.
The Stephens' long-term plans are still in flux. They will return to the United States in mid-October, when they will pick up their car from their friend Judy Knapp and embark on a cross-country trip to visit family and friends. By then they may have decided to become full-time residents of France, where the ethic of "food, family and friends" is very appealing.
Nonetheless, Carol says, they think of Dublin as home, a place where "we have loved our friends and our life."
Mary Loftis is on the staff of the Advocate.
Au Revoir – For a While at Least!