Plans are moving forward with the Dublin Community Center.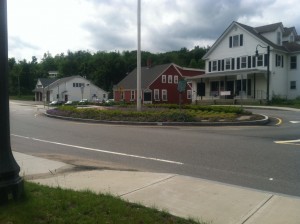 We have been working hard to prepare for construction. Many people ask about the details of the project. As we have done in the past, we will continue to answer those inquiries through the Dublin Advocate, and through personal contact. Please don't hesitate to call one of the board members, or start a conversation when you see us.
One question has been: Since "Phase One" of the project is complete, what will "Phase Two" involve?
> Phase Two of the project includes rebuilding the whole interior of the building. The building has been gutted and is ready for its new personality. There will be new windows, walls and flooring, all new wiring, heating, and plumbing systems, and installation of a septic system. (The septic system is scheduled for late June.) The second floor will have two apartments. The third floor will be unused.
Another important question: How will people enter the building, and where will they park?
> This is part of Phase Three, which includes grading the back area for parking and walkways. We plan to have cars travel on a one-way loop around the building. Cars will enter through the church driveway and exit onto Route 101 between the Community Center and the Yankee building. The main handicap-accessible entrance will be in the rear of the building along with parking for 15 vehicles. The Dublin Church and the Community Center have agreed to share parking space. We've planned a second handicap-accessible entrance at the front corner of the building as you enter the driveway. The existing "front" door will be functional. Fundraising is ongoing. Your interest is welcomed.
Community Center board members include Nancy Cayford, Vira Elder, Bruce Fox, Betsey Harris, Nancy Jackson, Bruce Simpson and David Wolpe.
Dublin Community Center Update