Fun, Field Trips, & Familiar Faces—Dublin Summer Playground at its best.
By Eliot Pelletier

It has been a busy, fun summer at the Dublin Summer Playground. The day camp, located at the Dublin Consolidated School, is open weekdays from 9 to 3. More than 50 local children have registered this summer at the Playground, ranging in age from 5 to 12.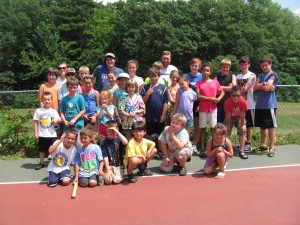 Campers spend their days outside as much as possible, with a mix of free time, structured group games and craft activities to fill the hot hours in the sun and shade. The Playground's weekly themes have included Nature Week, Sports Week, and Science Week. Campers also help take care of the DCS garden, which needs plenty of watering this summer.
In July, campers climbed Mt. Monadnock on a beautifully clear day and, despite the heat, all our climbers met for a lovely lunch on the summit. The next week campers traveled to Manchester to watch the Fisher Cats take on the Portland Sea Dogs. Following the show we watched a great Atlas Fireworks display set to music. Playground also took a day to visit the timeless Canobie Lake Park, with many campers accompanied by their entire families. Campers learned about bike safety from the Dublin Police Department and had their bikes inspected for safety.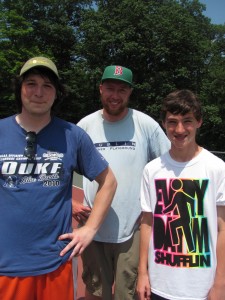 Every Wednesday morning the entire Playground treks up the new sidewalk on Main Street hill to the Dublin Public Library for its Summer Reading Program. Campers are treated to stories, crafts and the opportunity to take out new books each week. After we return to Playground we are usually met by the Mountain Treats ice cream truck, which can really help us beat the heat. This summer we have also enjoyed free bag lunches (1-1:30 pm) provided by the ConVal Food Service, which also provides free breakfast for any area children who wish to take part. These daily meals are open to the community.
On August 7th, our annual potluck dinner at DCS is at 6 pm, and the community is welcome. Please bring a dish to share if you would like to attend! On August 10th we will have our closing celebration and a cookout, also at 6 pm. Bag lunches will continue to be offered until this date for any interested families.
A big thank you to the Dublin Public Library, the Dublin Community Foundation, the Dublin Police Department, the ConVal Food Service and the Dublin Consolidated School, without whose support Playground wouldn't be possible. As we approach the end of another exciting Summer Playground program, we are very proud to keep a true Dublin tradition alive for a new generation of children.
Eliot Pelletier is the Director of the Playground and has been working here since 2003. He is a teacher in Jaffrey during the school year.
Dublin Public Library
Stop in the library and see what children were reading a few years ago. Here is a sampling… Little Women, Call of the Wild, and Charlie and the Chocolate Factory. These books would love to be taken out and read. Take time to re-enjoy your childhood reading.
The Dublin Public Library Summer Reading Program will be offering a program from The Mariposa Museum on Wednesday morning August 1 at 10 am. We will sit around the "campfire" and learn legends of native peoples of this country.
Chat*Eat*Read will meet at the library on August 6 at 6:30 pm — join the group for pizza, a great story, games and fun.
August 8 will be the party where we say good-bye to a lot of our friends who return to school early or end their vacations in Dublin. We celebrate with stories and games. We will read Eric Carle's book The Very Lonely Firefly and make star wands. Children who regularly come to this program know that the day ends with a tasty surprise and they never want to miss this day.
Night shivers and things that go bump in the night will end our "Dream Big…Read" summer theme on August 15 and 22. This program will be geared toward younger children and promises to not be too scary. It will begin at 10 am with stories and crafts.
Could August 29 really mean summer is over at the library? Please visit us and start the school year out by making Wednesday mornings your day to check out books and make new friends.
New Books:
Barack Obama the Story by D. Maraniss
Porch Lights by D. Benton Frank
The Red House by M Haddon
Island Practice by P. Belluck
Seating Arrangements by M. Shipstead
Canada by R. Ford
Gold by C. Cleave
The Library will be closed Monday, September 3, in observance of Labor Day.
Then & Now in Dublin
On August 22 at 7 pm, the Friends of the Dublin Public Library present Alan Rumrill, Director of the Cheshire County Historical Society, who will speak about "Cheshire County Then & Now." His presentation compares and contrasts historical photographs of Cheshire County with current images of the same scenes today, including Then & Now images of Dublin. The program illustrates change over time and the impact of agriculture, industry, technology, and tourism on the history and landscape of southwest New Hampshire.
New Library Program from FDPL
Read from local classics about village life.
By Catherine Boeckmann
Right here in Dublin and the Monadnock area, we've played host or home to many great writers and artists who helped shape our region's identity. Think Emerson, Twain, Cather, Frost, Thoreau, Kipling, James, Thayer, and more.
We're very excited to announce the opportunity to look more closely at their works with a new series of readings, art, discussion, and writing activities called "Recasting Monadnock's Classics: Reading, Conversation, Art and Writing."
The three sessions in the fall will be devoted to "the village" with readings and art that concern human relations. Please mark your calendars for Saturday, September 15; Saturday, October 20; and Saturday, November 17. All events are held from 10 a.m. until noon downstairs at the Dublin Public Library. The books will be available starting August 15 at the library front desk.
This program, which is free and open to the public, is sponsored by the Friends of the Dublin Public Library and the New Hampshire Humanities Council. Sessions are facilitated by NH Humanities Council scholar Emily Archer. Refreshments will be served.
Catherine Boeckmann is a board member of The Friends of the Dublin Public Library.
Summer Food Service Program at DCS—Open to all children ages 18 years and younger. ConVal food service will continue providing free meals in Dublin from Monday through Friday starting July 13 and ending August 10in the Dublin Consolidated School cafeteria. Breakfast will be served from 9:45 am to 10:15 am; lunch will be served from 1 pm to 1:30 pm. Come join in for a healthy, delicious breakfast and lunch!
Historical Society Fun-raiser a Success
By Rusty Bastedo
Friday evening, July 13, provided perfect weather for an outdoor hot buffet, with live jazz provided by Rusty's Ramblers for an audience of approximately 40 persons. The heat of the day had somewhat dissipated by 6 pm, and the Civil War Monument in front of the Society's 1841 Schoolhouse Museum provided perfect footing for the band (Peter Hewitt, piano; Dan Parish, guitar; Carl Jacobs, bass; Rusty Bastedo, trumpet and vocals).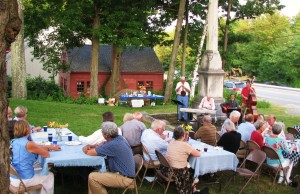 Food was provided by Dublin General Store, with parking at Dublin Consolidated School. The Historical Society thanks all participants for their support of the Society, whose current exhibition, "Dublin's Horse-Drawn Economy," celebrates Dublin's 19th century occupations and products.
Russell Bastedo was formerly New Hampshire State Curator from 1997 to 2009. He is on the staff of the Advocate.
MESA Annual Meeting
By Jean Leventhal
On Sunday, August 19, the Monadnock Eastern Slope Association (MESA) will hold its Annual Meeting and potluck picnic in Dublin. The picnic will begin at 5 p.m., followed by a brief business meeting. MESA attendees will then hear a talk about a feature-length documentary currently in production about the history of Mount Monadnock, called "Monadnock—The Mountain that Stands Alone," by its Executive Producer, Steve Hooper. Mr. Hooper is a staff photographer and videographer at the Keene Sentinel. This film, a project of Rabbit Ear Films, is the first-ever made about our mountain. For more information about Rabbit Ear Films, please visit www.rabbitearfilms.org.
Hooper has previously coordinated the four-year grassroots effort to make the film, "An American Nurse at War," which chronicles the World War I Red Cross experience of his great aunt, Marion McCune Rice of Brattleboro. The film, completed in late 1997 and endorsed by Ken Burns, has won several film festival awards in New England and New York.
Members of MESA will have received a printed invitation to the meeting. Those wishing to join MESA and attend the Annual Meeting, may visit www.mesa-nh.org/html/mesa_picnic_and_annual_meeting.html, download and complete the registration form, and send it to the address listed on the form.
Jean Leventhal is the treasurer of MESA.
Lake Host Program Update
By Bill Goodwin
The Lake Hosts are providing boat ramp coverage from June 30th to August 26th. They will work from 9 am to 5 pm on Saturdays and Sundays.
The two young persons working for us as Lake Hosts this summer are Samantha (Sam) Novotny and Olivia Thomas, a ConVal student from Dublin and our newest Lake Host. Emma Murphy, previously mentioned as a returning Lake Host, was not able to be with us this summer.
We are very fortunate that invasive plants have not been transported into Dublin Lake in recent years. Some other lakes in New Hampshire are not so lucky. Variable Milfoil is a major issue in many of the lakes in New England. At Dublin Lake, we average about 20 boats of various types per day on weekends. The motorized boats are the most likely to have vegetation attached to the engine prop or on the trailer wheel wells. We have had no "finds" during the past three years. We attribute that to the high level of awareness of boaters that use Dublin Lake for fishing and recreation.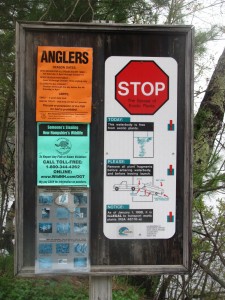 A photo of typical invasive plants is posted on the bulletin board at the boat landing. We encourage people to stop by and become educated regarding these invasive varieties of aquatic plants.
Please welcome Sam and Olivia when you see them this summer. They will be wearing their blue Lake Host shirts while working at the ramp.
Bill Goodwin is the Point Person for the Lake Host program at Dublin Lake.
Walk Dublin's Ski Trails
By Jim Rodrigues
Last fall there was a story about the Dublin Cross Country Ski trails in the Advocate. The trail started out just being a walking trail to the Dublin Consolidated School (DCS). I got permission from Yankee Publishing to build and improve the trails on that part of their land.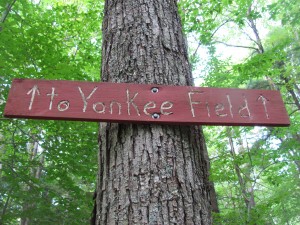 The trail has expanded to about a mile loop of rolling trails nice for a short walk in the woods. Parking is at the entrance to the Yankee field on Monument Road and pets are welcome in the non-snow season. Who knows, you might be lucky to see some of the wildlife that lives in the woods such as owls, bobcats and even bears.
So come out and enjoy a walk in the woods. The master plan is to connect with the Dublin School Trails.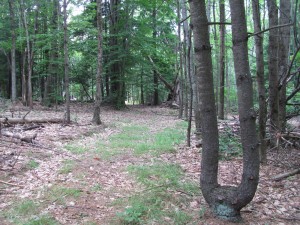 See you either hiking, snowshoeing or cross-country skiing.
Jim Rodrigues lives in Dublin building stonewalls in the non-winter months. In the winter he works for New England Nordic Ski Association as Event Manager overseeing ski races. This March Jim will be the head race official at the Junior National Ski Championships in Fairbanks, Alaska.
A Singular Goal: Be the Best
By Mary Loftis
Every summer, the ConVal School Board meets to set goals for the upcoming year. This year, after lots of discussion about the Model Study Committee, developing a K-12 District viewpoint versus one based on nine separate towns, the plan for a strategic redesign of the District's autism and emotionally handicapped programs, we concluded our session with one overarching goal: to continue the quest to become a High Performing District by 2015.
This journey began a year and a half ago in the Education Committee. With the help of Assistant Superintendent Kimberly Saunders, we identified some criteria that make school districts effective, and were thus able to see just where ConVal stacks up with other districts in New Hampshire. We looked at NECAP scores, SAT scores, post-secondary acceptance rates, student / teacher ratios and dollars spent per student, among other factors. We also decided to consider more intangible characteristics, such as learning environment and level of family involvement in the schools. Making decisions and taking action toward the goal of becoming a High Performing District affects all schools in the nine-town District, although it is the high school, where educational efforts culminate, that provides most of the data.
Moving up in the ranks requires resources – and the Board was gratified when both the budget and the bond to improve ConVal High School passed in March. Improvement also involves hard work and imagination, and we are seeing a transformation at the high school under the leadership of Principal Brian Pickering. The winds of change are wafting gently through the halls of CVHS, and we are confident that we are on our way to achieving this goal.
Mary Loftis is Dublin's representative to the ConVal School Board for SAU 1.
All Welcome at Talks
In July's issue, the Advocate documented the Bahai's honoring of Abdu'l Baha's historic visit to Dublin in 1912. To that end, interfaith devotions will take place every day from August 1st through the 16th at 12:30 pm in the gardens behind the Baha'i Center.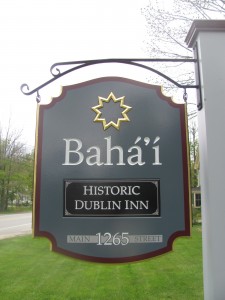 On August 5 at 3 pm, filmmaker Anne Perry will speak at the Baha'i Center and on August 12, Gisu Mohadjer will speak at 3 pm in the Dublin Community Church, followed by a reception at the Baha'i Center, 1265 Main St., next to the Dublin General Store. Please call Ruthie Gammons at 603-831-0510 with questions.
Dublin School Hosts Summer Skywatch
Dublin School welcomes the community to join us to View the Summer Night Sky on Tuesday, August 14th at 8:30 pm, weather permitting, or the rain date of Thursday, August 16th at 8:30 pm, at the Perkin Observatory.
View the stars through the Perkin telescope and learn about the Summer Sky from Jonathan Weis, Director of the Observatory, Mare-Anne Jarvela, Senior Editor of the Old Farmers Almanac and Catherine Boeckmann, New Media Editor at the Old Farmers Almanac.
Please park near the gym and walk up to the Observatory. You will be indoors and outdoors so wear appropriate clothing and bring a flashlight. You might want to bring binoculars for viewing constellations outdoors. If you need special parking or more information, please contact Lucy Shonk at 563-1232 or email lshonk@nulldublinschool.org.
A Dublin Graduate & Soccer Star
Baran Doenmez played soccer on the Division II club FC United Zurich in Zurich, Switzerland, from February to June 2012. The club easily won their division and will now compete in the Swiss first division. Baran, a graduate of Mountain Shadows and Dublin School, is a striker for the team and was player of the week in April.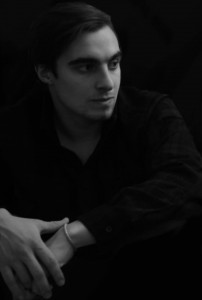 Baran played in every game of the season but one, scored and assisted several times, helping the team to the successful conclusion of their season. Baran played for ConVal Youth Soccer, the NH Stars, and the NH Phantoms, and was coached by Suleyman Doenmez while he was growing up. Baran attended Clark University, where he was captain of the Men's Soccer Team in his senior year and scoring champion of the NEWMAC league.
Dublin School Offers Music & Dance Performance
By Jan Haman
The Dublin School Arts Department is sponsoring a family program of modern dance and music in the new Fountain Arts Building on Friday, August 24th at 7 pm. All are invited to attend the free performance.
Featured dancers Donlin and Jenny Foreman, through their partnership, "On Common Ground," will present duo and solo dance works on the shared program. Inspired by social dance forms such as tango and swing, and informed by their background in contemporary dramatic dance, their repertoire celebrates dancing as an expression of our shared humanity.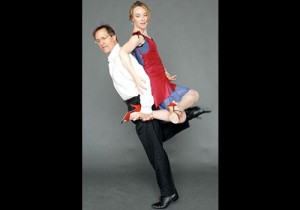 Donlin Foreman is a 20-year veteran of the Martha Graham Dance Company where he was coached and directed by Martha in all her major male roles. He has staged works for numerous dance companies including 25 ballets on his own company. Jenny Emerson Foreman, a member of the Dublin School faculty, is a graduate of Barnard College with a degree in Dance/Theater, and has an MA from NYU's Gallatin School. As a principal dancer for Buglisi/Foreman Dance, she was instrumental in the creation of 15 new works. She has staged works at the NJ Ballet, Juilliard School and Barnard, and she toured the U.S. with the Graham Ensemble. The Foremans live in Harrisville.
Jan Haman has been teaching English and drama at Dublin School for 36 years.
A Spirited Leader
By Mary Loftis
Margaret and Dave Nelson and their three daughters moved to Dublin 20 years ago this month. Dave had singlehandedly built the family a house on Lower Jaffrey Road and it was ready (almost!) when it was time for their oldest, Emily, to start Kindergarten at DCS. She got on the bus next to their new mailbox on the first day of school even though the family was using a fridge in a travel trailer parked in the yard. Margaret, who previously worked in Human Resources at Cheshire Medical Center, devoted herself to her girls throughout their childhoods – volunteering in the school and for many years as a dynamic Girl Scout leader. Meanwhile, Dave also worked "on-site" as an artist and independent art director.
In 2010, with the girls launched in the world (Emily and Averill are now both married and living in North Carolina and Nora will be a college senior next year), Margaret decided it was time to look for a new challenge.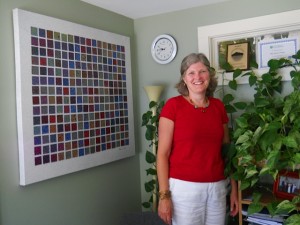 At the same time, The River Center, a family and community resource center based in Peterborough, was being reorganized, and Margaret became its first Executive Director. From her office on Concord Street, she oversees a staff of eight part-time and two contract staff, who collectively have a wealth of experience.
The River Center, which serves 14 eastern Monadnock towns including Dublin, provides resources and services for people of all ages. It serves as a clearinghouse for local, regional and state services. In addition, the Center provides direct services: financial counseling and income tax preparation assistance, computer literacy and employment coaching, a community closet, home support for young parents, parenting workshops and playgroups. Margaret described a relatively new initiative, which she said characterizes the "neighbor helping neighbor" spirit of The River Center. Volunteers are working to establish a wood bank, from which families in need will be able to obtain firewood during the winter.
Margaret said that although funding for this non-profit is always a challenge (they rely on the United Way, grants and individual donations for a significant part of their budget), the gratifying part of her job is the universal acknowledgement that it is important. "No one argues that it's not needed!" she said. She looks forward to being able to use the Dublin Community Center as a site for services, such as the parenting classes currently offered in Jaffrey.
Margaret Nelson has found her niche as the leader of an organization that makes a difference in many people's lives, and she proudly told me that she's even learned to Tweet about all the good things The River Center does! You may contact Margaret at mnelson@nullrivercenter.us.
Mary Loftis is on the staff of the Advocate.
Dublin Welcomes Cindy & Gregg Naudascher
By Ramona Branch
Cindy and Gregg Naudascher were not looking for a house. They had moved up from East Stroudsburg, PA, and purchased a condo in Peterborough. Gregg had taken a job as Director of Curriculum for Jaffrey/Rindge School District. Long-time Episcopalians, the couple had joined All Saints' Church. Cindy volunteered at the Serendipity Shop on the campus of All Saints'. There she met Gail Anthony who mentioned to Cindy that her home was for sale. The Naudaschers, more out of curiosity than looking to buy a house, decided to drive by. When they saw the beautiful landscaping and the lovely interiors of the timber-frame home they took one look at each other and said, "This feels like home." In November 2011, the Naudaschers moved into the former home of Tony and Gail Anthony.
Both Cindy and Gregg have spent their entire careers in education.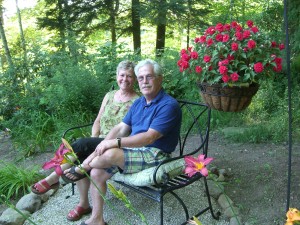 Gregg is in his 41st year and Cindy retired after 36 years — the last few as an Instructional Support Teacher helping at-risk kids. When Gregg left Pennsylvania he was assistant superintendent for curriculum.
The couple has two children, Lauren Contarenia, who lives in Milford with her husband and daughter, and a son, Joshua, a graphic artist in Philadelphia.
Both Cindy and Gregg love to garden and cook. Cindy also teaches card making as a Stampin Up consultant.
Cindy has gotten very involved in All Saints' Church. She is on the vestry and has taken on responsibilities as chair of the silent auction for the English Summer Faire, which happens August 11. Cindy said she is looking for good items for the auction and asks that you give her a call if you have things you want to get rid of or if you have a talent or service that you would like to donate.
The Naudaschers say they are delighted with their new home and are committed to continuing and enhancing the beautiful landscaping that Tony Anthony spent so many years cultivating.
Ramona Branch is a freelance writer and editor and is on the staff of the Advocate.
From Dublin to Bristol
By Margaret Gurney
After three and a half years on the market, the O'Rourkes are more than slightly relieved their house on Main Street has been sold — a house they lived in for 12 years.
While Dan and Joy's roots go back a good ways here, they waited until their children, Hilary and Daniel, were out of the house before relocating. Hilary has just graduated from the Art Institute of Boston and young Daniel is Class of '13 at Keene State College with his own apartment in Keene.
Dan had always wanted to live on a lake and so they fulfilled their dream and moved to Bristol, NH, on the shore of Newfound Lake several years ago.
Dan was born in Peterborough and graduated from ConVal in 1979. He founded his own dental lab in 1984, and he and Joy moved to Dublin in 1987, where they had built a home on Boulder Drive.
Dan's grandparents had lived in a cape on Main Street in Dublin since 1952, which his father inherited in 1984. Two years later, when Dan's father died, the O'Rourkes bought the cape from his mother. It had been renovated, but Joy and Dan restored the kitchen, baths, master bedroom and added the office when they moved in in 2000 to accommodate their needs. Plus, they added the gardens and ran a small farm with horses and chickens.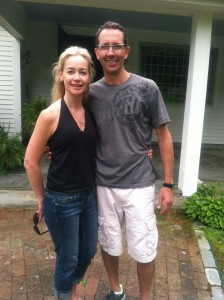 Dan met Joy as he was leaving a job she was applying for a local dentist's office. They were in the same line of business, which proved propitious, as Joy would eventually be running Dan's business.
Joy moved to Currier Avenue in Peterborough with her parents, John and Joyce Nelson (founders of The Dublin Advocate), when John got a job teaching drafting and engineering at ConVal. Joy graduated from ConVal, and attended college in a similar field as her father, electromechanical drafting, but left after two years.
Joy stayed home to raise their children, and when Daniel turned 5 and went off to Mountain Shadows, Joy pursued her dream of training to become a nurse at Mount Wachusett Community College. She then worked at Monadnock Community Hospital in pediatrics, OR, ICU, and oncology for eight years, per diem, as she was also running Dan's business.
The O'Rourkes are adventurous folks and don't plan to settle in Bristol forever. Sometime in the next five to ten years, they'll fulfill another dream of living on the ocean in a warmer climate.
Margaret Gurney is editor of the Advocate.
Jerry Branch Receives Rotary High Honor
By Ruth Clark
Jerry Branch received the Rotary Club Builder Award at the Rotary District Conference held in Portland, Maine. The prestigious Club Builder Award recognizes a Rotarian who has made a significant impact in supporting and strengthening their Rotary club. It was presented by Rotary International President representative, Abdul Rauf Rohaila.
Branch can be credited with the club's significant growth over the last ten years due to his recruitment of many new club members and the coordination of several service products that the club enthusiastically embraced.
The most significant project that Mr. Branch has handled was the planning and coordination of the new 40-acre Dublin Rotary Park.
Because of Jerry's excellent people-management skills he was able to bring together local and state officials, volunteers, and Rotarians to support the project. Most people who worked on this project are very clear that it never would have happened without Jerry's leadership.
Jamie Trowbridge, president of Yankee Publishing, added, "Jerry knows how to enroll people in projects by creating a vision based on reality that others find inspiring. He leads by example in everything he does."
Ruth Clark, a member of the Monadnock Rotary since 2008, was president during the 2011/2012 Rotary year.
Two Dublin Farms on Farm Tour
Two Dublin farms participated in the second annual Monadnock Rotary Local Food Grower's Tour held on July 21. Dancing Dog Farm showed off a herd of Nubian goats and a top bar bee hive…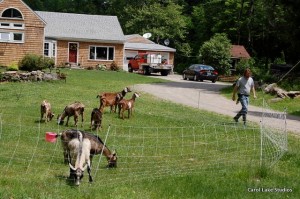 while at Oxbow Farm, visitors learned about raising chickens for eggs and meat.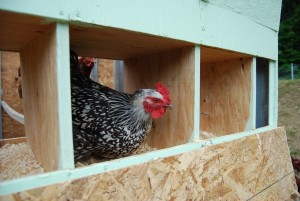 Pastels on Exhibit by Maryann Mullett
By Dion Owens
The Jaffrey Civic Center is honored to host the first-time solo exhibit of 35 pastel paintings by Maryann Mullett of Dublin depicting her life and surroundings in nature.
The show opened on Friday, July 13, with refreshments and entertainment of jazz by the Scott Mullett Trio. The show runs through Saturday, August 18.
Maryann, who exhibited at the Keene Art Walk for the past two years, won honorable mention this year for her painting, "Fiddleheads." Her artwork was also displayed at the Hancock Library.
Maryann likes to paint nature, with an emphasis on detail and close cropping of a subject. This allows her to play with the design aspect of a painting as well.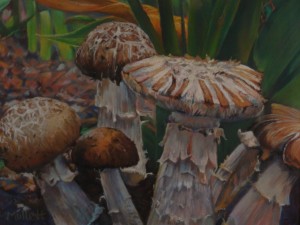 The past three years have brought her back to her roots of fine art, after joining the Art Spectrum Group in Antrim and studying with the late Lester Russell. She pursued art in her teens and early 20s painting mostly in oils and pen and ink, then went on to do illustration for Yankee Magazine and its publications. (Many know Maryann from her gift shop, Harvest Thyme Herbs, on Dooe Road.)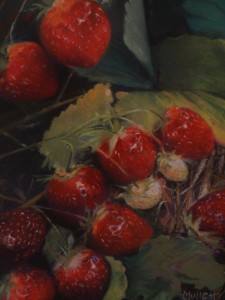 The Jaffrey Civic Center, at 40 Main Street in Jaffrey, is next to the Library. Hours at the Center are Tuesdays from 10 to 6, Wednesdays through Fridays from 1 to 5, and Saturdays from 10 to 2. For more information, call 603-532-6527, e-mail jaffreycntr@nullaol.com, or check out www.jaffreyciviccenter.com.
Dion Owens has been executive director of the Jaffrey Civic Center since 2001.
7th Annual Plein-Air "Paint Out"
For the seventh year, Sharon Arts Center will be holding a plein-air "Paint Out" this year during the week of August 13 to the 17th. This year's location will be in and around Dublin's mountains, lakes, and gardens. Participating artists will wrap up the week-long event with a reception at the Dublin School Gallery and a sale at the Sharon Arts Center Gallery in downtown Peterborough on the 17th from 5 to 7 pm.
"The Paint-Out is a wonderful opportunity for artists to spend time with other artists and friends of Sharon Arts in a particular location painting, drawing, and creating works of art inspired by the scenery around us," said Gallery Director Camellia Sousa. "This event, as always, will bring together our faculty, juried artists, their friends, and other celebrated artists. We are most excited about this time of having everyone working together and presenting a wealth of talent and diverse styles."
Contact Sharon Arts Center at camellia@nullsharonarts.org, call 924-7676, or visit www.sharonarts.org.
August at the Players
By Fred Leventhal
The Peterborough Players continues its season of comedies with a production of J. M. Barrie's famous satire on the British class system, The Admirable Crichton from August 1 to 12. First produced in London in 1902 and running for over 800 performances, it has been frequently revived on stage, screen, and television. When the aristocratic family of Lord Loam is shipwrecked on a desert island, it is the butler Crichton who demonstrates his innate superiority, thereby challenging the traditional social hierarchy.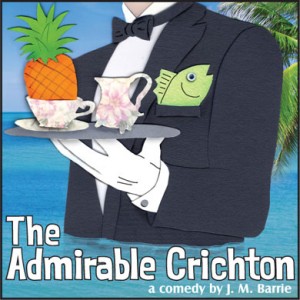 In some ways today's popular Downton Abbey harks back to Barrie's incisive social commentary. The talented Tom Frey plays Crichton, with longtime favorite Michael Page, returning to the Players' stage after an absence of several years, as Lord Loam and Karen Peakes as his daughter Mary.
The Admirable Crichton will be followed from August 15 to 26 by Noel Coward's witty semi-autobiographical comedy, Present Laughter.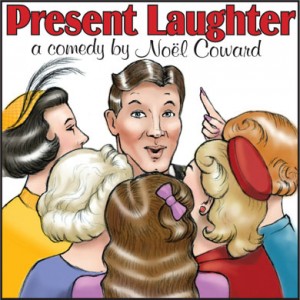 Jack Koenig stars as the self-indulgent, pampered matinee idol Garry Essendene, whose preparations for an overseas tour are interrupted by the importunate demands of his retinue of agent, playwrights, actors, and wife. Lisa Bostnar, Dale Hodges, and Sevanne Martin round out the cast, which also includes Dublin's Town Moderator, Tim Clark.
From August 29 to September 9, the Players will present the new American "comedy with heart" Rounding Third, which draws on the universal appeal of baseball to explore American notions of masculinity, competition, and child rearing.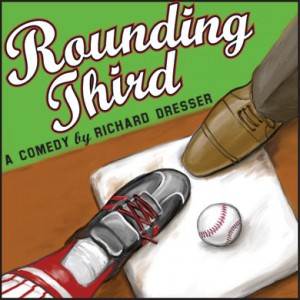 Jack Koenig and Kraig Swartz portray two coaches with widely divergent ideas about how to guide their team members. Which is more important: winning or how you play the game?
The Second Company will be presenting Gus Kaikkonen's adaptation of Little Men by Louisa May Alcott on August 18, 21, 24 and 25 at 2 and August 20 at 7.
Fred Leventhal lives in Dublin and served as Trustee of the Peterborough Players 2006-2012.
The Community Advisory Council
By Bill Goodwin
In order to better serve our community, Cheshire Medical Center/Dartmouth Hitchcock Keene (CMC/DHK) and Home Health Care, Hospice and Community Services (HCS) work with the Community Advisory Council (CAC).
CAC was formed to act as an information conduit between the communities in the Monadnock region and CMC/DHK and HCS. The council meets every month. At these meetings the Council hears about important health-related issues from all branches of healthcare services in Cheshire County. Council members act as advisors and a sounding board for proposed or envisioned change at Cheshire Medical Center/Dartmouth Hitchcock Keene and Home Healthcare Hospice and Community Services. The most important responsibility of the Community Advisory Council is to provide the information we have received to the towns we represent.
Presentations made to the CAC this year have been as follows: Deaf and Hard-of-Hearing Consent Decree; CMC/DHK Facilities Upgrade Plans for the Future; Federal & State Reimbursement Issues for Hospitals; and Vision 2020 Update. We do not meet during the summer months.
The Dublin representatives to the CAC are Bill Goodwin and Barbara Summers, both at 563-7184.
Bill Goodwin is Chairperson for the Community Advisory Council.
Save the Date: September 29
The Monadnock Wellness Festival is an annual event designed to bring the community together for a day of celebration focused on health and wellness. Activities include health screenings, exhibits, live entertainment, healthy food demonstrations, pet wellness seminars and demos, a soup competition, wellness vendors, and lots of fun. Designed for young and old alike, the festival will run from 10 am to 2 pm in and around the Town House in historic downtown Peterborough, NH. Visit www.monadnockrotary.org for updates.
Monadnock Conservancy's 23rd Annual Celebration
Preserving our land, canvas by canvas: an art show of protected lands.
By Katrina Farmer
This year's annual celebration looks through the eyes of artists for a new outlook on the places we treasure. Join us on Saturday, August 25, at the Walpole Town Hall and Town Green.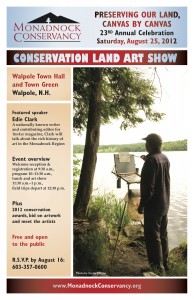 Each of 11 nationally and locally recognized artists of the Monadnock Region has chosen a location on Conservancy protected land as a place to inspire his or her work, which is being created this summer just for this art show.
Edie Clark, nationally known writer and contributing editor for Yankee magazine, will give the keynote address. Her talk focuses on why the Monadnock Region has been and continues to be fertile ground for so many talented artists. She will highlight the rich history of artists in the local area as well as talk about the current art scene.
Registration begins at 9:30 a.m. Featured speaker and conservation awards presented between 10 am and 11:30 am, followed by a light lunch buffet and art show. Optional field trips to protected or soon-to-be protected lands in Walpole depart at 12:30 pm.
All events are free and open to the public. For details, go to www.MonadnockConservancy.org/html/events.html.
R.S.V.P. by August 16 for who will attend and which field trip(s). Email Info@nullMonadnockConservancy.org or call 603-357-0600.
Katrina Farmer, communications manager for the Monadnock Conservancy, lives in Dublin.
Peter's Pondering
By Peter Hewitt
For me the best pat of "Auld Lang Syne," the opening play for the Peterborough Players season, was the incidental music that preceded the show and resumed during the intermission.
There never has been anyone as good as Ella Fitzgerald. A silky-smooth voice, perfect pitch, creative improvisations, and humor. The works.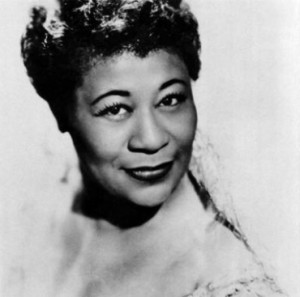 My first Ella record dates back to the 1930s. It was "A Tiskit, A Tasket," backed up by Chick Webb's orchestra, and she just got better and better after that.
No one sweeps the clouds away for this ponderer like Ella Fitzgerald.
Peter Hewitt is a former resident who retired to RiverMead with several other Dublin residents.
Reminder for Dublin Residents—Please bring your old registrations along when you come into the Town Clerk's office to renew each vehicle. This is a State requirement. Call Jeannine Dune, Town Clerk/Tax Collector at 563-8859.
Summer Music Program at DCC—The Dublin Community Church hosts guest musicians at summertime worship services, which begin at 9:00 am on Sundays through August. On August 5, Scott Mullet plays Flute; on August 12, Olga Litvantsova on violin; and on August 19th, we have the Hancock Village Ringers. All are welcome to attend, and join in coffee afterward for fellowship.
IH Tractors Meet August 11 & 12
Chapter 18 Power of The Red state show located at Rt. 101, Dublin, New Hampshire. Set up day on the 10th. All things International Harvester (IH)…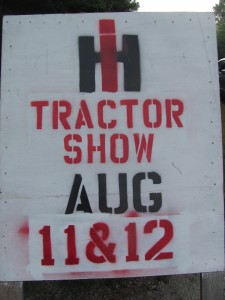 …tractors, trucks, engines, equipment, swap meet area and vendors. Contact Matt Petz 603-493-3335 for information, or visit Chapter 18 at www.ihcne18.com or email ihcnechapter18@nullyahoo.com.
Found—On Route 101 in front of the Dublin Community Church, a hardcover edition of A Small Town in Germany by John le Carré. It may have fallen off a car. Please call Shari LaPierre to claim at 831-6044.
Peterborough Food Pantry Calls for Staples
By Christine Mann
Residents from 18 towns in this region, including Dublin, come weekly to the Peterborough Food Pantry to receive bread, meat, canned vegetables, cereal, and other supplemental food items we have available. Our customers are often working families who are simply unable to make ends meet while food and rent costs continue to rise.
In New Hampshire, the number of people who experience food insecurity has increased 90% since 2006. Food insecurity is defined as "the state of being unable to provide food to oneself, and/or one's family." Food insecurity for a household, means that family members do not have access at all times to enough food for a normal, healthy life.
The federal food stamp program allows for $4.83 per day per person. Many of us spend that at Starbuck's or our local coffee shop on the way to work in the morning. It's hard to believe that food insecurity occurs in Dublin and other attractive historical towns that surround us, but it's quite real.
At the Peterborough Food Pantry, no one is turned away. Since 1996, we've operated thanks to the efforts of a small group of dedicated board members and volunteers. Cash and food donations from local individuals, businesses and organizations help to keep food on our shelves. Operating hours are Monday through Friday 9 am to noon.
As you enjoy the precious New Hampshire summer, we invite you to consider making a donation in any amount to help us continue our important work.
The Peterborough Food Pantry is located at the Peterborough Community Center (the former Armory), 25 Elm Street, Peterborough. Your tax-deductible donation can be written to The Peterborough Human Services Fund, One Grove Street, Peterborough, NH 03458. Please know that we are an all-volunteer organization, your donation stays local, and 98% of donated funds go directly to providing aid.
Christine Mann is president of the board for the Peterborough Human Services Fund.