Artists of Dublin on Exhibit Everywhere
By Margaret Gurney
In Dublin, creativity is at an all-time high and follows a proud tradition. Although we count dozens of artists in town, we know of three who have their art on display during July in Jaffrey, Peterborough, and Dublin.
Miriam Carter's show at the Jaffrey Civic Center (40 Main St., Jaffrey; 532- 6527) ends July 2 so hurry over to see her elegantly styled Wearable Feltwork. Miriam began her career more than 25 years ago and was one of the first feltmakers in the national juried craft and art show world.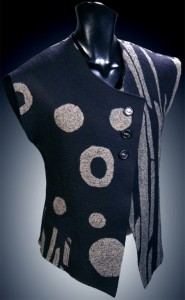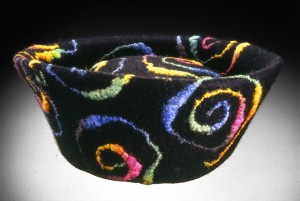 She has won awards throughout the country and hails from a rich textile tradition: Miriam's great uncle (Alfred Dolge) brought feltmaking for the piano industry to this country in the late 1800s. Her mother was a couture seamstress and her father worked in woolen textile manufacturing. As she and her father explored the family tradition of feltmaking, their first hat shape, the Vogue Beret, was born. It remains a strong seller in her broad offering of hat styles. Studio visits can be scheduled by appointment. You can also visit her booth at the League of NH Craftsmen Show, where she is a juried member, at Mount Sunapee from August 1 through 9. Contact Miriam at mcarterfelt@nullyahoo.com, 603-563-8046 or visit miriamcarter.com.
Jane Simpson is one of five well-known artists whose artwork was selected to hang in the Healing Arts Gallery at Monadnock Community Hospital from June 4 through August 15. The show, Déjà Vu, includes many of her new collage work made from "old" papers: handwritten journals, aged text, vintage business forms and school notebooks, antique photo albums and other found printed matter.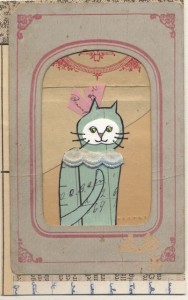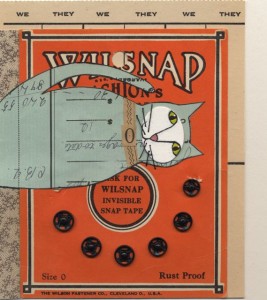 Jane's bio explains, "Paper is the common element in all of my work. I like giving refuse — made either by Mother Nature or human ingenuity — a second chance." Jane is a state-juried member of the League of NH Craftsmen, an I-Park fellow, and a self-employed picture framer since 1989. She can be reached at onejane3@nullgmail.com or call 924-7098.
(Other artists featured in the MCH gallery include Sue Callihan, David Dodge, Erick Ingraham, and Daniel Thibeault, some of whom have shown their work at the Dublin Community Center.) The MCH Healing Arts Gallery entrance is next to the Emergency Department. For information, call 924-1700 or visit www.mchhealingarts.com.
During July, Maryann Mullett's award-winning pastel paintings will be featured at the Dublin Community Center. Her exuberant compositions are colorful and heartwarming in their treatment of everyday subjects.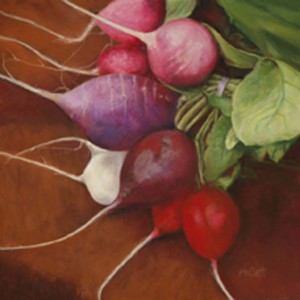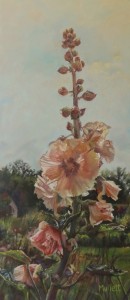 Excerpted from her artist bio, Maryann says: "Inspiration comes to me from nature. Whether it be close-up views of flora, luminous berries and vegetables, or birds and animals, composition and the play of light and shadows are always in consideration." A reception for the artist will be held at the Dublin Community Center on Tuesday, July 7, from 5 to 7 pm. Maryann's brother-in-law musician Scott Mullett will provide entertainment. To contact her, go to Maryannmullettart.weebly.com or call 603-381-6464; email hthyme@nullyahoo.com.
 To experience more local talent in Dublin and adjacent towns, remember October's annual event, Monadnock Art's Open Studio Tour, held on Columbus Day weekend (October 10 and 11) and now celebrating its 20th year. It provides art lovers — young and old — the opportunity to visit participating artists and see their working environments. Visit monadnockart.com for details.
Broke Art for All
At least four of the artists selling their wares at the Broke Art show ("50 Artists Selling Work for under $50") held at the Peterborough Town House June 13 were Dubliners.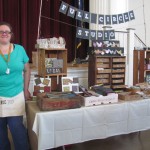 Heather Avery Stockwell (Main St.) was selling her outstanding signs, masks, beads, and other creative things she makes when not installing tile. She can be reached at mosaicmom1@nullhotmail.com or call 563-8499.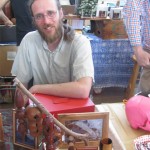 Zebulon Dahl (Korpi Rd.) was selling his handcrafted spoons, rattles, bowls, and other assorted wooden treasures. He can be emailed at zdahl@nullwesleyan.edu or call 563-8140.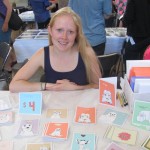 Lily Featherston (Church St.) was offering handmade cards that are both colorful and meaningful. She can be reached at lilyfeatherston.com or call 296-5184.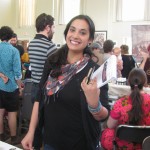 Claire Lowenthal's (Old Common Rd.) art was composed of paper, some of it handmade. She can be reached at 563-8288.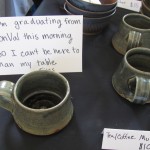 Tejas Moses (New Harrisville Rd.) was busy at his graduation ceremony at ConVal but he had a table showing his thrown cups and bowls in earthy glazes of blues and browns.
The show is organized by Mary Goldthwaite-Gagne who can be reached at broke.arts@nullgmail.com. It is part of the Thing in the Spring, which just had its 8th annual event.
Margaret Gurney is editor of the Advocate.
 July 3rd Fireworks at dusk! (viewable from Rte. 101 long lake)
Dublin Day, July 18: details and agenda, read on.
Yankee Barn Sale: July 25
Dublin Public Library
Did you attend Peter Tuttle's talk at the library in April? Well, if you missed it, stop in the library to pick up a copy of his book, The Porch of Common Prayer. We also have books of his poetry in the library collection.
To Kill a Mockingbird by Harper Lee is a classic. If you haven't read it, you should consider it. In the middle of July, the author will publish Go Set a Watchman about Scout's return to Maycomb after 20 years. The library has a nice selection of books about Harper Lee, which will be on display.
If you read A Man Called Ove by F. Backman and loved it, there is a new book by F. Backman called My Grandmother asked me to tell you she's sorry.
Many books for beach and summer reading are on display throughout the library. Come in and check out all the books that you may have missed reading last summer.
Dublin Public Library's Summer Reading Program, The Golden Summer, will begin Wednesday, July 1 at 10 am. Children will meet each Wednesday through August 5 in the multi-purpose room in the lower level of the library. Dublin's program has a long history of offering activities that encompass the mix of toddlers through teens working and learning together. An abundance of kindness will be our focus as we encourage children to look at the best we all have to offer this summer. Each week new books and crafts as well as skits and fun interaction will be offered.
Summer reading is always encouraged with a display of fiction and non-fiction titles. New this summer will be a review wall encouraging children to share and recommend a book to a friend. If you enjoyed a classic such as Hans Brinker, The Mutiny on Board HMS Bounty, Treasure Island, or Robinson Crusoe, take it off the display and read a little aloud to pique someone's interest.
An introduction to our program was held on June 24 at 10 am in the lower level. Please encourage your children to enjoy one technology-free morning this summer and participate in the summer reading program.
FDPL Presents Forrest Cook
Lecture, reception, and book signing July 8: In his new book, Money, Murder and Madness, A Banking Life, Forrest Cook explains the recent financial crisis and its origins in government errors during his own banking career, largely as deregulation took effect.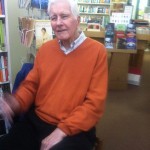 Much of the banking world we see today developed over the course of his career and his book illustrates what he believes to be the origins of recent bank collapses and bailouts. Please join us to hear Forrest's first-hand accounts of his experiences on Wednesday, July 8, at 6:30 pm, in the lower level of the DPL; this event is free and open to the public.
3rd Annual Ice Cream Social & Live Music: On Wednesday, July 22, 6 – 8 pm, come to the lawn behind the library. Bring the family for an old-fashioned summer evening of toe-tapping music and free Kimball Farm's greater-than-great ice cream! Bring your picnic if you wish and don't forget your 
lawn chairs or picnic blanket and bug spray. Music by local group "Legacy" (rain date July 29).
Library Pass Program: The Friends of the Dublin Public Library would like to remind members that the library is offering a terrific assortment of museum passes this year. The program provides free or discounted admissions to six area museums for patrons and their families to enjoy. Use your library card to sign out a pass to use on a specific date, enjoy your visit, then return the pass for another family to borrow. The 2015 museum pass list includes Cheshire Children's Museum, Keene; Currier Museum of Art, Manchester; McAuliffe-Shepard Discovery Center, Concord; Worcester Museum of Art, Worcester, MA; Ecotarium, Worcester, MA; and Museum of Fine Arts, Boston.
Survey: Don't forget to fill out the Survey (light blue) from the Friends of the Dublin Public Library. You can find it online (http://goo.gl/xj7fMC) and it's also available from http://dublinlibraryfriends.weebly.com — or you can fill out the hard copy located in the entrance of the library. There is a drop box in the entry area or mail it to FDPL, PO Box 202, Dublin, NH 03444. Thank you.
Dublin Women's Club News
By Nancy Campbell
The Women's Club Beach officially opened for the season on June 29. We thank the 20-plus hardy people who helped set up the beach for summer on a warm, sunny day.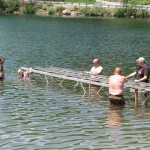 Invitations to join the beach went out at the end of April. Membership in the Club, which includes beach privileges, is available to anyone living in Dublin. Members and guests who use the beach must sign an acknowledgement of risk form as a requirement of our liability insurance carrier. This is an ongoing condition and we ask that you return the form that was enclosed with your invitation as soon as possible.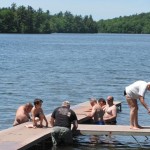 Dues are $125; scholarship assistance is available to individuals or families who cannot afford the dues. If you did not receive an invitation or need financial assistance, please call Nancy Campbell (563-8480) or Jill Lawler (924-7675) or contact Beach Committee members Connie Cerroni, Heather Fletcher, Shannon Carpenter or Emily Johnson.
The Club thanks those people and organizations who have generously responded to our annual appeal to help defray the costs of running the Women's Club Beach. It is because of the generosity of Dublin citizens that we are able to keep membership costs down.
Returning staff includes Liz Lawler and Polly Seymour; our weekend lifeguard is Cam Harrington, a Dublin School student and resident of Francestown. Taya Kerwin, also a Dublin School student from Hancock, will be teaching sailing. We look forward to a warm, rain-free and safe summer.
Nancy Campbell is Treasurer of the Women's Club.
Planning Board to Discuss Solar Energy Systems in Town
Public meeting August 6 at 7 pm in the Town Hall.
By Bruce Simpson
The Planning Board is considering amending the Land Use Ordinance to address the issue of solar energy uses. Interest in generating electricity and/or hot water from solar power has been increasing, as the costs of installing solar energy systems have been falling.
Solar energy can provide an environmentally friendly alternative to fossil fuels; in fact Germany, with less sunshine than NH, leads the world in generating electricity from solar. Solar energy systems are currently allowed as an accessory use, however, there are no specific regulations addressing solar power.
Several years ago we amended our ordinance to regulate the installation of large commercial wind energy systems while still allowing smaller systems designed to provide energy to individual homes or businesses. A similar approach may be appropriate for solar energy systems, guaranteeing homeowners the right to install small systems, while giving the town control over larger commercial installations so as to protect scenic views and reduce impacts on abutters.
The Planning Board will hold a public meeting on this issue on Thursday, August 6, at 7 pm in the Town Hall. Dublin residents are invited to join us for a discussion of solar energy and provide input on how Dublin can best accommodate it. Please join us.
The original article above, published in July, incorrectly stated that Germany obtains over 50% of its electricity from solar power. Although solar has provided over 50% of the country's electricity on a given sunny day, the overall contribution of solar energy in 2014 was between 6-7%. Thanks to Rick MacMillan for the correction.
Bruce Simpson is chair of the Dublin Planning Board.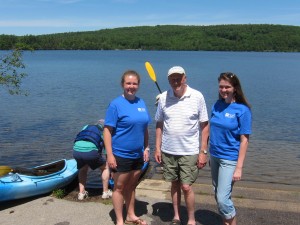 Satisfying Results: A Report on the Knotweed Project
By Miriam Carter
For most of us, spring is a time of welcome renewal, especially after this past winter. For members of the Dublin Conservation Commission it is also a time of review. In June fellow board member Rusty Bastedo and I joined Jeff Taylor from Vegetation Services to inspect previously treated areas of Japanese Knotweed as well as to identify new areas in need of attention. The results were very satisfying.
Large stands of Knotweed on private and town-owned property have been successfully eradicated with only a small percentage of living plant remaining. A second spraying this year should be all that is needed. The soil conditions dictated the amount of attention required. Plants growing in sand are easier to eradicate than well-established plants in soil.
Properties that have been treated by the town will have to be monitored by our committee and by homeowners for future growth spurts. A great deal of attention has been given to the Knotweed patch that existed on Church Street. It has been eradicated for the most part, but we can still find areas that need spot treatments. It is wonderful to see treated areas returning to a natural state with native plants returning.
This fall we will be treating some of the largest infestations in town with hand sprayers as well as a large truck sprayer. We identified an impressive site at the old Town Pit, which is too tall and too wide to be treated by hand. We look forward to the continued success of this program and continue to encourage anyone who knows of a Japanese Knotweed infestation on private or town property to please contact the Conservation Commission.
Miriam Carter is Conservation Chair; she can be reached at 603-563-8046. Her fellow board members are Rusty Bastedo, Jerry Branch, Katrina Farmer, John Morris, and Wendy White.
From the Dublin Recycling Committee
By Karen Koskela
The Recycling Committee is looking for one or two persons to join the Committee to aid in identifying "environmentally responsible solutions to Dublin's current and future recycling and solid waste needs."
If you are interested in being appointed, please contact the Selectmen's office.
Also, volunteers are needed to assist Tom Kennedy in monitoring the Swap Shed at the Recycling Center during open business hours.
Karen Koskela is on the Recycling Committee.
50th Season Opens for Monadnock Music
Monadnock Music, in its 50th season, opens on July 10 with the first of a five-year cycle of Beethoven's complete symphonies and will last for five weekends. There will be 13 concerts; four ticketed concerts in Peterborough and nine free concerts across the Monadnock Region. Artistic director, Gil Rose, will conduct Beethoven's Symphonies No. 1 and No. 3.
The 2015 Season ends on August 7 with a performance of George Gershwin's Rhapsody in Blue and Piano Concerto in F featuring the original orchestrations for the Paul Whiteman Band from the 1920s. Festival favorites, The Monadnock String Quartet, the Monadnock Saxophone Quartet, the Monadnock Piano Trio and the Monadnock Chamber Festival Orchestra will also perform. Call (603) 924-7610 with questions.
Tidbits from the Dublin Cemetery
By Hank Campbell
Have you ever wondered who is buried in the Dublin Cemetery or taken a walk through the Cemetery and tried to find where someone is buried?
Dublin artists buried here include Joseph Lindon Smith, George de Forest Brush, Richard Meryman, Alexander James, Gouri Ivanov-Rinov and Beatrix Sagendorph.
Did you know that the founder of Steamtown, USA, and the benefactor of Dublin Christian Academy, F. Nelson Blount, is buried here? Nelson was killed in an airplane crash near the Dublin-Marlborough town line. His grave is marked by a headstone with a train on it.
Some of the Town's early settlers are buried here as well: Thomas Morse, William and Richard Strongman, among others. Edward Sprague, the Town's second minister, and his wife are also buried here. Their graves are relatively easy to find from the Old Town Pound. Walk west toward the Lake, along the stonewall, and you will come to large flat tablets that mark their graves.
Do explore the Cemetery, enjoying the view of the lake and the mountain, but please be respectful of the gravesites by remembering to pick up after your dogs and to keep them leashed.
If you leave flowers on someone's grave, please leave live flowers — artificial flowers have wires in them that could injure one of the workers or some innocent bystander if the flowers get caught in the lawn mower or string trimmer.
Hank Campbell is Cemetery Superintendent.
More Graduates
High School Graduates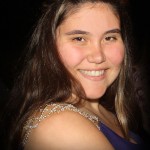 Taylor Mills will be attending Franklin Pierce University in the fall to study Psychology. She has enjoyed all four years at ConVal High School and will miss seeing her friends in classes, at lunch and in the halls. Taylor was involved in Art Club and Future Business Leaders of America (FBLA). She is the daughter of Suzi and Rich Mills.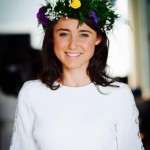 Sarah Drory graduated from Dana Hall School in Wellesley, MA, and will attend Barnard College in New York City in the Fall. She was co-captain of the Dana Hall Cross Country team, co-editor of Dana Hall's online newspaper, and was a member of the Dana Hall School Model UN team for three years. Sarah attended Mountain Shadows School in Dublin. Her parents are Julie Houk and Michael Drory.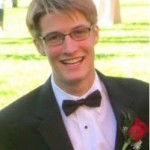 Harry Tibbetts graduated from Phillips Exeter Academy in Exeter, NH. He was awarded a fellowship to study Zen Buddhism in Japan, after which he will attend the University of Edinburgh in Scotland. Harry will also be hiking the Pacific Crest Trail during his gap year. His parents are Peter and Fiona Tibbetts.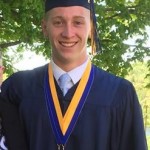 Jonathan Edward Clater graduated from Dublin Christian Academy in May. He plans to continue his education at Bob Jones University in the fall for his undergraduate degree and hopes to continue on to law school. He is the son of David and Kathy Clater.
College Graduates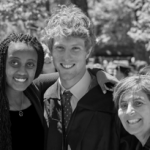 Joshua Imhoff graduated with Honors in Computer Science from Bowdoin College on May 23, 2015. He received the 2015 Computer Science Senior Year Prize. He played on the Bowdoin Ultimate Frisbee team that attended the D3 US National Championships in 2015. He is the captain of Bowdoin's Northern Bites robotic team that competes internationally in the annual Robocup Championships. After graduation he is spending the summer preparing for the Robocup Championships to be held in Hefei, China, in July. He will be working in NY starting in the fall.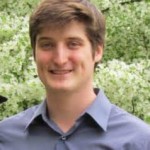 Ian Tibbetts graduated Phi Beta Kappa from Colby College in Maine. He has moved to Chicago and taken a position as a systems programmer for McMaster-Carr. He is the son of Peter and Fiona Tibbetts.
Post Graduate
Caroline Fidan Tyler Doenmez recently graduated from Columbia University, where she earned an M.A. in Human Rights Studies. She studied under Audra Simpson, concentrating on settler colonial studies, gender justice, and the rights of indigenous peoples. Her thesis focused on the plight of indigenous women in Canada who have been murdered or gone missing in the last 20 years.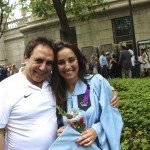 Caroline, shown here with her father, has been working since last year with Columbia's Human Rights Advocates Program, where she will stay on as Program Coordinator through the fall.
Caroline previously attended Cobb Meadow, Mountain Shadows, Dublin School and Smith College, and is the daughter of Sarah and Suleyman Doenmez.
Congratulations to all!
Dublin Day" Fun for All
Saturday, July 18; Yankee Field, Rte. 101
10 am to 3 pm – free parking and entrance
The Dublin Recreation Committee invites everyone to the annual Dublin Day Celebration. Activities, entertainment, food and music will be ongoing throughout the day.
10 am-2 pm – Friendly Farm Petting Zoo
10 am-3 pm – Children's Bouncy House, Arts & Crafts, Bits & Pieces; kids' games provided by Dublin Summer Playground; Portable Rock Climbing Wall (staffed by professionals); meet Police Chief Stephen Sullivan and tour the Dublin Police Cruiser; tour the Cheshire County Mobile Command Post; Corn Hole Toss Game and Super Soaker Fun Battles
10:30am – Crowning of Miss Dublin (Look for places to vote around town soon.)
11 am-2 pm – Face Painting by Linda Abram
11 am-3 pm – Pony Rides by Villi Poni Farm
Entertainment
10:30 am-11:30 am – Heart's Accord Barbershop Quartet
10:30 am-1:30 pm – Confetti the Clown performs and creates with balloons!
10:30 am-2:30 pm – Caricatures by Justin Contois
11:30 am-2:45 pm – Gap Mountain Band (musicians from Dublin)
1 pm-2 pm – "Motion Man" Jody Scalise (mime/magic/circus/illusion)
Food
8 am-11 am – Coffee, tea, juice, doughnuts sold by Dublin Community Church Sunday School
11 am-3 pm – Burgers, hot dogs, soda, chips sold by Dublin Consolidated School PTO; Pizza and soda sold by Dublin Community Church Sunday School; Wheeler's home-cut French fries and fried dough; Brian Barden's famous homemade ice cream
The Dublin Recreation consists of Vira Elder, Chairman; Daniel Adams, Daniel Albert, Jen Bergeron, Mike Caron, Becky Stapleton, and Winnie Sundstrom.
Yankee Barn Sale: July 25
Stop in for great bargains, good food, and lots of fun.
The 34th annual Yankee Barn Sale in Dublin is set for Saturday, July 25.
Employees of Yankee Publishing Inc. and residents of the local area will be selling their attic treasures at the Yankee Field on Rte. 101, near Peter Pap Oriental Rugs, from 8 am to 1 pm.
Treasures come in all shapes and sizes at approximately 80 selling spaces. NH Gym Rats, a nonprofit youth basketball program focusing on skill development with participating players from throughout the Monadnock Region, will be running the refreshments booth as a fundraiser for their organization. Parking is $1.00 and entry into the parking area will be from Monument Road. Watch for signs.
In case of inclement weather, listen to local radio stations Saturday morning starting at 6:30 am. If it should rain, the Yankee Barn Sale will be held on Sunday, July 26.
"Dublin Horsepower" at Historical Society Museum
By Rusty Bastedo
The 1841 Schoolhouse Museum, located on Dublin's Main Street, will be open from 12 to 2 pm on weekends beginning July 4 through September 6. The largest part of the Schoolhouse collections were gathered for the 1852 centennial of the Town of Dublin, with more materials gathered for celebration of the nation's 1876 centennial.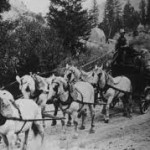 These collections allow us to feature Dublin before automobiles had been invented. How did Dublin farmers and manufacturers get their goods to market before trucks and cars? By wagon, that's how, wagons powered by six- and eight-horse teams, with a drover overseeing the journeys on New England's dirt roads.
In the deep winter snows, blown in over treeless fields, traffic would slow; mud season did the same. It was a hard life, but schedules were kept pretty well, and farmers' goods rolled from Dublin to the canals at Concord and at Manchester, then down to Boston by boat and out into the world. Dublin-made leather boots and shoes, sewn together on the farms, were found on the feet of plantation workers in the southern states, and in Caribbean sugar cane fields; Dublin farm goods found their way to world markets, sometimes via Worcester, Mass., and in exchange, palm fronds, used for making hats, were shipped to county stores by wagon.
Learn all about these pre-Civil War trades, and about others as well, this summer at the 1841 Schoolhouse Museum, located on Dublin's Main Street, starting at noon on weekends.
Rusty Bastedo is on the staff of the Advocate.
Honoring May Clark's Career in Education
By Mary Loftis
Before May Clark became the Teaching Principal of Dublin Consolidated School 11 years ago, the library in the remodeled school had been designated the Clark Library in recognition of her ten years of service on the ConVal School Board. And years before that, May had served as a volunteer science teacher while her now-grown children attended DCS. So, May's retirement in June marked the end of a professional lifetime of dedicated and inspired service to our little elementary school.
DCS is renowned in SAU 1 for being a warm, caring and kid-centered place, and May Clark fostered that environment. Despite a prodigious workload (in essence two full-time jobs: administrator and teacher), she never seemed harried or preoccupied. Her intense attention (and often that high-beam smile) was directed at whatever person, large or small, she was talking to at the moment.
May said she loved being a "hometown principal," and is thrilled that another local educator, Nicole Pease, will be succeeding her next year. Nicole was one of May's many admirers who attended a party in her honor on May 28.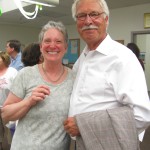 That festive event, orchestrated by administrative assistant (and May Clark fan) Jo-ann Hopkins, included students, former students, colleagues, administrators, parents and friends. May said she was particularly touched and surprised by the presence of former ConVal Superintendent Larry Bramblett, with whom she had worked on the School Board for nine years (five as chair), who traveled from Arizona to honor her at the gathering. In addition, she mentioned her pleasure at seeing Rick Beard, retired from the ConVal Maintenance Department, who took good care of the DCS staff for many years in addition to making furniture for the school.
DCS Teacher Emily Brnger, who worked with May throughout her tenure, said, "She has accomplished a great deal and has played many roles for various people – as a mentor, cheerleader and, most importantly, as a champion for kids. She has done it all with compassion, integrity, optimism and fortitude."
So, is May Clark really going to retire from education? She says, "Yes!" She's looking forward to resting, working on her house and visiting her family (including four grandchildren) without the constraint of the school calendar. The change of pace will be welcome but she said a lot of tears were shed when she said good-bye to the DCS community.
Mary Loftis is on the staff of the Advocate.
Ken McAleer's Contributions Much Appreciated
By Mary Loftis
Ken McAleer joined the Dublin Recreation Committee in the early nineties – and he's been orchestrating Dublin Day and serving up hot dogs after the Memorial Day parade ever since. But now Ken has closed his long-time business, Video Headquarters in Keene, and he and his wife Linda are moving full-time to Flagler Beach, Florida, a small town that Ken characterizes as similar to Dublin (but with different winter weather).
Recently Ken reminisced about the "fun committee" that he helped revive to bring the town together. He recalled several memorable features of Dublin Day: the Riff Raft Regatta boat race and the police vs. fire softball games. During other seasons the Rec Committee sponsored Halloween parties, snow fort building events and Easter egg hunts – and Ken was always at the helm. For the past few years, Vira Elder has chaired the Rec Committee, and Jen Bergeron is co-chair.
Ken said that he will miss the town and the "awesome" people he worked with over the years. He said he was initially inspired to get involved at the urging of the late John Harris, who told him that people should not just live in a town; they should contribute to it.
We wish Ken and Linda a happy retirement – with much appreciation for all Ken did as the Rec Committee's fearless leader. He certainly took John's advice to heart!
Mary Loftis is on the staff of the Advocate.
Gifts of the Garden
By Cathy Carabello
Ten years ago, when we at Dublin Community Preschool were envisioning what our space in Dublin Village Park might look like, the outside component was as important as the inside.
We were thrilled to have Chuck Simpson, local landscaper and alumna dad, design butterfly gardens into the outside landscape. It was the perfect setting for bringing our butterfly learning to life every fall when we studied the lifecycle of the Monarchs.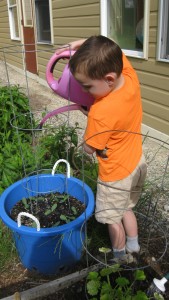 Having space for raised-bed gardens was important, too. We started with one bed with the idea that we would assess the interest level of the children. They couldn't get enough! They had more ideas for vegetables to plant than we had room to accommodate. So, thanks to a grant from the Garden Club of Dublin two years ago, we were able to add a second raised bed and fill them both with organic soil from Ideal Compost in Peterborough. All of the vegetables we have grown since, both from seed and from starters, are organic.
Since the produce helps supplement our morning and afternoon snack offerings, the children dictate what we plant. When we were discussing the garden early this spring, the children decided we also needed to plant some vegetables for our classroom guinea pig — so we planted lots of lettuce and kale.
Our morning routine includes time in the garden. I take a couple children at a time to plant and water. They beg to be chosen so we rotate who gets to go and ideally every child has garden time every week.
As the seeds begin to sprout, the excitement grows. The garden harvests begin in early summer and continue well into the fall.
"Inch by inch and row by row," we hope that through this teaching, we are laying the foundation for healthy eating that will last a lifetime. The gifts of the garden are many!
Dublin Community Preschool offers a summer garden camp week for children ages three to seven called "Dig In!" The camp is offered during the week of July 6 through July 10. For more information, please email us at cathy@nulldublinpreschool.org or call 563-8508.
Cathy Carabello is lead teacher/director of the Dublin Community Preschool.
In last month's Advocate, we reported on the ConVal students
from Dublin who traveled to Cleveland, OH, to participate in a band
and chorus competition and visit the sites around the city. We have
three more student names to add to that roster —
Gillian Thebodeau, Allyson Boyd, and Grace Wirein
also participated.            —Shari LaPierre
Concert at Dublin School
Join us for a special evening of traditional New Orleans jazz with Aurora Nealand and the Royal Roses at the Fountain Arts Building, Dublin School in Dublin, NH. This will be an outdoor event, weather permitting, Friday, July 3, 7:30 pm at the Fountain Arts Building on the Dublin School campus. The concert is co-sponsored by The Walden School, the Monadnock Folklore Society, and the Dublin School and is free and open to the public.
Dublin School Crew Thriving
By Brad Bates
The sport of rowing has emerged as one of the more popular sports at Dublin School. Beginning as a club sport almost a decade ago, rowing has grown to involve a quarter of the 150 students on campus. The school made a decision two years ago to a create an endurance sports program, which took advantage of the school's perfect location for running, mountain biking, cross country skiing and rowing. Few boarding schools are as geographically positioned in that sweet spot where the snow is great in the winter and yet there is still an opportunity to get out on a shallow, ice-free lake in the early spring.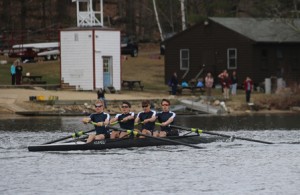 Thanks to the Boy Scouts and Camp Wanocksett, Dublin rows on Thorndike Pond, which makes for outstanding wind-protected rowing. Dublin rows in "fours," boats designed for four rowers with a single oar. The boat is steered and coached by a coxswain who lies down in the bow of the boat and speaks to the crew through a microphone. Coxswains are like jockeys in a horse race and must have complete knowledge of their athletes, know what to say to motivate them, make adjustments to their technique, and control the strategic timing of moves and sprints in a race.
This spring's crew season turned out to be the school's best ever. Under the inspirational coaching of Rich Connell, Blair Granum, Andy Hungerford, and Sarah Mead, the Dublin crews swept the podiums at the Granite State four-oared shell championships, qualifying five of the boats to compete in the newly created National Scholastic Rowing Championships in Virginia.
Dublin was fortunate to race against some of the best crews from the ten or so states that sent their champion scholastic teams. Dublin School once again had dominant performances with the Girls' Second Varsity four taking the bronze medal, the Boys' Varsity lightweight taking gold, and the Boys' Varsity taking bronze.
The Boys lightweights decided to put their training to the test at the USRowing Northeast Regional qualifier in the hopes of finishing in the top three to book a ticket to Florida for the Youth National Championships. After two days of racing in Lowell, MA, the four earned a silver medal and a trip to Sarasota in June to compete against the top 30 lightweight fours in the nation. The four rowers in the boat were products of the endurance program and had built their fitness running, mountain biking, playing soccer and Nordic skiing leading into the spring season.
The crew just returned from a highly successful trip to Florida where — after a thrilling final — they finished in fifteenth overall. Four out of the five rowers are returning as juniors next year. The school breaks ground on its first boathouse in August and hopes to have it fully operational for the opening of the 2016 season. Dublin residents Tatum Wilson (Girls' Varsity four), Jesse Garrett-Larsen (Boys' Varsity four), and Calvin Bates (Boys' lightweight four) rowed for Dublin School this spring. Tatum recently won the school's female athlete of the year award for her accomplishments in running, skiing and rowing.
Brad Bates is Head of School at Dublin School. He can be reached at 563-1222.
Hiroshi Land Celebration in Dublin
By Margaret Gurney
The Hiroshi Conservation Land Celebration was held June 14 on property acquired from the estate of Hiroshi Hayashi, who died May 17, 2012. The Harris Center for Conservation Education and the Peterborough Conservation Commission collaborated to protect more than 100 acres that run along Nubanusit Brook and the new trail, blazed along the brook, is now open to the public.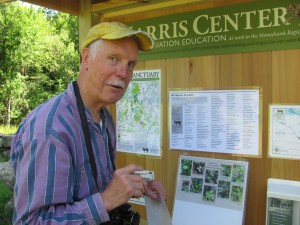 Jeremy Wilson, Executive Director of the Harris Center, welcomed the hikers and introduced Francie von Mertens who spoke about the property acquisition as top priority due to its variety of pristine natural habitats. Eric Masterson of the Harris Center and Carl von Mertens planted six chestnut trees on the front field, assisted by children who attended. On a two-mile hike on the Loop Trail, Francie discussed plants and wildlife and Jeremy pointed out little-known facts about forest trees. A kiosk provides trail maps and other points of interest.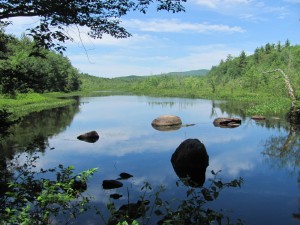 Hiroshi Hayashi, whose home was on the land on Brush Brook Rd. (Rte. 137), was the highly regarded owner-chef of Latacarta Restaurant in Peterborough for many years. At home, he and his wife, Masuko, ran The Monadnock School of Natural Cooking and Philosophy, where they taught cooking classes. The Hayashis' partner and dear friend, Barbara Sustick, was on hand to see Hiroshi's dream of conserving his land come to fruition.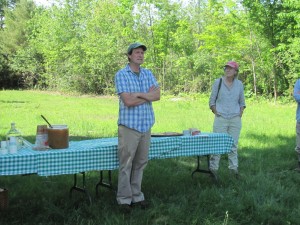 Directions: Parking and trailhead are 2.1 miles north of Carr's Store on Rte. 137, east side. To read more about the history of the land, visit http://peterboroughopenspace.org/success-stories/hiroshi-hayashi-land.html
Margaret Gurney is editor of the Advocate.
News from the Hub
By Nancy Jackson
Learn to cook vegetarian summer meals! On Sunday afternoons, from 3 to 4 pm (June 28, July 26, and August 23) there will be cooking classes by Silvie Perez. She is a public health RN, interested in nutrition. To register call 978-868-1004. It's only $5 for supplies. Come to one, two or three classes and all ages are welcome.
Join us for an art reception for Dublin artist, Maryann Mullet, on Tuesday, July 7, from 5 to 7 pm with musical accompaniment. Maryann, owner of Harvest Thyme Herbs, has opened a new art gallery, "It's Thyme." She is a member of the Pastel Societies of Cape Cod and New Hampshire and the Monadnock Area Artists Association.
Our summer film series, Saturday Night at the Movies, are family friendly! July 25 is "Napoleon and Samantha," an old Disney adventure film with Jodi Foster and Michael Douglas, featuring nature, a lion, a grandfather, and animal caretaking. Movie starts at 7 pm. Free admission and popcorn. Bring your own beverage.
Our free monthly community lunch, always the third Tuesday (July 21), serves from noon to 1. Bring a friend. Seniors, if you need a ride, just call 563-8021.
You could be the proud owner of a beautiful birdhouse, a handmade reproduction of the Dublin Community Church. Hub volunteers are selling raffle tickets at various sites around town in July or purchase online/Paypal ($1 each, $10 for 12, $20 for 25) at www.dublincommunitycenter.org. The drawing will be on Saturday, August 29, at the Hub's chicken barbecue.
Coming in the fall: Dr. Linda Singer of Nelson will teach origami and paper art on Monday mornings, from 9:30 to 11 am. She is an amazing artist and we are lucky to be able to have her at the Hub.
We're open all day Mondays and Wednesdays. You are welcome to come in for coffee, use our free WiFi, hang out, or view art. To book space for parties or events, call 563-8021.
Nancy Jackson is a member of the Board of the Dublin Community Center.
HCS Wellness Clinic at the Hub
Home Healthcare, Hospice and Community Services (HCS) is offering a Nurse Is In wellness clinic in Dublin. The clinic will be held at the Dublin Community Center on Tuesday, July 21, from 12 to 1 pm. Our HCS wellness nurse will check blood pressures and be available to answer questions about home care and any health concerns you may have. This screening is open to residents of all area towns and is offered free of charge.
Nurse Is In clinics are sponsored by Home Healthcare, Hospice & Community Services, a Monadnock United Way agency. For a complete list of clinics or for more information, visit www.HCSservices.org or call HCS at 352-2253.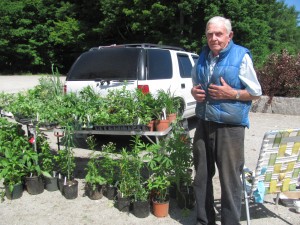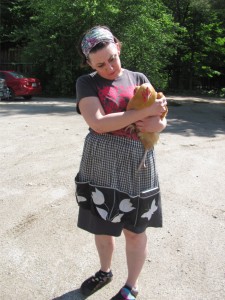 Zumba Benefit in the Hub for the Food Pantry
By Deb Giaimo
On Thursday, July 16, and Thursday, August 20, from 5:30 to 7 pm, Zumba instructor Deb Giaimo will host a food drive and fundraiser to benefit the Peterborough Food Pantry. During the summer, the DubHub will provide welcome air-conditioning as participants salsa, cha-cha, and more to upbeat Latin and World music…all for a worthy cause.
The requested donation at the door is $5/person, and any non-perishable food items are also gratefully accepted. Always needed are chunky soups (with meat), tuna, peanut butter, spaghetti sauce, cold cereals, and canned fruit. Anyone wishing to make a monetary donation or food contribution may do so in the DubHub starting July 6 (Look for the big box labeled "Food Pantry") and again on August 10 for a period of 11 days up to the day of each Zumba benefit.
The Monday evening Zumba Fitness class with Deb will take a break for the months of July and August with the early fall session beginning August 31. In the meantime, Zumba devotees and everyone wanting to join in on the fun are invited to come to the DubHub on July 16 and August 20 at 5:30 pm.
Deb Giaimo has been teaching Zumba and line dancing for many years. Please call her at 563-8648 with questions.
Acting Camp in July
Submitted by the Dublin Community Center
Acting Camp for children ages 6-13 will be held afternoons at the Dublin Community Center.
There will be three, one-week sessions at $50 per session.
Session 1, July 13-18, M-F, 3:30-5, with a performance (7 pm) on Saturday, July 18.
Session 2, July 20-24, M-F, 3:30-5, with performance (3:30 pm) on Saturday, July 25.
Session 3, July 27-31, M-F, 3:30-5, with performance (7 pm) on Friday, July 31.
There will be adult supervision; parents need not stay. Children can take one or all three sessions. Campers will be advised on auditions, acting, comedy, and performing before an audience.
Acting coach will be Cully Colantino of Dublin with assistant Emil Hristache of Francestown. For details and registration call 831-3210 or email info@nulldublincommunitycenter.org.
Another New Part-Time Officer Joins the Ranks
By Margaret Gurney
Chris LaBrecque is Dublin's most recently sworn-in part-time police officer, the second of two positions to replace one full-time position left vacant by Dan Cheshire, who was called into the military. Officer LaBrecque, a full-time police officer in Jaffrey, is excited to work in this town under Chief Sullivan (Advocate, April 2014), and alongside Officers Tim Suokko (Advocate, February 2013) and Melissa Hetrick (Advocate, May 2015).
His approach to law enforcement is more along the detective lines.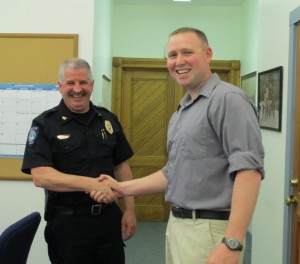 He says. "Some police officers are more motor-vehicle oriented, catching DWIs and so forth, but mine is more investigative. I enjoy meeting people, working the day and evening shifts. Often I am asked to be present in custody transfers or when an employee is getting fired. I'd rather be there to prevent anything than after something has happened."
Officer LaBrecque graduated from University of New England (Biddeford, ME) in 2006 and promptly got a job in law enforcement in Farmington, NH. He majored in Psychobiology (animal behavior), and minored in Psychology and Sociology; his intention was to enter canine training for the police but things worked out differently. He graduated from the NH Police Standards & Training Council (PSTC), aka The Academy, in March 2007.
Officer LaBrecque met his wife Casey at UNE and worked as a detective for the Kingston Police Department from 2010 to 2013. Their five-year-old son Logan was present at his father's swearing-in at the Dublin Police Department on May 4th.
Now that the LaBrecque family has moved into their home in Rindge, they'll be busy with Logan and their new 11-month-old twin boys. "I'm glad we settled in this region. It reminds me of up north. These are small towns, everyone knows everyone, and it's wooded." Officer LaBrecque grew up in Dummer, NH, north of Berlin. He is pleased with the school district (Jaffrey-Rindge) and they plan on raising their family here.
Officer LaBrecque enjoys instructing, and is trained to do so in OC (Mace-like) spray, Tasers, batons; he plans to add firearms and defensive tactics to his resume in the future. Like Officer Hetrick, Officer LaBrecque will keep his full-time job as a Jaffrey policeman. He has completed his field training by Officer Suokko with a tour of our town's roads, water sources, schools, etc. as well as areas of concern for parking. He has learned the policies of the department, and has already begun meeting townspeople, starting at the Dublin General Store, of course.
As a part-timer with a full-time commitment elsewhere and three young sons, Officer LaBrecque says, "I will try to give this town as many hours as I can." He is certainly looking forward to it.
Margaret Gurney is editor of the Advocate.
Shari LaPierre Completes Term
By Bill LaPierre
Shari LaPierre recently completed her two-year term as President of the Vermont/New Hampshire Marketing Group. Shari has been a member of the group since the early 1990s, and had previously served as chairperson of the Group's Conference and Education committees.
The VT/NH Marketing Group is a trade organization serving more than 100 direct marketing companies in the two-state region, many of which are catalogs and online retailers. Shari, who was born and raised in Peterborough, had worked at Helmers Publishing in the 1980s and 90s as the magazine's circulation manager. She recently became the Sales and Marketing representative at Dahle North America, located in Peterborough, a manufacturer of high-end office accessories.
Shari also serves as a trustee and choir member of the Dublin Community Church, and is a member of the board of the Friends of the Dublin Public Library. She and her husband, Bill, live on Perry Pasture Road with their son, Tim, who just completed his freshman year at ConVal High School.
Bill LaPierre is a catalog consultant and is married to Shari.
DCF Awards Graduates
By Rosemary Mack
The Dublin Community Foundation completed its funding for the fiscal year, which runs from June 2014 through May 2015. This year the Foundation provided funding to assist Dublin youth in the following programs: the Dublin Playground Summer Program, DCS/PTO Literacy Program, Dublin Community Preschool, Dublin Women's Club, DCS Ski Program, Children and the Arts, Camp Takodah, and NH Dance Institute in support of its Dublin participants.
DCF also provided partial funding of the Harris Center and Cornucopia's programs at DCS. In addition, we continued the Coats 'n Hats Fund at DCS and made a donation to the Dublin Community Center.
Three residents of Dublin who are graduating seniors were awarded higher education scholarships: Jon Clater, Jesse Garrett-Larsen and Genevieve Weidner.
DCF would like to thank the many Dublin residents whose generous donations made these contributions possible.
Established in 1966, the primary mission of DCF has been to provide financial assistance as needed to ensure that all Dublin children are able to participate in school and community programs. DCF is a private foundation within the meaning of section 509 (a) of the Internal Revenue Code.
Rosemary Mack is President of the DCF. Board members are Jane Keough, Lisa Foote, Connie Cerroni, and Jeff Oja.
July at the Players
By Fred Leventhal
The Peterborough Players will be performing Intimate Exchanges by Alan Ayckbourn, Britain's most prolific contemporary playwright, from July 1 to 12. Nominated for an Olivier Award and a Drama Desk Award, this domestic comedy features Kraig Swartz and Beverly Ward, who delighted audiences in 2014's Last of the Red Hot Lovers. In this comedy of chance the two actors play ten different characters, and the audience determines the outcome from a choice of alternative endings.
On July 15, Outside Mullingar by John Patrick Shanley will begin a two-week run, ending July 26. Shanley — whose play Doubt, performed at the Players in 2008, earned the Pulitzer Prize — sets his new drama in rural Ireland. This touching romantic comedy, nominated for a Tony Award in 2014, depicts two neighboring families whose eccentric offspring are approaching 40 and are watching the years slip away. Despite a land feud simmering between their families, these lonely souls prove that it is never too late to take a chance on love. The New York Times, which called the play Shanley's finest work since Doubt, praised its "dark reflections on the unsatisfactory nature of life and the thorns of love." The cast of Players' favorites includes Tom Frey and Bridget Beirne as the inhibited lovers and Michael Page and Dale Hodges as their respective parents.
The classic farce, Charley's Aunt, previously seen at the Players in 1941 and 1979, will be presented from July 29 to August 9 in a production directed by Chuck Morey. The comedy centers on two Oxford undergraduates, Jack and Charley, who persuade their friend to pose as Charley's aunt (played by Kraig Swartz) thereby providing them with an appropriate chaperone for a luncheon with their girlfriends. Chaos ensues when the real aunt appears. Originally produced in 1892, Charley's Aunt enjoyed record-breaking runs in London and New York and has been revived continually and adapted for films and musicals.
Fred Leventhal, a Dublin resident, is a Trustee of the Peterborough Players.
Seminar on Estate Planning
Dublin Health & Benefit will hold a seminar on estate planning on Thursday, July 15. Ken Woods has invited an estate-planning attorney to educate people about trusts and wills. The one-hour seminar will be held at Dublin Health & Benefit office (1248 Main St.) at 5:30 pm. Due to limited space, interested people are asked to RSVP by Friday, July 10, by calling 603-563-8820.
69th Season of the Amos Fortune Forum Is Under Way
The Amos Fortune Forum was organized in 1946 to take advantage of the many widely known speakers on subjects of public interest and importance who live in and visit the Monadnock Region. It was felt that most people would welcome the opportunity to cooperate in this Forum, each talking on whatever subject he or she considered most interesting and timely. The lectures are a continuing tribute to Amos Fortune, one of Jaffrey's most distinguished citizens, and are given without compensation by members of the Monadnock community, their relatives and friends.
July 10 – Nick Capasso, Director of the Fitchburg Art Museum, will present "Creating a Community-Oriented Art Museum."
July 17 – Jermome Schulz, Ph.D., Clinical Neuropsychologist, covers "Nowhere to Hide: How Stress is Putting the Brains of Students with Learning Disabilities and ADHD (and others) at risk and what we can do about it."
July 24 – Rebecca Eaton, OBE, Producer, Masterpiece Theater will discuss Masterpiece: Before, During, and After Downton Abbey.
July 31 – Ellen Widmer, Wellesley College Professor of East Asian Studies, will speak about "Trip toward Tomorrow," A History of Women's Rights in China.
The Amos Fortune Forum lectures are held in the Meetinghouse located in Historic Jaffrey Center, 2 miles west of downtown Jaffrey, NH, on Fridays promptly at 8 pm. There is no charge for admission. Visit www.amosfortune.com for details.
Exhibits at the Thorne-Sagendorph Art Gallery Continue
June 5 through July 23 – Furniture Masters 2015: Our Stories, NHFMA craftsmen are professional furniture artisans committed to preserving and promoting the centuries-long tradition of fine furniture making in an array of styles, Period, Early American, Shaker, Neo-Classical, Traditional and Contemporary.
Intersection II: Art, Culture, and Identity, object-based learning using the Thorne's permanent collection is on display.
Thorne-Sagendorph Art Gallery is located on Wyman Way of Keene State College in Keene, NH 03435-3501. Contact thorne@nullkeene.edu; www.keene.edu/tsag; or call 603-358-2720 for their summer hours.
MESA Annual Meeting Rescheduled
By Nancy Nolan
The Monadnock Eastern Slope Association (MESA) will hold its annual potluck meeting on Sunday, October 25, in the Dublin Community Center rather than its usual August date. Please stay tuned for more news about the event.
Nancy Nolan is a member of Monadnock Eastern Slope Association and is on the board of the Dublin Community Center (aka The Hub).
Viviparous Quadrupeds of North America
By Tom Warren
While John Audubon (1785-1851) is best known for his bird paintings, he is also known for 150 paintings of animals in North America. One hundred of these prints, a generous donation by the Bastedo family to New Hampshire Audubon, are currently on display at the Currier Museum in Manchester from May 23 through August 30.
Audubon was descended from a French sea captain and retired Navy officer who sent his only son to America to avoid conscription by Napoleon's Army.

Audubon's father, Jean Audubon, owned a sugar plantation in Santo Domingo, now Haiti. His mother was Jean Rabin, a 27-year-old chambermaid who died months after his birth. His father's true wife back in Nantes, France, adopted Audubon and raised him as her own son. Audubon arrived in America in 1803, his illegitimate birth a closely guarded secret.
Audubon's adoptive mother described him as "the handsomest boy in Nantes, but perhaps not the most studious." From an early age he was fascinated by birds. He was gifted musically and artistically, playing the flute and violin and also drawing. He also excelled at fencing, riding and shooting. He was an especially gifted skater on the winter ponds outside of Philadelphia where he settled.
Audubon worked on the animal paintings in the 1840s after completing his Birds of America. In 1843, he took an adventurous trip west of the Mississippi to paint and write life histories of each of the animals he observed.
New Hampshire Audubon and the Currier Museum have collaborated on this exhibit to develop programs that focus on Audubon's artistic techniques, scientific methods and adventurous spirit.
When his skills diminished by failing eyesight and dementia, the remaining paintings were completed by his son John Woodhouse Audubon. The prints used the new technology of lithography invented in Munich in 1796 and used in the United States by 1838.
The Grey Fox is one of the most beautifully drawn of all the animals, an increasingly common animal here in Dublin in recent years with a pair raising three kits under a wood shed on Charcoal Road in 2014.
New Hampshire Audubon, the Currier Museum and citizens interested in art, natural history and the environment are most appreciative of the Bastedo family's generous donation of these Audubon prints to New Hampshire Audubon many years ago.
Tom Warren is Dublin's resident ornithologist, and serves as a trustee of both the Harris Center and the Audubon Society.
Summer Music at the Dublin Community Church, Sundays at 9 am
By Barbara Summers
The schedule for the Music Summer Series at the Dublin Community Church is being finalized, but we can announce some highlights:
June 28 – Barbara Summers, Steve Cady, and George Robinson will perform selections from the Baroque period, (Bach and Handel), livened up with bass and percussion.
July 5 – We are fortunate to have The Monadnock Brass in honor of the holiday.
July 12 – Andrew Koutroubas, a new student this year from the Longy School of Music, will perform on the cello; he is from Milford.
July 26 – Holly and Dick Sanders will perform on flute and clarinet.
August 9 – Jazz Sunday
We anticipate the McKay brothers, Ian and Jacob from Francestown, on strings; the Hancock Village Ringers; and several others.
Check our sign board in front of the church for further announcements.
We are fortunate to have so much talent in this area, and we are grateful for the support of the McIntyre and Spiker funds to make our season possible.
Barbara Summers is Director of Music at the Dublin Community Church.
The Dublin Community Church will host a Community Supper
on Tuesday, July 28, from 5:30-6:30. A summer meal of
hot dogs, beans, potato salad, desserts and coffee will be served.
Come one, come all to this free event.
A Note of Thanks
The Monadnock Area Food Pantry wishes to thank the Dublin community for donations of food. Meredith White reports that so far this year the Dublin Community Church has donated 635 pounds of food. Also, the Food Pantry acknowledges the efforts of the staff at the Dublin Post Office, whose drive yielded 350 pounds of food. It's very helpful and very much appreciated.
Friday Summertime Concerts in Peterborough
Music in Depot Park is Peterborough's free celebration on Friday summer evenings, sponsored by Twelve Pine and Depot Square. Come and enjoy music at the confluence of the Contoocook and Nubanusit Rivers (rain location inside Twelve Pine). Bring your picnic, lawn chair, friends and family, and enjoy open air entertainment from 6 to 7:30 pm
July 10 – Los Sugar Kings: draws on influences from nearly every continent in a roots-rock- reggae fusion repertoire.
July 17 – Pati Cloutier & Ivychum Band will have you dancing with a range including Rock, Jazz, Blues, R&B, Country, Funk & Soul.
July 24 – Trio Sphere: Playing music of (and inspired by) jazz legend Thelonius Monk…playful, melodic and quirky, the trio creates an engaging interactive vibe with the audience.
July 31 – The Longhorns delivers an energetic show of Bluegrass and Texas Swing.
August 7 – Paul Klemperer and His New Hampshire Ensemble has become a fixture of our summer music series and we are thrilled to have him back!
Jennifer Licko Presents 'Scots Gaelic Song'
International singer/songwriter Jennifer Licko presents a concert at the Nelson Concert Hall on July 15 at 7:30 pm. Jennifer combines the Appalachian music of her North Carolina roots with the traditional Celtic music of her ancestors. She accompanies herself on guitar and bodhran and audience participation is welcome. Ticket information is available at www.monadnockfolk.org or by calling 603-352-8616.
MCVP Crisis and Prevention Center
offers advocacy services and a 24-hour Crisis Hotline, where all services are free and confidential. Located in Keene (12 Court St.), the Monadnock Center for Violence Prevention (MCVP) can be reached at 1-888-511-MCVP (6287) — NH only. They also offer a shelter for women and children, advocacy in court, and are present at the local colleges, empowering survivors and breaking the cycle of domestic and sexual assault. To contact the business office, call 352-3782 or go online at mcvprevention.org.
Kids Can Be Firefighters Too!
The mission of the Division of Fire Safety, Office of the State Fire Marshal, is to prevent deaths, injury and property loss by promoting a safe fire, building and hazardous materials environment for the citizens and visitors of New Hampshire through education, engineering, investigation and enforcement.
Its latest newsletter, Safety Educator (Summer 2015), covers many dangers in our daily lives and how they can be prevented, including tips on cautions with fireworks and sparklers ("Not for all ages," p. 5); skin, water, boat, and playground safety tips; yard, bicycle and campfire safety; grill and home-escape safety, car-fire prevention, and much more. The newsletter is online at http://www.nh.gov/safety/divisions/firesafety/special-operations/pub_ed/index.htm
Safety Educator is kid-friendly and invites children to take an interest in becoming junior firefighters with Sparky the Fire Dog, who encourages kids to get outside and play during the summer months. However, on rainy days they can visit Sparky online and find exciting games, fun fire trucks, Sparky Stuff, and more.
The welcome page of the Division of Fire Safety is http://www.nh.gov/safety/divisions/firesafety/index.html
How to Protect You and Your Family from Scams
Scammers claiming to represent Eversource continue to be active in NH, and are using a variety of schemes to try to trick you into giving them money or personal information. If you suspect somebody is who phones you or appears at your door is falsely claiming to be an Eversource employee, report the incident immediately to local police. You can call Eversource weekdays at 800-662-7764 to confirm any suspicious requests for payment or information. To learn more, use this link: https://www.eversource.com/Content/nh/residential/safety/protect-you-your-family-from-scams
###