by Margaret Gurney —
Jim Rodrigues estimates 300 to 400 people used all 2 kilometers of the trails he built and groomed last winter for cross-country skiing next to his house, at the end of the field just off Route 101 and Monument Road.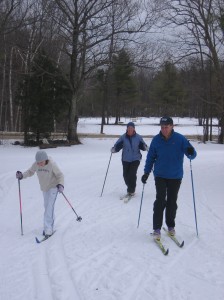 An avid skier himself, Jim is event manager of the New England Nordic Ski Association, which keeps him busy organizing races every snowy weekend. But during the week, he takes time to groom the trails himself on the Yankee land, with permission of course, next to his home.
Jim grooms a commercial grade swath about 12 to 14 feet wide after every snow, and explains two of the loops connect up on Yankee land and can take you to the elementary school. He even clears enough parking places for 5 to 6 cars. "Sometimes I'll hop on and ski for an hour over my lunch break," says Jim, but he want to get the word out that it's for sharing with others.
He'd like to track visits, so plans a bulletin board, sharing a few words on course etiquette. For example, snowshoers are welcome, but please do not walk in the groomed ski tracks. Jim and his wife Dana have dogs but leave them at home when they ski and they hope you do as well — skiers and dogs do not mix.
All in all, it's a great place to bring the family for a little winter outing. Check out the Yankee blackboard for current trail information. The trails are also open for walking in non-snow months — and dogs are welcome during that time.
Jim Rodrigues lives with his wife, Dana Wood, on Monument Rd.
Best Things in Life Still Free