Teaching and Living the Sustainable Life
By Ramona Branch —
Mitch Thomashow has been leading and advocating for living the sustainable life for over 35 years. He says that his parents taught him to think about social issues and to give back to the community. "I grew up in the interdisciplinary '60s and wanted to explore the beautiful planet that we live in," he explains.
Mitch moved to Dublin in 1977 from Northfield, MA, to help build the Environmental Studies Program at Antioch University in Keene. There were ten students in the fledgling program. He spent much of his time recruiting new students and hiring faculty for the first two years. In 1979 he became chair of the growing department. For the next 30 years Mitch worked to build the Antioch program, one of the most respected Environmental Studies programs in the country. (Note: Environmental Studies are currently transitioning into Sustainability.)
In 2005, Mitch became president of Unity College in Unity, Maine. The college is known as America's Environmental College and provides students with a liberal arts education that emphasizes the environment and natural resources. His mission was to expand sustainability at the college. One of the most dramatic outcomes was the planning and implementation of Unity House, an energy-efficient environmentally friendly house designed for a net-zero lifestyle. (The house produces as much energy at it consumes.) Unity House was designed with a twofold purpose — home of the college president and an education tool for environmental students.
The Thomashows have returned to Dublin and Mitch is now a consultant with Second Nature Organization. His work consists of educating university presidents in how to build and implement sustainability measures at their institutions.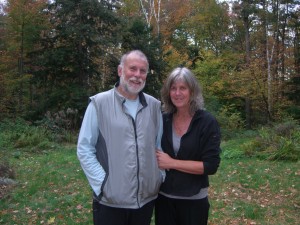 Cindy Thomashow shares her husband's passion and commitment to sustainability. She has an MA in Environmental Studies and an MA in Curriculum and Supervision and ran the Environmental Education component of the Environmental Studies program at Antioch. Now she is Education Manager for AASHE, the Association for the Advancement of Sustainability in Higher Education.
Profile
The Thomashows have lived in Dublin since 1979 with five years
spent at Unity College in Unity, Maine.
Books authored by Mitch: "Why People Choose an Environmental Way of Life," "Bringing the Biosphere Home," "New Elements of Sustainable Culture"
Two children, Jessica, 30, a third grade teacher in Seattle and Jake, 27, an artist in Tasmania.
Ramona Branch is a freelance writer and lives in Dublin. She is on the staff the Advocate, and sings with Animaterra.
Cindy and Mitch Thomashow