By Peter Hewitt —
Cars all seem to look the same nowadays.
Fords, Toyotas, Chevvies – even Cadillacs – have a sort of shapeless, inflated appearance without any particular styles.
Are any of old enough to remember the 1931 Cadillac V-16 (pictured here),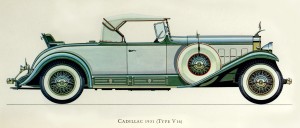 the 1935 Buick "Roadmaster," the 1938 Cadillac "60 Special," or the 1939 La Salle? They were instantly recognizable and great to look at.
At age ten I knew them all by make, model, and year. In some cases, even by sound.
But now – at least for me – a new car has all the charm of a refrigerator.
Peter Hewitt is a former resident of Dublin who retired to RiverMead along with several other Dublin residents.