They did it again. The ConVal Community Scholarship Foundation's (CVCSF) Top Jar Award for 2011 goes for a second time in three years to the Dublin General Store (DGS), just edging out second-place T-Bird Mini Market in Antrim and 2010's winner, Mr. Mike's Mini-Mart in Peterborough.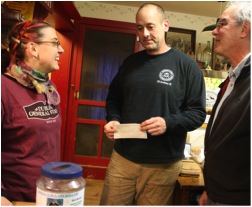 According to CVCSF President William Kennedy, Michelle and Andy Freeman "…very much support the CVCSF and appreciate our customers' generosity. We're very glad to be part of this worthy cause."
Retail businesses across the nine towns of the ConVal school district collect customer-donated pocket change to fund a Merchants Scholarship for a college-bound ConVal High School graduate through the CVCSF Dollars for Scholars. In 2011, nearly $2,000 in pennies, nickels, dimes, quarters, and dollars came in from generous donations by area shoppers.
The CVCSF is a 501(c)3 nonprofit, all-volunteer chapter of Dollars for Scholars® supported by tax-deductible donations that awards financial and mentoring help and future hope to Contoocook Valley High School grads.
For more information, see http://CVCSF.org or email info@nullCVCSF.org.
Dublin General Store Wins Again