By Mary Loftis —
Maggie McLellan, Dublin native, artist, cook, and mother of two, works behind the scenes at the Dublin General Store to produce all those cookies that are piled temptingly by the register. In fact, to see her in her small but efficient workstation, you have to peer through the length of the deli. With a degree from the Cordon Bleu Pasadena School of Culinary Arts and experience in the fast-paced restaurant world of southern California, Maggie says baking at our little store is the best job she's ever had.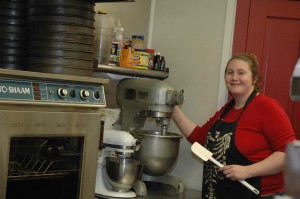 Maggie attended public school locally as well as Mountain Shadows School here in Dublin (where she learned to make a pie crust!) and Putney School before heading west to live with her older sister Renette in L.A. She finished her high school career at the Lycee Internationale of Los Angeles. After a stint studying art at Pasadena City College, she enrolled in cooking school where she focused on baking and restaurant management as well as general culinary arts. Maggie feels that cooking is an artistic endeavor – as well as a link to friends and family.
Maggie met her husband Abner in California, but the family (which now includes Ansel, age 2 ½ and Amory, ten months) decided to return to her hometown. Even before she was hired, Maggie baked continuously – and had to "force" friends to take home her creations. Now that she's working at the store, she can bake continuously and watch those chocolate chip cookies walk out the door!
Maggie enjoys her co-workers at the store, some of whom she's known since childhood. Andy and Michelle Freeman "sell good food," and she appreciates their kindness and flexibility in accommodating her childcare schedule. She and Abner, who works in website design and video as well as part time at Roy's Market, share the care of their children.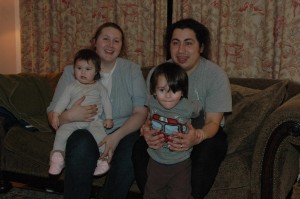 For now, Maggie mostly uses "Dublin General recipes," but she's always looking for new things and hopes to add to the cookie repertoire in time. Baking provides Maggie with a connection to her late mother Emmy McLellan, also an artist and a "phenomenal cook." Reflecting on her new career as a baker, Maggie McLellan says, "Butter is love!"
Mary Loftis is on the staff of The Advocate.
Home Is Where the Cookies Are