By Rusty Bastedo —
Friendly Folks has existed for three and a half years and is licensed by the state as a home care service provider. The business helps those Dubliners who wish to stay in their homes, rather than go to a managed care or assisted living facility.
Created by Bruce and Sylvia Fox, Friendly Folks provides everything short of nursing care – personal care, such as bathing, toileting, dressing/undressing, taking prescribed medicines, cooking, driving, and occasional light vacuuming. There is a four-hour/day minimum charge for any or all of these services. Per state guidelines, Friendly Folks has signed contracts that are agreed upon with their clients after Friendly Folks' assessments of each client's needs are completed.
Over the past three and a half years Friendly Folks has had ten clients in Dublin and its environs. Bruce Fox retired from teaching, and helps his wife Sylvia, a licensed nursing assistant (LNA), by offering those persons who need a quiet "extra presence" in the house, someone who can provide personal companionship if that is needed or desired.
Friendly Folks has shown there is a need for its services in Dublin; Advocate readers may contact Bruce or Sylvia at 563 8911 or through their website at www.friendlyfolks.org.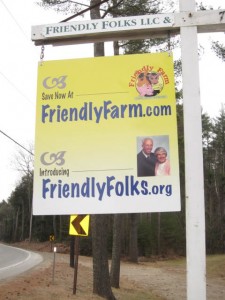 Russell Bastedo, who served as New Hampshire's State Curator from 1997 to 2009, has served on the staff of the Advocate since its inception.