The musical, "The 25th Annual Putnam County Spelling Bee," will be Dublin School's winter production this year. It will be presented on February 17 and 18 at 7 pm and on February 19 at 2 pm in the newly re-built Fountain Arts Building. The musical, which ran on Broadway for two years, received several Tony Awards.
The show features a hilarious group of 'nerdy' students who admit they "love to spell," and embrace all the laughter and drama of a real-life spelling bee.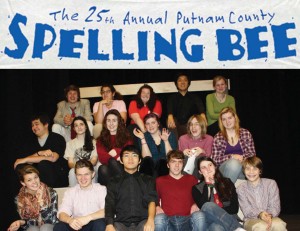 The characters run the gamut of semi-stereotypical teenagers. An interesting twist in the musical comedy is the random choice of four volunteer spellers at each performance who are not coached and do not know what words they will be asked to spell. This lends an air of true improvisation to the show, and results in "Pandemonium!," one of the play's big musical numbers.
Jan Haman is the artistic director, with musical direction by Mario Flores and choreography by Jenny Emerson Foreman. They are assisted by Cindy Ritter and John Emerson. LP Runyon is designing the set and Mr. Flores will be conducting a professional orchestra during the February performances.
For reservations, call Donna Stone at 563-1285. Admission donations will be accepted.
Musical "Spelling Bee" at Dublin School