Two years ago came the news of the Supreme Court's decision referred to as "Citizens United." After some momentary anguish, Granny D composed her response, delivering it at her 100th birthday celebration two years ago last January 2010, in New Hampshire State House Governor's Executive Council Chambers:
"Thank you. That you would take time from your busy life to be here is a great gift to me, and I thank you for it.
People have been asking me how I feel about the recent decision by the Supreme Court to strike down some of the campaign finance reforms that I walked for and have been working on for a dozen or so years.
When I was a young woman, my husband and I were having dinner at the Dundee home of a friend, Max Foster, when a young couple rushed through the door breathless to say that they had accidentally burned down Max's guest cabin, down by the river.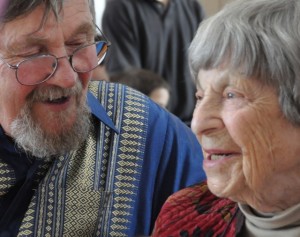 Max stood up from his meal. He set his napkin down. He smiled at the young couple and he said, "Thank goodness. You have done me a great favor, and you don't even know it. We have been wanting to completely redo that old place, and now it will be a clean start. It will be better than ever the next time you come to stay."
Well, I guess the Supreme Court has burned down our little house, but truth be told, it was pretty drafty anyway. We had not really solved the problem of too much money in politics. Not hardly. And now we have an opportunity to start clean and build a system of reforms that really will do the trick.
I think one of the wings of our new house will be the public financing of election campaigns. I think another wing will be a dramatic expansion of our conflict of interest and bribery laws. I think all of us, left, right and middle, will enjoy living there without the special interests stealing us blind any more. I intend to be around long enough to see this new place built.
Thank you again, very much indeed."
Excerpt from the Coalition for Open Democracy in Concord, NH.
Doris Haddock's Response Lives On