The poster to raise funds for Emily as she is being treated for cancer is on doorways throughout town.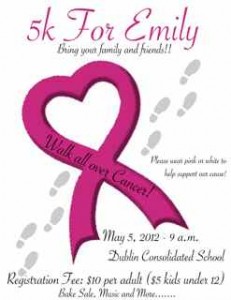 The team organizing this 5K event, which will be on May 5 beginning at 9 am at the Dublin Consolidated School, asks people to bring family and friends, and to please wear pink or white clothing.
Walk all over cancer at this race, bake sale, music, and more.
Registration Fee: $10 per adult ($5 kids under 12 years old).
5K for Emily: May 5 at 9 am, DCS