March 24, 2012, will be a date that I remember with fondness for a long time to come. Many friends and community members organized and attended a spectacular benefit spaghetti dinner and raffle at the Dublin School. To say the evening was a great success would be an understatement. I have never been so overwhelmed with joy and gratitude than I was at (and since) that event!
I'd like to preface this by saying that one doesn't expect to go to their doctor feeling general malaise, only to hear that they've been diagnosed with Stage 4 Breast Cancer, yet that is what happened to me. After reeling from the diagnosis and having to take a leave from the job that I love, I quickly discovered a silver lining – my community. I have had the pleasure of teaching at the Dublin Consolidated School (my second home) since 1991. I have met an incalculable number of families and formed countless bonds. During that time I have made a home in Dublin and have been a long time member of the Dublin Community Church. Many have told me "you've touched a lot of lives" but you don't truly realize it until a life-changing situation, and its compassionate result, envelop you in a tender and warmhearted community-based embrace.
To say a simple thank you to everyone seems so insignificant, yet I've come to know it is more than enough for most. Coordinating this dinner and raffle was no small feat. There were many players involved in this event, and so many other acts of kindness to name, that I'd like to acknowledge a few. It is with a grateful heart that I thank JoAnn Hopkins and Anne Mackey (party planners extraordinaire); the many servers, cooks, bussers, and dishwashers; the Dublin School; a very generous and anonymous donor who paid for all of the hot food; staff from SAU #1 who donated all of the salad goods; bread-baking church members; the DCS parents/staff (past & present) for raffle organization, support, and contributions; event sponsors; a fabulous and anonymous group called the HOTTTs (Helping Out Through Tough Times) that bestow upon me the most thoughtful and unexpected gifts; DCS families who donated a share from a local farm co-op; makers of the 1,000 paper cranes; and many, many more!
It made my heart soar to see and hug so many children who have touched my life! I've saved my biggest thank you for my family, especially Hilary and Shelby, who have been the most wonderful supporters, nurses, and helpers that one could ask for!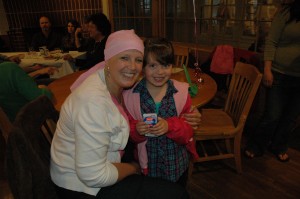 Dublin is a wonderful place – I am so lucky to be a part of kind and giving community.
— Emily Brnger
5K for Emily: Run May 5 at 9 am, DCS
On May 5, beginning at 9 am at the Dublin Consolidated School, is the 5K Fundraiser for Emily. Park at Yankee and Town Hall and bring your family and friends. Wear pink or white clothing to help support the cause. Bake sale, music, and more.
Registration fee: $10 per adult ($5 kids under 12 years old). Come one, come all!
Emily Brnger Thanks One and All