A Little Chekhov Goes a Long Way
By Anne Mackey –
On Thursday, May 17, at 7 pm, the Fountain Arts Building at Dublin School will become the Moscow Art Theater. Two short comedies by playwright Anton Chekhov will be presented by members of the school's Advanced Acting Class.
The actors will be performing in "The Boor" and "The Marriage Proposal," two of Chekhov's best satirical one-act plays. Chekhov, who anticipated the Russian Revolution and the dissolution of the landed gentry class inRussiaby 20 years, was at his best when poking fun at the hypocrisies of the waning aristocracy of the late 19th, early 20th centuries.
In these plays, his most successful short scripts, Chekhov portrays with humor and sarcasm the materialistic vanity of the upper class. "He reveals the spectacle of humanity as he sees it," says director Jan Haman.
The cast of six includes local students, Paige Brnger and Alex Lange of Nelson and John Lewtas of Hancock. The performance will be less than an hour and there is no admission price. For reserved seats, please call 563-1285.
Anne Mackey is Assistant to Head of School Brad Bates.
Back to the Wild: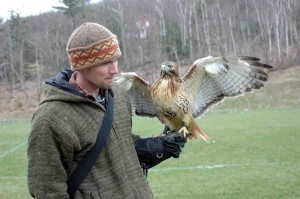 Henry Walters, an English teacher at Dublin School, has also been teaching a red-tailed hawk, named Mary, to hunt for herself. Many may have seen Henry running across campus and down to the village as he followed Mary on her quest for small prey. Mary was released in late March back to the wild.
Fireside Chats Continue: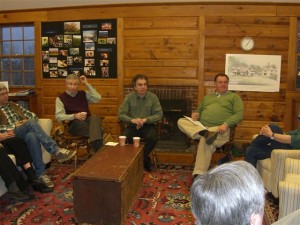 A good crowd gathered at the Dublin School for a collaborative discussion on "Our Independent Spirit; Can it Coexist with Community?" This was the second in a series of the newly created "Fireside Chats" created to bring the school and community together. Panel/facilitators were Tim Clark, Howard Mansfield, and Jack Calhoun. April's chat will address how technology will enhance community.