By John Vance —
Jie Lu, the daughter of DaoNing and Tom Kennedy, has been granted U.S. citizenship. She can be seen here (second from right) at her Citizenship award ceremony in Concord on January 20th, with Judge Laplante on the right.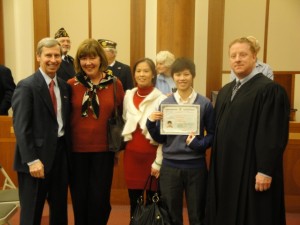 Also in this picture are her mother, DaoNing, Governor Lynch and Sue Henley, her ESL teacher (at governor's left).
As Jie Lu's ConVal Community Scholarship Foundation (CVCSF) mentor and advocate, I am proud of her several achievements including NHTI graduation and, now, on becoming an American citizen.
Jie Lu ranks with the top achievers among the 27 students awarded CVCSF grants starting with the ConVal Class of 2007. Most importantly, she did it herself, with extraordinary dedication and hard work.
I want to acknowledge those organizations and people who offered support: the Dublin Community Foundation; Michelle and Andy Freeman of the Dublin General Store, who raised tuition money in their CVCSF collection jar; and the Monadnock Rotary Club, which contributed funds to CVCSF to help pay for her scholarship grant. Also important to acknowledge are the CVCSF awards committee at ConVal High School and Jie Lu's mentors there, particularly Mary Lou O'Neil and her teacher, Sue Henley.
John Vance is a former Dublin resident and past president of CVCSF.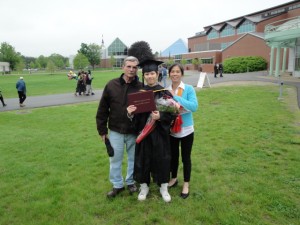 (For a little history, see Dublin Advocate, June 2010, p. 6: "Jie Lu came to Dublin from China with her mother, DaoNing Wang, in the summer of 2006. She started classes at ConVal High School in her junior year with the considerable challenge of having to learn to communicate in the English language while also adjusting to a major change in culture in coming to America and to ConVal High School.
Jie Lu was one of five specially challenged ConVal High School graduates in the Class of 2008 given CVCSF scholarship awards. CVCSF is pleased with Jie Lu's accomplishments. It is also greatly impressed by the extraordinary scope of education experience she is having in preparing for a career in hotel management where opportunities may abound for qualified professionals with international experience."
Jie Lu Earns Her U.S. Citizenship