By Sterling Abram —
It is said that good music, and a good story, should offer deep contrasts. Even good photography needs to be framed in order to show the significance of the object. When I think of Joe Cavanaugh, I remember him as demonstrating a depth of contrasts that complemented each other in giving him a wholesomeness of intention and feeling. These marked him as an interesting, deep and wise human being.
I picture him standing at the podium at town meeting at the end of his first tenure as selectman. He had just been recognized for his service to the town, and was close to tears because he was deeply moved by the expression. "I guess it's a little bit of the Irish coming out in me," he quipped.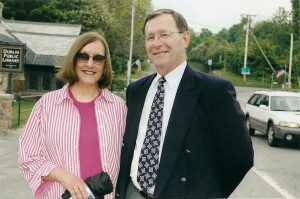 What impressed me at that time, and has ever since, was the focus he had on the opportunity to serve others, rather than himself. What he was feeling, I think, was how much he genuinely enjoyed working for the public good and wondering whether he would have that opportunity again. The opportunity itself was his reward, and while he proceeded to keep his priorities with his family as he had set them, he continued to contribute greatly to a wide variety of projects and committees that served the good of the town.
In contrast to the podium experience, I picture Joe on several occasions during public meetings instructing overwrought citizens on the merits or propriety of their concerns and conduct. I thought him at times to be almost impatient, but as I realized the clarity with which he envisioned almost everything, I came to understand that he actually practiced great restraint. He insisted on treating all with dignity and honor. I felt him to be a true gentleman, which he demonstrated the day after I was elected to be a selectman. He sought me out before the day was done, and welcomed me and established a working friendship with me that he carefully maintained.
When I joined the board, I thought to myself: "How hard can this be, with Joe on the same board? He will know what to do." Sadly for me, he chose to retire again a year later and I found that I needed to pay close attention to details that I hadn't worried about before. He offered to continue to help in any way he could when he left the board, and I found it remarkable that a man so careful to manage conscientiously and well was able to step aside intentionally and not interfere with the function of the new board.
In his personal friendships, Joe would share just enough about himself to be personable, but never allowed much attention on himself. That he was proud of his own family, especially his granddaughter, never escaped notice, but he preferred to focus attention on his friends and their welfare instead of his own.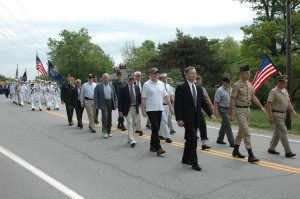 Faced with a serious health issue, he faced it much as he would have any other problem: gather as much information as possible and attack it with the best tools available. If that doesn't produce the desired results, withdraw in dignity and squarely face the situation and plan for the next step. His last contact with me was noteworthy. He chose to call me and inform me of the inevitability of his demise, but almost as an incidental to something else he felt was important to share with me that had implications for the welfare of the town.
I heard someone remark recently, "We were lucky that Joe came to Dublin." I endorse that sentiment heartily, but concede that it is an understatement. His many contributions and accomplishments will be listed in other places, but as a tribute, I would proclaim that Joe was truly a "town father."
Sterling Abram, a Town Selectman since 2006, lives in Dublin with his wife, Linda. They have raised two daughters and two sons.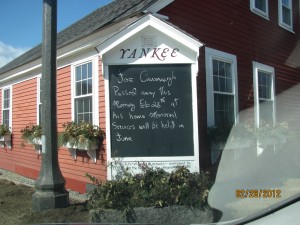 Joe Cavanaugh in Town Government: A Timeline
Moved to Dublin in 1996, buying the Levi Leonard house on Old Common Rd.
Selectman 1999-2001 and 2003-2007. Selectmen's Representative to the Budget Committee and Planning Board.
Board of Adjustment Chairman 2009-2011
Town of Dublin Citizen of the Year 2010
Local Government Center Volunteer of the Year 2008 (one of four volunteers honored)
On numerous Town Committees from 1997-2010: the Dublin Lake Preservation Committee, Library Expansion Committee, Capital Improvements Committee, Transportation Committee, Open Space Committee and Cemetery Expansion Committee.
Oversaw numerous Town projects from 1999-2010, including the Lake Road and Old Marlborough Road reconstruction, the Library addition, the Old Marlborough Road bridge replacement, the Town Hall Top Floor restoration and addition, the 2008 Ice Storm debris cleanup and the Cemetery expansion.
Source: Town of Dublin Archives
Joe Cavanaugh: A Reminiscence