By Margaret Gurney —
In the same way that the Soviks could not move to Dublin (which they did in the early 1980s) and not participate in the community, we Dubliners cannot allow them to move to Keene without being recognized for their contributions to the town's government and well-being.
Jim's first move into town affairs came when Isabel Pratt, who was very involved with conservation, inspired him to administer the closing of the open landfill, which began in the mid 1980s and of course developed into what we now know as the Recycling Center. Not a single-handed enterprise, Jim worked with Anne and Dan Walsh and Derek Van Wyk to see the project through to completion from 1980 to 1987.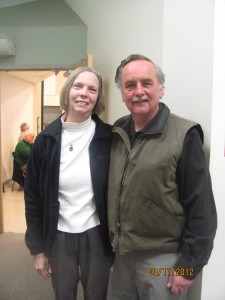 Jim became a Selectman in 1987, he served two terms, and retired in 1993. He has only recently resigned from the Board of Adjustment, which he joined in 1996, serving as its chairman from 2011-2012. This is because he and his wife, Barbara, who was our Town Clerk for 12 years, are moving to a lovely, sunny house near the center of Keene.
When Jim won the Citizen of the Year award in 2001, it was long before he and Joe Cavanaugh would have the chance to collaborate on the Cemetery Expansion Committee from 2008 to 2011. Jim had served as Cemetery Trustee from 1995 to 2012, and was chairman for some of that time.
"Jim and Joe were kindred spirits," says Barbara, "they understood things the same way and worked toward similar goals in the same way." They both held to the belief to leave something better than the way you found it, to make a difference. "Their deep down feelings about giving to the town was, for both of them, without a personal agenda."
Barb's commitment to the town began when her daughters were old enough to attend Sunday School, which Barb taught, at the Dublin Community Church. Barb then was the Girl Scout leader from 1979 through 1989, and became librarian at Dublin Consolidated School before it was renovated.
But most of us really remember Barb when she filled the vacancy left by Betty Bodwell as Town Clerk in 1995, an elected position she held until 2008, before she retired. Barb has also served as a Library Trustee from 2007 until 2012 and Supervisor of the Checklist from 2010 to 2012. She was on the Women's Club Board of Directors and Beach Committee for many years.
So it is not easy to say goodbye to the Soviks, two people who chose Dublin as the perfect town in which to raise a family – and who gave back so much.
The good news is that their eldest daughter, Jennifer, and her husband, Brett Carter, will stay on in the Soviks' home on Boulder Drive with their two children, Jake (4 years old, attending Dublin Community Preschool) and Danika (almost a year old).
The Soviks' choice to downsize and to be within walking distance of the thriving metropolis of Keene does not come without coincidence. It seems that Brian Barden, who grew up in Keene right across the street from the Soviks' new home, used to mow the lawn as a lad.
Margaret Gurney is editor of the Advocate.
(Dates courtesy the Archives, from the Town of Dublin Annual Reports.)