By Shirley Mahoney and Tim Sirois —
Lucia Agnes (Koskela) Sirois, who will be celebrating her 90th birthday, was born in Dublin on June 8, 1922, to Otto and Maria (Quist) Koskela. She attended Dublin Elementary and Peterborough High Schools.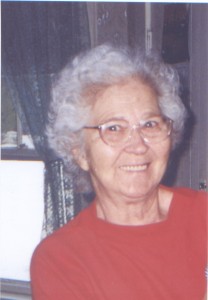 She was married to John A. Sirois on Nov. 1, 1941, and lived In Jaffrey, NH, until their move to Dublin in 1954 to their present home. Located on Goldmine Road, it was the former Nathan Methley Homestead and our parents cared for Mr. Methley who was known as The Monadnock Hermit and Poet.
Lucia donated his writings to the Dublin Historical Society for people to enjoy.
John and Lucia had six children: Shirley (Sirois) Mahoney, twin sons Francis and Robert, Otto, Lucia Delia (Sirois) Turgeon (deceased) and Timothy. In 1986, they adopted their grandson Sean, son of Lucia Delia.
Lucia has eight grandchildren, 15 great grandchildren and two great great grandchildren.
She has three surviving siblings, Ruth Morris, Bertha Harris both of Peterborough and a brother Otto of Dublin. She has many nieces and nephews as well.
She is a loving mother, grandmother, aunt, friend and neighbor to all who know her.
Lucia is always willing to share stories of her life, history of the Town. There is always laughter and a pot of coffee on the stove.
Townspeople are invited to send birthday cards: Lucia A. Sirois, 228 Goldmine Road, Dublin, NH 03444.
Shirley Mahoney is Lucia's daughter, and Tim Sirois is her son.
Celebrating 90 Years: Lucia A. Sirois