By Nancy Campbell —
Nineteen Women's Club members and guests attended the annual meeting on April 24th. A great dinner and fellowship was enjoyed by all at Del Rossi's Restaurant.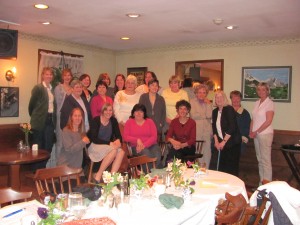 Just a reminder: beach set-up day will be Saturday, June 9th, starting at 10:30 am (rain date will be Sunday, June 10th at 10:30 am). The rafts, docks and boats will be put in the lake that day. We need lots of willing hands to help; lunch will be provided to volunteers. The beach will officially open for lessons on Monday, June 25th. Trenton Mills will be our sailing instructor.
This winter was tough on the beach; the high water and ice at the edge of the lake caused some of the erosion control logs to be moved out of position. Fortunately, the Beach Committee and dedicated volunteers have begun working to make the beach more presentable for the season.
Invitations to join the club were mailed the end of April. Anyone who has not received an invitation and who wishes to join the Club may contact Treasurer Nancy Campbell (563-8480). Dues still remain at $100. Those persons needing financial assistance may contact Jill Lawler (924-7675), Nancy Campbell, Eileene McBrien, Shannon Carpenter, Rebecca Oja or Connie Cerroni.
There are only three green coverlets left. If you wish one, please order one now. The price is $45. If there is further demand, we can always place another order.
Nancy Campbell is treasurer of the Dublin Women's Club.