By Louisa Birch —
Dublin is fortunate to have many bodies of water with miles of shoreland. The shores of Dublin Lake, Howe Reservoir and Mud Pond, Dark Pond, Wight Pond and Doc Woods Pond are all in Dublin. Parts of the shores of Frost Pond, Thorndike Pond and Stone Pond are also in our town. Shoreland owners and many other town groups including the Conservation Commission, the Dublin Lake Preservation Committee, The Women's Club, The Dublin Lake Club, The Rotary Club, The Beech Hill Watershed Association and the Garden Club of Dublin work hard to protect these fragile lands and the beautiful bodies of water they surround.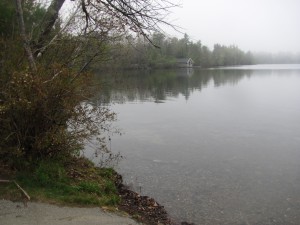 In 2011, the State of New Hampshire updated its regulations for protecting these special places. The new regulations are called the Shoreland Water Quality Protection Act (SWQPA) and they replace the older protection act, making the regulations and required permits more friendly and easier to follow.
The Conservation Commission has invited Sharon Monahan, a certified wetland scientist who prepares wetland and shoreland permits, to explain the new regulations and permit requirements to all shoreland owners, town boards and interested citizens of Dublin on Wednesday, June 20, at 7 pm in the Town Hall.
Sharon will discuss the new regulations and answer our questions. Some of the highlights of her presentation will include the standards of the new act, land improvements that are allowed and those that are not, required woodland buffers, regulations for tree and shrub cutting, and fertilizing. Also included will be regulations for improving non-conforming structures, when a permit is required, and when permit waivers may be requested.
Sharon will address our concerns and answer our questions about what is allowed, what is not, and how to proceed with any changes we wish to make to the land or buildings on our shoreland. Local regulations concerning our shoreland will also be explained and discussed.
The meeting is open to the public, and all who are interested in protecting our beautiful water bodies and their shoreland are invited to attend. Please attend on Wednesday, June 20 at 7 pm in the upstairs of the Town Hall. This newly renovated space is allowed to hold only 75 people, and you are encouraged to come early to get a good seat!
Louisa Birch is a member of the Dublin Conservation Commission.