By Ramona Branch—
Mary Langen enjoys her high-tech at work and low-tech at home lifestyle.
Mary Langen is a renaissance woman if ever there was one. She admits she "loves contrasts" which is evident in her life choices. Mary spent her childhood in New Jersey, and then she decided to attend Brigham Young University where she could ski to her heart's content.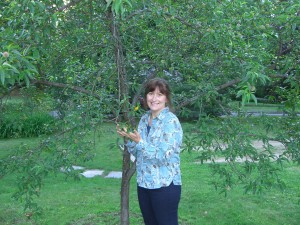 In the mid-1980s Mary moved to New Hampshire and went to work for the Monadnock Ledger-Transcript as an editor and journalist. She then moved into technical publishing, becoming editor in chief of two Helmers publications that covered the bar code industry in the U.S. and Europe.
By this time Mary was firmly planted in the technology industry and was itching to live in the Southwest. She moved to Austin, Texas, as marketing director for a bar code company and subsequently worked for AMD and Motorola in the semiconductor industry.
In the spring of 2002, Mary bought her house on Cobb Meadow Road with the idea that she would spend her summers in Dublin and winters in Austin. By the end of the summer she loved Dublin so much she decided to stay here and make Dublin her permanent home. She continued to work for Motorola for a year and a half while she started to fix up her new home.
During this time Mary met Dan Myshrall and the two were married in December 2006 on a sailboat anchored off Jost Van Dyke in the British Virgin Islands. The couple is pursuing a sustainable lifestyle and grows much of their own organic food. They enjoy hanging out with their Catahoula Leopard dogs, Festus and Jack.
Mary is currently employed at PC Connection full-time and is a partner in a software company with roots in Seattle and Switzerland. When not working she loves sailing, scuba diving and reading books on science, energy issues and the environment. She says she keeps her fondness for Texas alive by driving to Keene for a good tamale and a margarita.
In the past, Mary has traveled a lot for business, but now is very happy to be off the road. This means she has time to serve as Chairman of Dublin's Zoning Board of Adjustment.
Mary concluded our interview by saying, "There are a couple weird things about me…I still have two grapefruit trees that I grew from seeds when I was a child, and I enter contests and sweepstakes for fun and win all sorts of crazy things."
Ramona Branch is a freelance writer and editor and is on the staff of the Advocate.