By Margaret Gurney—
According to Ruthie and Phil Gammons, stewards of the Baha'i Center next to the Dublin General Store, this will be no ordinary summer for the Baha'i community in Dublin.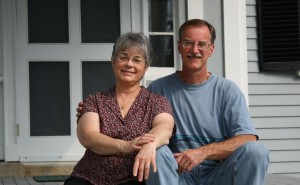 The religious community will be celebrating the 1912 visit made by Abdu'l-Baha in July/August of that year, when he spoke to a standing-room only crowd in the Dublin Community Church, which was at that time a Unitarian Church.
Phil, who has a background in both IT and a degree in agriculture (master gardener through UNH), is the caretaker proper, and Ruthie, a former college professor in substance abuse prevention and healthcare education, doubles as the Baha'i's office manager for nine states (Maine through Pennsylvania). They were selected to inhabit the historic Dublin Inn bought by Gisu (Mohadjer) and Robert Cook and donated to the national Baha'i community.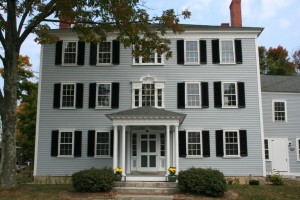 The Inn was dedicated in 2005, when John Harris, speaking for Dublin, welcomed its restoration to the fine Federal example of architecture that it represents (while humorously bemoaning its pull from the tax roll).
"We were thrilled to be asked to come here," Ruthie told me. "When we drove around the lake, and saw the mountain, came down the hill and saw Yankee and the church, we knew it was meant to be."
Before the Gammons moved here from Connecticut, they were in Chicago for several years, surrounded by thousands of Baha'is, yet moved here into a Yankee community of just a few followers of Baha'u'llah, who founded the Baha'i faith in Persia in 1844.
The tenets of the world religion have allowed the Gammons to earn the respect of those who know them. Baha'is do not proselytize, but rather believe inquiry into their faith is a matter of "independent investigation." Ruthie and Phil understand theirs is not a mainstream religion, but they light up when sharing its values, which believe in the vision for world peace, which was one of Abdu'l Baha's main topics when he spoke here in 1912.
The Gammons explained that another tenet of the Baha'i faith is that "world peace will not come until women take their rightful place on the world stage." Which brings us to the summer celebration.
One of the women in America who became devoted to the teachings of Baha'u'llah was Agnes Parsons, a socialite from Washington, DC, who also owned a home on Windmill Hill Road that has long since burned down.
When Baha'u'llah died in 1892, Abdu'l-Baha replaced him, carrying the legacy of his father's vision, and was invited to America by the fledgling American Baha'i community of which Agnes Parsons was an early member. Abdu'l-Baha was invited to Dublin as a guest in her home, and he also stayed in the old Dublin Inn, now known as the Baha'i Center.
So the Centenary celebration in Dublin is almost upon us, and now a film is being made following the footsteps of Abdu'l-Baha across this country in 1912. From his arrival at the train depot in Harrisville to his car trip to Mrs. Parsons' home on Windmill Hill Road, to his talks at the church and the Inn, Abdu'l-Baha stayed in Dublin for three weeks. On August 5 at 3 pm, the filmmaker, Dr. Anne Perry will speak on "Abdu'l-Baha in Dublin," at the Baha'i Center on Main St.
And on August 12, Gisu Mohadjer, whose family donated the old tavern to the Baha'i community, will speak at the Annual Commemoration at 3 pm in the Dublin Community Church. Open to the public, this service will commemorate Abdu'l Baha's talk with devotions and music, followed by a reception at the historic Dublin Inn.
Many Baha'is, their families and friends will reunite for the special occasion.
Important Dates
August 5 at 3 pm – Baha'i Center, the historic Dublin Inn – "Abdu'l-Baha in Dublin" with speaker Anne Perry
August 12 at 3 pm – Annual Commemoration at the Dublin Community Church, with speaker Gisu Mohadjer
For More Information
Google: "Adbul-Baha in Dublin"
Abdu'l Baha in America: http://master-in-america.blogspot.com
General info: www.bahai.us and http://centenary.bahai.us
Margaret Gurney is editor of The Advocate.