Dublin honored our veterans and servicemen on May 28. Here Peter Shonk is surrounded by the Sea Cadets on Memorial Day in our village center.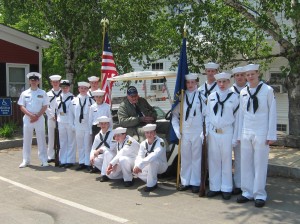 Lt. Peter Shonk USNR was a member of the Naval Air Corp from 1941-1945. He was assigned to the "Big E," the USS Enterprise as a fighter pilot flying the F4Fs and the F6Fs, also known as the Hellcats. On his tour of duty he flew about 75 missions from the Enterprise.
The Dublin-based Sea Cadets include Chief Petty Officer Zach Letourneau, Cadet Sarah Letourneau, Cadet Jacob Weidner, Cadet Benjamin Graves, and Cadet Nicholas Graves.
The other cadets are from neighboring towns.
Lt. Peter Shonk and the Sea Cadets