Community Center: Abstract Art and a Soup Lunch on the Art Tour
A new art show featuring the work of David Nelson is on display at the Dublin Community Center. The show will run through the end of October and will be open during the Art Tour, when the Community Center will offer a soup and bread lunch for art lovers, from 11:30 to 2 pm.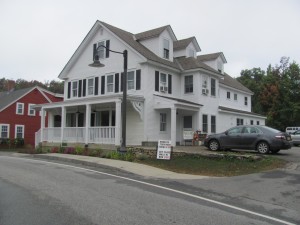 Painter David Nelson says, "My favorite definition of art calls it 'visual philosophy.' Every substantial artwork explores what it means to be human—what it means to be alive." Nelson's large abstract paintings examine the balance of control and freedom, intellect and intuition, choice and chance.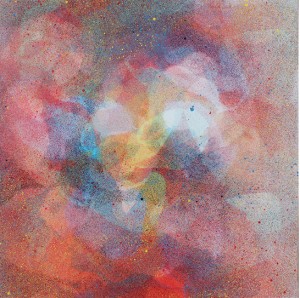 "Every artist has to choose how much control to exert on a canvas and how much can be open to chance or other forces exerting their will," Nelson says. "Then art and theology intertwine: How can an omnipotent God allow free will? How can a perfect God allow chaos? This paradox shows up in relationships, careers, raising kids — pretty much everything." In all of Nelson's paintings, he says, "I try to achieve a goal through relinquishing control rather than exerting it — using spattered primary colors, random numbers, scattered objects, chance occurrences."
In his "Consumed" series, a specific image emerges through the wayward fluttering of dozens of plastic shopping bags that mask the layers of spattered paint. There is a tranquil quality to the layers of bright color and the soft emergence of the familiar shapes of the shopping bags.
Nelson has exhibited in solo and group shows and is represented by Boxheart Gallery in Pittsburgh, PA. He attended artist's residencies at Vermont Studio Center in Johnson, VT, and Konstepdemin in Gothenburg, Sweden. He was awarded the New Hampshire State Council for the Arts Entrepreneurial Grant in 2010. David has a BA in Fine Art from the University of Maine.
David has lived in Dublin for more than 20 years. He has a graphic design business and has done publication design and art direction for Yankee Publishing and the Dublin School. He and his wife, Margaret, have three adult daughters, Emily, Averill, and Nora, all of whom attended local schools. Margaret and David live in a house they built on Lower Jaffrey Road.
There will be an opening reception for David on Friday, October 17 from 5 to 7 pm. Refreshments will be served. All are welcome. A portion of all sales go to support the Community Center.
The Dublin Community Center is open on Mondays and Wednesdays and random other times. The show can be viewed by chance or by appointment. Call 563-8197 for an appointment. And be sure to stop by on October 11 during the Art Tour, for a good bowl of homemade soup, bread, and community spirit.
DubHub Schedule
Mondays: Open 9 to 5
— Lunch Hour Yoga 12-1 pm. Walk-ins welcome. (For details, call Meenakshi Moses at 563-8094).
— Zumba, 5:30-6:30 pm (For details, call Deb Giaimo at 563-8648).
Wednesdays: Open 9 to 5
— Qigong with Ginnette Groome. 12-1 pm. Walk-ins welcome. (For details, call 313-9828).
— Art Lessons at 3:30 pm with Sally Shonk and Mary Ellen Moore.
— Homework time until 3:30 pm. There will be a volunteer at the Hub. Children can take the school bus to Yankee and walk around to the DubHub.
Every First Friday (including Oct. 3), Open Mic, 5-7 pm. Come join the fun.
For space rentals, please call Nancy Cayford at 563-8021.
Dublin Public Library
Stop in to check out the new Jan Karon book, Somewhere Safe with Someone Good; catch up on all that is happening in Mitford, NC. Just finished reading the book; it was wonderful to visit with old friends and hear of all their adventures.
If you like to read a book prior to seeing a movie adaptation, we have The Giver, One Hundred Foot Journey and Fault in our Stars.
Story Time at Dublin Public Library welcomes children and caregivers on Wednesday mornings with songs and movement. Then we settle down with a couple of books and a craft that relates to the stories. On October 1st we will read Fall Leaves Fall and create colored pictures with tissue paper. On October 8th we will play a matching game to find out what falls from what tree and what happens to everything on the ground. Everyone will make a small scarecrow after we read The Scarecrow's Hat on October 15th. October 22nd will be our Teddy Bear Picnic (do you have a friend to bring?), and on October 29th we will look at shadows and why they follow us. Children enjoy putting together puzzles and sharing a snack at the table. Please join us Wednesday mornings from 9:30 to 10:30 am.
Books
Personal by L. Child
Untold by A. Spitzfaden
The Secret Place by T. French
The Bone Clocks by D. Mitchell
Sight Unseen by I. and R. Johansen
You Are the Placebo by Dr. J. Dispenza
Excellent Sheep by W. Deresiewicz
The Long Way Home by L. Penny
A Man Called Ove by F. Backman
Halloween at the Library—Costumes encouraged at party.
By Kim Allis
Halloween is celebrated all month long at the Dublin Public Library. On Saturday, October 4th, at 10 am, FrightMeister Woody Stockwell will host a showing of "The Curse of the Were Rabbit" (Wallace & Grommit), and on Saturday, October 11th, at 10 am he will present "Ghostbusters." Popcorn and cider will be served.
And of course there's the annual Halloween Party on Saturday, October 25th, from 10 to 12. Bobbing for apples, Pin the Nose on the Pumpkin, Donuts on a String, and crafty activities will be enjoyed by all.
Costumes are encouraged. Refreshments will be served, and there will be a showing of "It's the Great Pumpkin, Charlie Brown."
All are welcome on the Library's lower level. Presented by the Friends of the Dublin Public Library.
Kim Allis is a member of the Friends of the Dublin Public Library and is on the staff of the Advocate.
Town Halloween Party
The Town of Dublin's annual Halloween Party will be held on Sunday, October 26th, from 2 to 4 pm in the Fountain Arts Building (follow the signs) on the campus of the Dublin School. There will be sweet treats, games, crafts and a costume contest! Please join us for an afternoon full of fun. This event is coordinated by Dublin School and sponsored by the Town of Dublin Recreation Committee.
Trunk or Treat
Mountain View Bible Church will hold its 3rd annual Trunk or Treat on Halloween this year on Friday, October 31, from 5:30 to 7:30 pm. More than 25 decorated cars will line the MVBC parking lot at 81 Page Road to welcome trick-or-treaters who stop at each "trunk" for treats. Free hot dogs, doughnuts, cider, and coffee will be served. A bonfire will help to keep trick-or-treaters warm. The event will be held inside in case of rain.
Town of Dublin
Trick or Treat Hours
Friday, Oct. 31, 2014
5:30 pm – 7:30 pm
Per Dublin Police Dept.
563-8411
Art Gallery at Dublin School
A show featuring the art of Samantha Kate Lenahan of Peterborough, opened on September 26 at the Dublin School's Putnam Gallery. It will run through October 18. Kate's work deals with issues of the self vs. constructed identities. Her art also wrestles with definitions of beauty, especially in relationship to the human form, and how difficult it can be to find one's own definition of beauty in a world where these definitions are shifting and rife with social, political and historical controversy. This show will feature both finished and working drawings side by side in an examination of the artistic practice as metaphor for creating identity.
DCC Rummage and Yard Sale
Dublin Community Church announces its Fall Rummage and Yard Sale. The sale begins Friday, October 10, from 1 to 6 pm. Time to load up on warm clothes! Everything you need for winter from coats, hats, gloves, sweaters to long underwear can be found at the sale. There are also lots of linens, warm blankets, towels etc. The housewares section has a wonderful mix of handy items, and the Boutique features jewelry, handbags, scarves, neckties and one-of-a-kind treasures.
On Saturday, October 11, the Yard Sale opens outside the Rummage Sale from 10 am to 1 pm. It is always a time of discovery! One never knows what useful item someone else has donated to the sale. Come and enjoy the hunt!
The organizers are looking for help to sort and fold rummage. Come Monday through Thursday, October 6 through 9, between 9 am and 2 pm. Bring your lunch, have a cup of tea and chat. Will also be looking for help on the days of the sale.
For more information, contact Betty at 563-7475.
Art Tour 19
October 11 & 12 marks the weekend when 56 artists in 49 studios located in Dublin and its surrounding towns open their studios for the annual Monadnock Art / Friends of the Dublin Art Colony Art Tour. Brochures will be available at local venues or visit www.MonadnockArt.org.
A Preview Exhibition will be held at the Jaffrey Civic Center from October 6 through October 12 with an opening reception on Monday, October 6, from 5 to 7 pm.
The Putnam Gallery is open Monday through Friday from 9 am to 5 pm and weekends by chance or appointment.
Two Dubliners' Art at Sharon Art Center
Kim Allis and Sally Shonk will be exhibiting their artwork at the Sharon Arts Center at Depot Square, Peterborough for the month of October. The theme is 'Abstracting the Landscape,' a class taught by Barbara Danser of Harrisville. There will be an opening on October 2 from 5 to 6 pm; refreshments will be served. Come one, come all.
Save the Date:
Vote November 4
Learn the issues and
where candidates stand on them.
News from the Dublin Consolidated School
By May Clark
We've been busy in September! We settled into the school routine and worked hard to remember the differences in rules between Dublin Summer Playground and school! We've welcomed eight new kindergartners, and two new families to DCS, and we've accomplished a lot of learning already. We've done our first reading and math screenings, in order to determine everyone's needs, and we're almost done with our first round of NWEA testing. Best of all, we finished step two of the DCS bread oven project! The base was built in August by a group of hardy souls, and now we have laid a giant piece of Goshen Stone on top of the base, ready for the clay oven to be built next.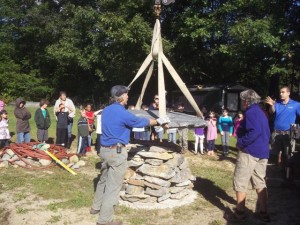 We are so grateful to Kin Schilling for her energy and inspiration, the Dublin Community Foundation, who bought the stone for us, and to John Kaufhold and the Peterborough Marble and Granite Works, who gave us a great deal plus came to school and delivered and set the stone for us. It is beautiful, and we are excited to complete the oven by the end of this month. The whole school also visited the Norway Hill Orchard and Brooks Side Garden in Hancock, a trip that has become a tradition in recent years.
Please check out the events at DCS listed on the October calendar, and see the related article by Lara Niemela about the DCS ski program's opportunity to get passes for Crotched Mountain and benefit DCS at the same time!
May Clark is Teaching Principal at DCS. She can be reached at 563-8332 or mclark@nullconval.edu.
Season Passes for Crotched Mountain Ski Area
Please spread the word.
By Lara Niemela
If you are planning on buying a season pass to ski or ride this winter at Crotched Mountain, please consider doing this at a discounted rate through the Dublin Consolidated School. Our school is a club at Crotched Mountain. This means that all the purchases of tickets/passes/rental equipment through the DCS Club brings a 7% commission directly to Dublin's own wonderful elementary school. This money goes to help us fund our afternoon learn-to-ski program and other PTO activities for our children.
It is easy to do online:
Go to CrotchedMountain.com
At the top of homepage click on "Groups and Clubs"
Click on "School Program"
Click on "School Member Login"
You will see the Club sign-in box
Our Club Name is Dublin Consolidated School
Our Password is DCSMember
Click on "Go shopping"
You will have to create a login to your personal sign-in to complete your purchase.
Thank you in advance for getting your passes through DCS!
The deadline for purchasing discounted passes through DCS is October 13.
If you have any questions, please contact Lara Niemela at 831-0654 or drshiny@nullaol.com
The Spirit of Giving
By Cathy Carabello
An outsider to the teaching profession recently said to me, "It must be a tough job to run a school, even a small one. How do you do it?" As I contemplated the response, I thought, I don't. At least not alone.
Governed by a volunteer Board of Directors since its inception in 1964, Dublin Community Preschool continues to rely on the spirit of volunteerism to keep costs down and quality high. In addition, we rely on the volunteer efforts of parents and community members to assist staff with a variety of tasks, many of which can be done behind the scenes. Parent volunteer tasks might include helping with the school's recycling efforts, shopping for classroom supplies, doing laundry, assisting with fundraising efforts, mowing the playground grass or organizing monthly Scholastic book orders. The list goes on.
We have had many wonderful volunteers from the community over the years who have both supported our efforts and allowed us to take our curriculum to another level. They have shared their special talents. Some have come to read to the children, some have planted with us, some have taught Spanish, some have shared their artistic or musical talents. You are all gems who have touched lives by giving amazing gifts to the children of our community. We are always looking for those who have time to share or assist. We invite you all to consider what you might offer. We would love to be able to continue offering Spanish but we don't know who to ask. We would love to invite musical visitors of any age to share with us. We want the children's art experiences to be rich. Maybe there is a project you could share. We need organizers to help make our annual art show and fundraiser the best it can be. We need stumps to add to the natural play area we have created. We invite you to be a part of our community school.
So no, I don't run this school alone. It certainly takes a village. I am merely a facilitator of the effort. Please send your thoughts by e-mail to: cathy@nulldublinpreschool.org.
Cathy Carabello is director/lead teacher at DCP. She started in 1995 and became Director in 2000.
Meet Our New Postmaster
By Mary Loftis
By now most everyone has met our new Postmaster Kathy Moore, who arrived at the Dublin Post Office on August 4th. In the past two months, she's been getting to know townspeople and giving the office a new open look. Kathy is a long-time employee of the USPS, but this is her first job as Postmaster. Over the past 29 years, she's worked in 13 different offices in New Hampshire and Vermont, from tiny towns to the city of Manchester, NH.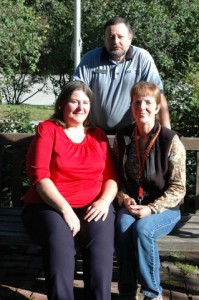 Kathy is a busy woman. Her current schedule calls for making the hour-long drive to Dublin from her home in Westminster, Vermont, six mornings a week. She arrives at work by 7:15 and is joined by the new clerk Scott Lambert as well as long-time employee Margaret Schillemat. The three of them sort the mail, and Margaret leaves on her delivery route while Kathy and Scott take care of the post office boxes. Scott then leaves for another office in Milford or New Ipswich while Kathy attends to customers throughout the morning. After an hour and a half break in midday, she continues customer service until the post office closes at 5 pm (noon on Saturday).
Kathy says that she has worked 60-hour weeks for many years and consequently has little free time in her day-to-day life. She does, however, love to go on vacation trips with her family, which includes her adult daughter, Kellee.
Kathy has found Dublin a friendly town and looks forward to really getting to know her customers and providing the services we need. She told me that when she came to Dublin to check out the post office before accepting the position, Margaret Schillemat's warmth and kindness helped convince her that Dublin was a good place to work. Margaret also reassured Kathy that she wouldn't ever be obliged to deliver mail around town on top of everything else!
If you haven't already done so, come on in and buy a stamp – and introduce yourself to Kathy!
Mary Loftis is on the staff of the Advocate.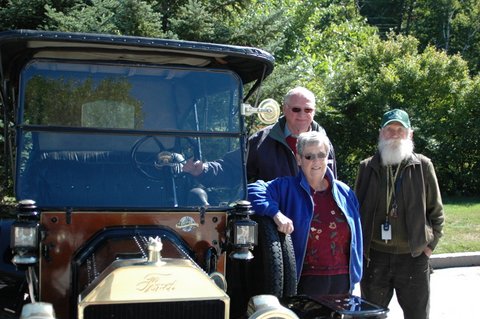 Singspiration 2014
On Sunday, November 2, at 5 pm, four churches (Mountain View Bible Church, New Boston Baptist Church, Charlestown Bible Church and Trinity Baptist Church of Fitzwilliam) have agreed to meet at Mountain View Bible Church in Dublin for a time of singing and fellowship.
A dessert share will take place afterwards in the DCA dining common.
A musical ensemble is being assembled, and a gentleman from New Boston Baptist Church will be putting together an arrangement for the combined instrumentalists. Pastor Dan Pelletier will be leading singing and Pastor Kevin Hobi, Pastor David Becker, and Pastor Larry Vincent will participate in the service.
Practice for the instrumentalists will take place at 4:30 pm on November 2 at Mountain View Bible Church.
If you would like to participate, please sign up by contacting the Mountain View Bible Church on Page Road, or by calling 563-8069.
Dublin's Craft Fair
The 29th annual Dublin Craft Fair was held on September 13, where Dubliners joined other artisans from all over New England on Yankee Field to buy or sell a wide variety of handcrafted items. Thanks to Linda Clukay, who has been organizing this fair since 1985.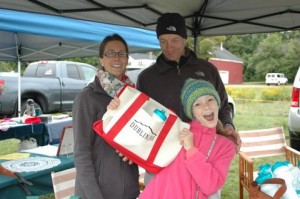 Sturdy Thomas: Service that Keeps on Giving
By Ramona Branch
A well-known figure in the Monadnock Region, Sturdy Thomas has been a part of our community for over 34 years. Sturdy's parents were from Connecticut, moving to Peterborough when he was 16.
His lifelong career in public service began as a Dublin police officer in 1982. "Police Chief Joe Maclean sort of twisted my arm," Sturdy says. "I was working with my wife's uncle at the time as a sales rep for an auto parts company."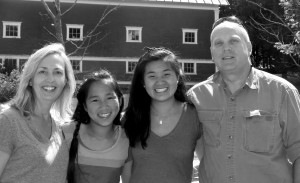 After seven years with the Dublin Police Department, Sturdy transferred to the Keene Police Department. During his tenure in Keene, he became a clandestine enforcement team member (undercover cop). His work also included training and working in hazardous chemicals detection, and he became certified as a hazardous materials technician and a clandestine lab technician. Sturdy was also very involved in the Keene community, serving on the boards of Southwest Community Services, Child Advocacy Center, and Center for Violence Prevention. In 2011 he retired as Captain, which is Deputy Chief, from the Keene Police Department after more than 21 years of service.
In 2000 Sturdy started his own company, Good Digs LLC, specializing in field reclamation, maintenance and management, site work, clearing and property management. He says he wasn't really looking for more to occupy his time, but his good friend Andy Freeman encouraged him to look into joining the Dublin Fire Department. After several conversations with Chief Tom Vanderbilt, Sturdy joined the Fire Department in January 2012.
"Following my six months' probation, I started my Firefighter I training," he explains. Since he loves running equipment, he drives the tanker. In September he began Firefighter II training.
As if police work and firefighting were not enough, there is a yet another piece of Sturdy Thomas's community service career — that of Dublin Selectman. "The way I got into this," Sturdy explains, he "was asked to stand in for a few months for a selectman who had to step down at the time. Folks must have liked the way I handled things because the next year they elected me to the Select Board."
When Sturdy is not working with his customers at Good Digs, fighting a fire, and making decisions as Selectman, he is doing other community service work through the Monadnock Rotary Club. Where does he get all that energy?
Sturdy is married to the former Heidi Niemela. The couple has been married for over 31 years, and has two daughters. Olivia, 18 years old, is a college freshman; and Anya, 14 years old, is a high school freshman.
When I asked Sturdy what he liked to do for fun and relaxation, he said he loves hunting deer and elk. He said the family also loves to go jeeping. (Translation: exploring the back roads in his Jeep.)
Writers's note: This is the ninth story in a series featuring members of the Dublin Fire Department.
Ramona Branch is on the staff of the Advocate.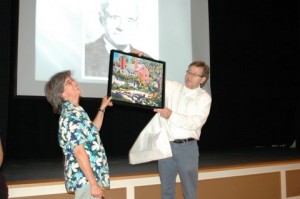 Historical Society's 1841 Schoolhouse Museum
Open Columbus Day Weekend (October 11-12).
By Rusty Bastedo
It is getting to be a tradition that the 1841 Schoolhouse Museum is open 12 – 2 pm on the Saturday and Sunday of Columbus Day Weekend, and this year follows the tradition. Located next to Dublin Consolidated School, on Main Street/Route 101, the 1841 Schoolhouse was built as one of ten schoolhouses that served school-age children (ages 3-15) in Dublin. In 1841 Dublin included what are today the separate communities of Harrisville and Chesham, and the ten Dublin schoolhouses served the children of Dublin for 90 years, from 1841-1931. Today the 1841 Schoolhouse interprets life in 19th century Dublin and the Monadnock Region.
19th century Dublin life was primarily farming life, and farms operated with horsepower, not the automobile. But as a farming community, it produced sheep's wool from the 1830s, and potatoes for a Dublin mill that cooked potatoes for starch. Turnips and other root crops were exported to other markets, together with boots and shoes, boxes of starch, clothespins and broom handles. Men's straw hats and women's straw bonnets were made from palm fronds that came by water (and later rail) to Worcester, Massachusetts, then shipped by wagon to Dublin and Monadnock Region towns. The fronds were woven into hats on Dublin farms during the winter months, and shipped out to market by wagon in early spring.
There is much else to be learned about Dublin's Age of Horsepower at Dublin's 1841 Schoolhouse. And if you want to know more, consider joining the Dublin Historical Society.
Hope to see you on Columbus Day Weekend!
Russell Bastedo was formerly New Hampshire State Curator from 1997 to 2009. He has served on the staff of the Advocate since 1999.
Jump-Start the Holiday Season
The first weekend in November.
By Jeanne Sterling
It's coming! It's coming! The major shopping/socializing event of the year: The Round Robin Holiday Tour!
If you've never ventured out on the first weekend in November, now's the time to clear your calendar and pencil it in. My sister and I have been shop-hopping the regional gift shops listed in the brochure for the past several years. The route is planned so well, there's really no 'back-tracking' involved. I pick my sister up at her home in Swanzey Center and our first stop is Mary Ellen's in Fitzwilliam, on to the Sugar & Spice Boutique in Troy (a slight back-track) then on to Fawn'd Memories in Rindge (across from J.P. Stephens). We stop for lunch at Sunflowers in Jaffrey before heading to Twin Elm Farm in Peterborough. Next on the list are Dublin's own Morning Star Maple and Harvest Thyme Herbs.
At your first stop, you'll receive a tour map and a ticket, which will be stamped/ punched by the staff. Tickets stamped at all of the shops on the tour will be entered to win one of several custom holiday gift baskets. Before you leave the shops, remember to pick up the free gift each shop offers; sometimes a Christmas ornament or small sachet of herbs, cookie cutters, and the like. Light refreshments are also present at each stop. The aroma of mulled cider, ginger cookies and eggnog greet you as you come through the door.
It's not unusual to bump into friends along the way, as it appears everyone has their own route they follow.
So keep an eye out for the advertisements in local papers and the Advocate and plan your day. The tour usually runs from Thursday through Sunday, so there's plenty of time to enjoy the beginning of the holiday season. If this doesn't put you in the mood, I don't know what will!
Jeanne Sterling is Advertising Coordinator for the Advocate and assistant to the Town Administrator.
The 2015 Old Farmer's Almanac Is Out
The Old Farmer's Almanac predicts that this winter will be another arctic blast with above-normal snowfall throughout much of the nation. The extreme weather will continue with heat into Summer 2015.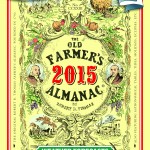 The 2015 Almanac, always published right here in Dublin, also offers advice to help cope with whatever comes along: strange facts about the universe to help keep things in perspective; love potions from the kitchen; a preview of the Almanac's comfort food cookbook; interesting statistical wonders; making the most of commuting to work; and budget-friendly home beauty remedies.
The Old Farmer's Almanac, which is produced by Yankee Publishing Inc., has been delighting readers since 1792. Always "useful, with a pleasant degree of humor," the Almanac is also known for its 80 percent-accurate weather forecasts.
Print versions of the Almanac ($6.99) are available wherever books and magazines are sold. Digital versions are online via Almanac.com/Shop, the iTunes store, and Amazon.
Monadnock United Way Campaign: "Wonder"
By Barbara Summers
The Monadnock United Way (MUW) kicked off the 2014-15 campaign on September 11th at the Keene Country Club and September 16th at the Village at RiverMead in Peterborough. It was an upbeat program with the theme being "Wonder…Do you ever wonder about all we can do? Good things can happen because of me…and you."
There are about 45 health and human service agency programs funded under the umbrella of MUW that are available for residents of the Monadnock Region. Many of the MUW agencies have relied heavily on state and federal funding in the past, but as you know, most of that has been cut. As a result, these agencies are depending on MUW for a major portion of their operating budget this next year to fulfill their missions.
Many of us do not know about the many agencies funded by the Monadnock United Way until we need those services.
Through a very rigorous research and allocations process, it has been determined that we need to raise $2,106,234 to meet the MUW commitment to the agency programs in 2015.
Here in Dublin, our goal will be to raise $7,400. A letter and campaign packet has been mailed to many of the residents and businesses in town asking for your support. The Dublin team consists of Team Captain Barbara Summers, Nancy Jackson, Judy Knapp, Gretchen Judd and Margaret Gurney. They will be making follow-up calls during the next few weeks.
MUW agencies have been used more than 400 times by Dublin residents in 2013. These are your friends, neighbors, maybe family members who depend on these services. It could be Adult Day Care, Home Healthcare services, or many of the other services. About 90% of the funds received go toward MUW agency programming.
For information about the Monadnock United Way, we invite you to go to www.MUW.org. We thank you in advance for your support.
Barbara Summers is Team Captain of Dublin's effort in the United Way for the Monadnock Region.
Monadnock Rotary Club News
The Monadnock Rotary Club meets at the Dublin Community Church on Tuesday mornings at 7:30 for breakfast, a short business meeting, and a presentation by an invited speaker. Monadnock Rotary Club's service projects are particularly focused on the support of health/wellness, youth/families, and environmental issues.
Monadnock Rotary sponsors the annual Monadnock Wellness Festival, which was held on September 20 and was a great success.
Monadnock Rotary is also the sponsor of a yearly Rotary Youth Leadership event for high school students that is held at Sargent Camp, and the club was the co-creator of the popular Dublin Rotary Park on Dublin's Howe Reservoir. In addition, the club raises money for Healthy Teeth to Toes, summer camp scholarships, Rotary exchange students, various local charities, and international service projects.
On September 30, Kelly Bringham-Stenier will speak on "The Monadnock United Way's Collective Impact." On October 7, we will hear from Jillian Miner on "The Hannah Grimes Center's Mission and Programs." Steve Frechette will speak about "Physical Therapy as Holistic Medicine" on October 14. Then Chris Selmer covers "The History and Mission of the Monadnock Adult Day Care Center" on October 21st. October 28th features Lynn Trimby on "Boston's Helping Hands Monkey Helpers Service Project: Training Capuchin Monkeys Since 1979 to Help Mobility Impaired Adults Live More Independent and Engaged Lives." Everyone is invited.
If you are interested in learning more about the Monadnock Rotary Club, contact President Dale Gabel at dggabel@nullmail.com or Membership Chair Jerry Branch at jerrybranch2@nullgmail.com.
Fall Hawkwatch
By Tom Warren
New Hampshire Audubon's Fall Hawkwatch at Pack Monadnock runs from September 1 through November 15th. This is the 10th season for one of New England's outstanding sites for migrating raptors.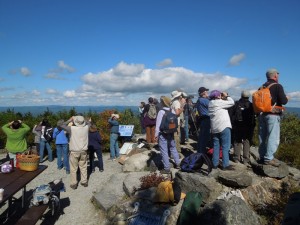 More than 10,000 hawks, eagles and falcons use this route when favorable northwest winds create rising updrafts, or thermals, along the 22-mile Wapack Ridge. Broad-Winged Hawks form "kettles" of rising air heated by the sun. Last year 26,000 Broad-Wings passed over Mount Wachusett, which is only 30 miles south of Pack Monadnock.
Volunteers guided by New Hampshire Audubon staff naturalist, Katrina Fenton, record every raptor flying by the site through November 15th.
A summary from last year includes the following:
            Bald Eagle             88
            Golden Eagle             11
            Turkey Vulture                         140
            Northern Harrier            74
            Red-Tailed Hawk            181
            Rough-legged Hawk            1
            Red-Shouldered Hawk            87
            Broad-Winged Hawk            8,812
            Northern Goshawk            16
            Coopers Hawk                        139
            Sharp-Shinned Hawk            1,229
            Merlin            86
            Peregrine Falcon            47
            Kestrel            163
            Osprey            182
A special note on The Osprey – Project Osprey Track, a multi-year project uses GPS transmitters to track migrating Ospreys from their New Hampshire nests to their winter territory in South America. The program is administered by Iain MacLeod, Director of the Squam Lakes Science Center in Holderness. He has studied these birds for more than 30 years and was the founder of Pack Monadnock Raptor Observatory.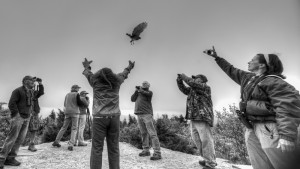 One Osprey, with a high-tech transmitter was tracked from a nest in Bridgewater, NH, to Brazil and back to its nest in Bridgewater the next spring.
The first Osprey nest in southwest New Hampshire was located a few years ago in Jaffrey and fishing Ospreys have been observed at Dublin Lake, Silver Lake and Howe Reservoir in recent years.
Tom Warren is a Trustee of the Harris Center for Conservation Education and New Hampshire Audubon.
Join the Baha'i Celebration
Please join the Baha'is of the Monadnock Region at the historic Dublin Inn as they celebrate the Anniversary of the Birth of the Bab, a Central Figure of the Baha'i Faith. Festivities begin at 2 pm on Monday, October 20th. No reservations are needed and all Baha'i events at the Dublin Inn are free and open to the public.
For more information, you may contact Phil and Ruthie Gammons at the historic Dublin Inn, 1265 Main Street, Dublin, at 603-563-8809, or www.bahai.us.
Archery & Hunting Seasons Announced
Regular firearms season is preceded by muzzleloaders.
With the start of archery season, White-tailed deer hunting season began Sept. 15 in New Hampshire, and it ends Dec. 15. The archery dates are the same for turkey; but shotgun for turkey runs from Oct. 13-17. Moose (by permit only) is October 18-26.
The regular firearms season begins Nov. 12 and runs through Dec. 7 while the youth hunt is the weekend of Oct. 25-26.
Muzzleloader season begins Nov. 1 for deer, and ends Nov. 11.
Over the past three years, the deer kill has been increasing: The 2013 kill was 12,540, up roughly 8 percent from the 2012 harvest.
Overall fall foods in 2013 were average, with acorns being slightly below the 16-year average while beech nuts and apples were above. With an average fall food year, deer likely went into last winter in relatively good shape.
You can pick up the 2014-15 New Hampshire Hunting & Trapping Digest at many stores that sell licenses.
Find out more at http://www.wildlife.state.nh.us/.
Three Shows at the Thorne
Intersection: Art, Culture, and Identity — Object-based learning using the Thorne's permanent collection, ongoing.
From Sept. 19 through Nov. 16, is "Embracing Diverse Voices: 80 Years of African-American Art," which explores the diversity of experience and expression among American Artists of African descent through painting, photography, sculpture, book arts, and prints.
From Oct. 10 through Dec. 7, the Thorne offers "Light Works: A Century of Photography," whose photographs span the history of photography from studies of animal locomotion to contemporary prints. Exhibits organized by the Kalamazoo Institute of Arts, Kalamazoo, MI.
The Thorne-Sagendorph Art Gallery is located on Wyman Way of Keene State College. It can be reached at thorne@nullkeene.edu, www.keene.edu/tsag or by calling 603-358-2720. Hours of operation are Sundays through Wednesdays from noon to 5 pm, Thursdays and Fridays from noon to 7 pm, and Saturdays from noon to 8 pm.
Conversation Café: Preparing for a Good End of Life
How we want to spend the end of our life represents the most important conversation many people never have. Thinking about something either expected or unexpected happening to us or someone we care about is frightening, but planning ahead is practical and leaves more room for peace of mind. The Conversation Café is where these discussions can take place.
The next Conversation Café in Peterborough will take place on Wednesday, October 8 from 5 to 6 pm at Home Healthcare, Hospice and Community Services, 45 Main Street, Suite 316. It will continue to be offered on the second Wednesday of every month in Peterborough. Refreshments will be available. There is no charge to attend, but reservations are necessary and can be made by calling 532-8353. Residents of any area community are welcome to attend.
A social worker with Home Healthcare, Hospice and Community Services (HCS) will facilitate the exploration of this very human conversation as people consider what they want, both in life and during its closure.
Hospice at HCS Offers New Support Group
Hospice at HCS will offer "End of an Era… When a Parent Dies," a bereavement support group in Keene starting on October 8 and continuing on Wednesdays from 4:30 pm to 5:30 pm through November 12.
Adult children who have lost a parent are invited to this group, to take time to remember and reflect. Join us to share stories, sadness and hopes. The group will meet at HCS, 312 Marlboro Street, in Keene.
There is no charge to participate, but registration is necessary. Call Lynn Anne Palmer at 352-2253 for more information or to register.
Hospice at HCS is a comprehensive nonprofit hospice program, providing end of life care to patients and support to family members. Care is offered in the home, in assisted living facilities or in nursing homes throughout southwestern New Hampshire.
There will be a Community Supper
Tuesday, October 28, at the Dublin Community Church
from 5:30 to 6:30 pm.
This is a free event and open to all.
The church is handicapped accessible.
Please come and join in the fun.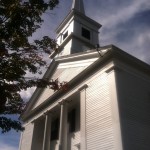 Peterborough Players in October
The Peterborough Players Arts on Screen 2014-15 Season starts on October 5. This year it announces 21 events featuring The Met Opera, The Bolshoi Ballet, and London's National Theatre. A full list of events and how to save on subscriptions packages can be found at www.PeterboroughPlayers.org.
October 5 at 1 pm – National Theatre: A Streetcar Named Desire
Tennessee Williams' timeless masterpiece will be broadcast live from London by National Theatre Live. As Blanche's fragile world crumbles, she turns to her sister Stella for solace – but her downward spiral brings her face to face with the brutal, unforgiving Stanley Kowalski.
October 11 at 1 pm – The Met Opera: Macbeth
Star soprano Anna Netrebko delivers her searing portrayal of Lady Macbeth, the mad and murderous mate of Željko Lučić's doomed Macbeth, for the first time at the Met. Fabio Luisi conducts.
October 18 at 1 pm – The Met Opera: Le Nozze di Figaro
Met Music Director James Levine conducts a spirited new production of Mozart's masterpiece, directed by Richard Eyre, who sets the action of this classic domestic comedy in a 19th-century manor house in Seville, but during the gilded age of the late 1920s.
October 25 at 8 pm – National Theatre: Frankenstein
As a special Halloween treat, we will be screening Nick Dear's Frankenstein on our screen again: This time with Benedict Cumberbatch as Victor Frankenstein and Jonny Lee Miller as the Creature. A brilliant production of a spooky classic is one you will not want to miss.
October 26 at 1 pm – Bolshoi Ballet: The Legend of Love
This splendid tale of forbidden love, self-sacrifice, jealousy and suffering returns to the Bolshoi stage after a ten-year absence. This is one of Russian master Yuri Grigorovich's earliest choreographic works.
Frost Heaves Returns Despite Popular Demand
The hit comedy show Frost Heaves is back with Yankee humor, music and assorted nonsense, from October 10 through 12 and on October 18 at the Peterborough Players theater. Winner of a Best of NH Award, Frost Heaves has been called "hilarious" and "absolutely brilliant."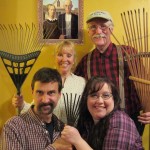 Among the nonsense this time will be a new low-cost health plan called YankeeCare, Life's Little Mystery Theatre examining why product packaging is so hard to open, Fred Marple with the latest news from Frost Heaves and the Speed Bumps band will play oldies.
Performances of Frost Heaves are Oct. 10, 11 and 18 at 7:30 pm, with a matinee Oct. 12 at 2 pm at the Peterborough Players theater. Tickets are $18, $15 matinee on sale at the Toadstool and Steele's in Peterborough, Rousseau's Music in Jaffrey, and online at frostheaves.com. Frost Heaves is family-friendly and appropriate for all ages.
###