About Dublin Lake & Other Water Bodies of Water
By Felicity Pool
From the top of Monadnock, the outline is like a fish. Down at water level, the three-mile circumference is an identifier for part of town and a regional landmark for tourists and other travelers. The lake is a draw for swimming, walking-around, fishing, boating, diving, fireworks and sunset gazing.
It's between 10,000 and 12,000 years old, this body of water (begun when New England was covered with an ice blanket up to one mile thick), and it's showing its age.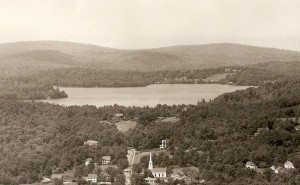 The visible signs – the ones like wrinkled warty skin in humans, or loss of height and appetite – those are showing up in increasing weed growth, warmer and murkier water, disappearing crayfish, and in August of this year a bloom of cyanobacteria.
As with any valuable antique, special care and handling are needed. New Hampshire has approximately 1,000 lakes and ponds, covering some 165,000 acres, and water scientists have accumulated enormous amounts of information over many years. The recommendations for lake TLC are not just for Dublin, but also for bodies of water throughout the state.
Challenges to Water Quality
What's lumped together as 'human activity' is the biggest challenge to water quality. Some activity, such as acid rain caused by smoke from Midwestern power plants, is not a regional matter and the damage is not visible except in water samples that measure acidic levels. (Too much acid endangers fish and the tiny water organisms necessary for lake wellbeing.)
The main local hits on a body of water are storm water runoff, lawn and garden fertilizing (nitrogen and phosphorus), roads, invasive weeds and failing septic systems. Storm runoff washes any and everything into a lake – dirt, chemicals, fecal matter. Fertilizer applied to any land that drains toward a lake/pond "nourishes" the underwater area so more and more weeds grow and eventually fish and other water creatures can't get enough oxygen.
If a lake has aged to the wrinkly warty place where weeds are established, it's important to know that some species such as the tall pipewort in Dublin Lake are associated with good water quality. What's dangerous is a non-native weed such as the variable milfoil (found in many aquariums) that was discovered a few years ago in Cemetery Cove (and was immediately covered with a smothering mat).
As for roads, what's needed to keep them in good shape runs directly counter to what's good for an adjacent body of water. Paving, drainage culverts, sand and salt — all that maintenance for safe driving — creates runoff that washes oil, grease, dirt, sand and sodium chloride into a lake or pond.
What's Being Done
At Dublin Lake, water is collected by volunteers and taken to the Department of Environmental Science laboratory in Concord for analysis. In summer, at the two swimming club beaches and the boat launch, sampling is done monthly for E. coli and once a season for phosphorus.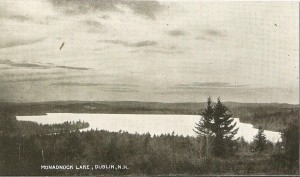 Also during the summer, the deep spot of the lake (94 feet) is sampled each month for phosphorus, water clarity and other parameters. Once each season a biologist from NH Department of Environmental Services does additional tests and sampling that contribute to information about the lake's overall health. Findings are sent to volunteers in town (currently John Morris and Joan Griffin), the Town Health Officer and the Selectmen. You can view findings at this link: http://des.nh.gov/organization/divisions/water/wmb/vlap/index.htm
More volunteers, currently headed by Dede Clark, check visible underwater areas via kayaks, wading and snorkeling, looking for invasive weeds. If any are found, it is essential that they be reported immediately to Concord for expert handling. (Turns out it's damaging, as well as illegal, to uproot anything growing on the lake bottom: pulling up "good" weeds creates an opening for "bad" ones to settle in; the illegal part is that land from water's edge inward belongs to the state and not to an individual so any action taken there is trespassing.)
At the Boat Launch, we've got summer Lake Hosts (as do many other boating destinations in the state). The Hosts are trained to monitor all launchings, especially if trailer hitches and motors are involved, since invasive weeds can be hidden in crevices and carried into an uncontaminated body of water. Bill Goodwin has been the volunteer coordinator for the Dublin program since its inception.
On two sides of the Lake, the non-101 sides, the Town Highway Department uses sand instead of salt for winter traction, thereby lessening chemical impact on the water. In summer, roadside trimming is done only on the side away from the water so as not to damage trees and bushes, the roots of which help filter road runoff.
Even with water testing, weed watching, boat-launch monitoring and East and West Lake Road maintenance adjustments, the Lake is aging, getting less resilient, needing still more care to preserve as much of its beauty and water quality as possible.
What Else Can Be Done?
The recommendations for Dublin Lake and all the town's waters are most importantly to manage runoff: keep the biggest buffer possible of trees and bushes between roads and water; clean out catchment basins on a regular basis; avoid fertilizer and other chemical treatments of lawns and gardens within drainage distance of a lake or pond; persuade dog-owners to pick up droppings (which truly do wash into the water) and not to wash their animals in the lake. Same rule applies for humans – no shampooing or soaping.
Lots more information can be found on the NHDES website, including particular pages about cyanobacteria, weeds, boating and shoreline preservation. Also see the Dublin Conservation Commission webpage on the Town of Dublin website: http://townofdublin.org/conservation-commission/
Felicity Pool has been a lake-water tester for many years and is a member of the Dublin Lake Preservation Committee (DLPC).
Dublin Public Library
Wednesday mornings between 9:30 and 10:30, the Dublin Public Library offers a program for young children and caregivers. Thinking about daylight savings time and how to convince your children to settle down earlier? Reading before bed is a great way to relax. The Library has a copy of The Best Part of the Day by Sarah Ban Breathnach. Everyone has a story to tell and this book encourages families to start talking. Winter is Coming by Tony Johnston has beautiful illustrations that show the transition from fall to winter. Both books will be read as we talk about night and day on November 5 and feeding the birds on November 26. You might be surprised to see who is in the castle on November 12, and there will be plenty of Thanksgiving crafts on November 19. Refreshments are always served.
November, a cozy month…soup cooking on the stove, windows steaming up as you cook a favorite meal…searching for hats and mittens…preparation for winter…a wonderful month. The library will have a display of cookbooks, lots of magazines with wonderful recipes, knitting and crocheting how-to books. How about an afghan that covers your knees and keeps you warm as you knit it?
Books:
Paw and Order by S. Quinn
Gutenberg's Apprentice by A. Christie
Autobiography of Mrs. Tom Thumb by M. Benjamin
Secrets of the Lighthouse by S. Montefiore
Stonlea by P. & V. Clement
One Kick by C. Cain
Emily and Einstein by L.F. Lee
DVDs new to the library:
Glee Seasons 1-3
Fault in Our Stars
Million Dollar Arm
Doc Martin Seasons 1-5
Big Bang Theory Seasons 1-6
What's in a Name?
First in a series from the Dublin Historical Society.
Did you ever wonder why there's no monument along the length of Monument Road? The road existed, apparently unnamed, as early as 1794. By 1919-1920 it was labeled as we currently know it.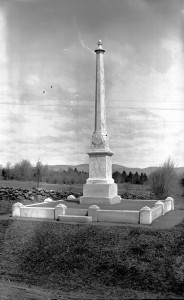 Here's the backstory: At Town Meeting in 1868, a sum of $483 (approximately $7,900 today) was designated for construction of a monument to honor Dublin soldiers who died in the War of the Rebellion (aka the Civil War). More than 60 men from the village went to fight; the monument carries the names of the 25 who did not return. It stood at the corner of Monument Road and Main Street when dedicated in October 1870. In 1929, a vote at Town Meeting called for relocation of the memorial to its current spot in front of the Dublin Historical Society museum on Main Street. Eight hundred dollars (approximately $10,900 today) was to be raised, and the move was accomplished later that spring.
First in a series from the Dublin Historical Society.
John W. Harris
September 21, 1930 – October 20, 2014
He was instrumental in preserving Dublin's archives and revitalizing the Dublin Historical Society
Review of the Laws on Voter ID and Absentee Ballots
By Tim Clark
Voting for state and federal offices will take place at Town Hall on Tuesday, November 4, from 8:00 am to 7:00 pm. There have been a number of changes in the laws regarding voting, and here is a brief summary of them.
A voter must be at least 18 years old, a citizen of the U.S. by birth or naturalization, and domiciled in the town of Dublin. The law says a domicile is "that place, to which upon temporary absence, a person has the intention of returning." It has nothing to do with being a taxpayer. If a person is away in college or the military services, he or she may still be domiciled in Dublin, provided he or she intends to return.
The best way to establish your identity as a voter is with a New Hampshire driver's license, an armed services ID card, or any other photo ID issued by the U.S. government (such as a passport). But that's not the only way. If you have no photo ID, you can vote by signing an affidavit (available at Town Hall on voting day) affirming your identity, age, citizenship, and domicile. The state verifies these facts by sending a letter to the address given. If the letter is returned, the attorney general's office will investigate. Voter fraud is a Class A felony in New Hampshire. It's also extremely rare. We have a statewide registration database that will pick up voters who are registered in different towns.
If you need an absentee ballot, call or visit Town Clerk Jeannine Dunne. Don't put it off – you can apply for an absentee ballot as late as the day before the election, but only if you come to Town Hall yourself (no one can "pick up" a ballot for someone else). But it's safer to do it well in advance of Election Day.
Tim Clark is Town Moderator for Dublin.
Save the Date: Vote November 4
Take the time to learn the issues and
where candidates stand on them.
Dublin NH Tote Bags For Sale
By Jill Lawler
By popular demand, the Women's Club has ordered a new supply of tote bags.
The Club is selling Dublin, NH tote bags decorated with an outline of the mountain to help raise funds to support our erosion control efforts at the Women's Club Beach. They will make great Christmas gifts for Dublin residents or for friends and family who have moved away but wish they were still here.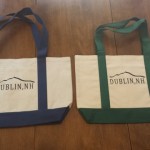 The bags are medium-weight canvas with an outside pocket and come with contrasting handles and bottom base in navy blue, dark green, or red. They measure approximately 12" wide, 13" high and 6" deep. Totes cost $22 apiece; for $25 you also get a Dublin Women's Club Beach water bottle included. Contact Jo-Ann Hopkins (jhopkins@nullconval.edu) or Jill Lawler (jilltlawler@nullgmail.com) to place your order.
Jill Lawler is the Chair of the Women's Club Beach Committee.
Consider Your House Number's Sign:
Those who man our roads and extinguish our fires wish to remind Dubliners
that it's most important to place your house number in a conspicuous place
for emergency purposes. Keep in mind the height of snowbanks.
New Offerings at the Dublin Community Center
In Dublin Community Center's warm and appealing setting, three kinds of soup, bread, brownie and beverages were served to 30 or so art-touring enthusiasts, rummage sale goers and community residents on October 11th. Many, new to the Dub Hub, were amazed by the congeniality of the environment, not to mention the delicious homemade soups and bread. David Nelson's intricate abstract oil paintings adorned the space, blending with the soothing colors of the Center's walls.
Dublin Community Center is picking up speed. The Board is building a list of volunteers for the growing number of community events – lunches, art openings, speakers' forums and discussion groups. A new addition will be a Winter Forum, a speaker series of Dublin residents who will regale us with stories, insights and inside secrets on notable and local filmmakers, authors, families, historical events and business ventures.
Join us for the first of five evenings (November through May) with Tim Clark who will share his experiences working with Ken Burns, famous documentary filmmaker and resident of Walpole, NH. Tim, who many of us know as our Town Moderator, has an amazing breadth of experience. For years, he was Managing Editor for Yankee magazine, as well as an occasional actor for the Peterborough Players. He has worked with Ken since the early years of Florentine Films, being a "voice" in films such as "Lewis and Clark," "Mark Twain," and "The National Parks." Come hear "Being a Voice for Ken Burns," on Saturday, November 22, at 7:30 p.m.
Community lunch will be served each month on the third Tuesday. This month it is November 18 from 11:30 am to 1:00 pm. Wholesome food and community spirit is being served – and it's free (although contributions are welcome).
In November, Sheila King's geometric canvases will fill our walls, with an opening November 8 from 5 to 7 pm. (See related story below.)
Back by popular demand, we're hosting a community Pot Luck followed by Open Mic music on Friday, November 14. Dinner starts at 6 pm. Bring a dish and come play, sing or enjoy the musical talents of our community.
If you'd enjoy helping out occasionally or joining the corps of volunteers, please call Nancy Cayford (563-8021) or email us at dublincommunitycenter@nullgmail.com. It's a lovely way to spend time with neighbors and friends and get to know new folks.
Sheila King Exhibits Her Art at Community Center
Paintings by Dublin artist Sheila King will be on exhibit at the Dublin Community Center for the month of November. There will be an opening reception for the artist on Saturday, November 8, from 5 to 7 pm, All are welcome and delicious refreshments will be served.
An award-winning artist, King strives to create paintings of "emotional intensity that resonate with visual levels of the psyche." She starts with geometric drawings in pencil that are enlarged and transferred to a panel that has been gessoed with whiting and rabbit skin glue. She uses egg tempera for the painting. "Many layers of thinly tempered pigment are applied to create depth and brilliance of color," King explains. This results in vividly colored, angular shapes, some from the natural world, some from the world of architecture, a new way of seeing houses and trees, a new way of seeing!
King was born in Cambridge, MA, and moved to Dublin in 1998. She came first to visit her brother, Mike, and loved the beautiful, peaceful surroundings and the many cultural advantages. Her paintings have been exhibited widely, in Boston as well as in Newburyport, on the coast of Maine, and in Cornwall, England. They are also held in private collections in Massachusetts, New Hampshire, Florida, Maine, South Carolina, Maryland and the UK.
The Dublin Community Center is open on Mondays and Wednesdays and random other times. The show can be viewed by chance or by appointment. Call 563-8197 for an appointment.
DubHub in November
Mondays: Open 9 to 5
— Lunch Hour Yoga, 12-1 pm. Walk-ins welcome. (For details, call Meenakshi Moses at 563-8094).
Wednesdays: Open 9 to 5
— Qigong, 12-1 pm. Walk-ins welcome. (For details, call Ginnette Groome at 313-9828).
— Art Lessons at 3:30 pm with Sally Shonk and Mary Ellen Moore.
— Homework time until 3:30 pm. There will be a volunteer at the Hub. Children can take the school bus to Yankee and walk around to the DubHub.
Special Events this Month
Nov. 8: Art opening reception for Dublin artist Sheila King, 5 to 7 pm. Refreshments served.
Nov. 14: Family Pot Luck (6-7 pm) and Open Mic (7-9 pm).
Nov. 18: Community Lunch, 11:30 am – 1 pm. Free/$5 contribution welcome.
Nov. 22: Winter Forum: Tim Clark, "Being a Voice for Ken Burns." 7:30 pm. Free/contributions welcome.
If you would like to rent the Center for your event, please call Nancy Cayford at 563-8021.
Four Artists Open Studios for the Monadnock Art Tour
The annual Monadnock Art Tour was held on Columbus Day weekend. Saturday was chilly and rainy, but Sunday was a warm and sunny day bathed in the intense colors of autumn.
Four Dublin artists opened their studios and shared their artwork and jewelry with the local community and leaf-peeper visitors.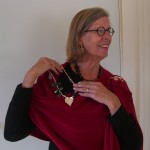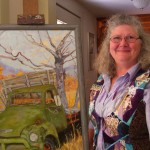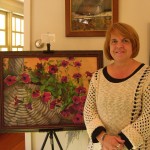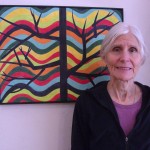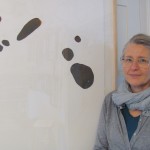 News from the Dublin Consolidated School
By May Clark
The bread oven is completed! After years of dreaming about it, Kin Schilling got us all moving to build it, and it's beautiful! The stages went like this: a group of families built the rock base before school started in August, using rock donated and delivered by the Bergeron family.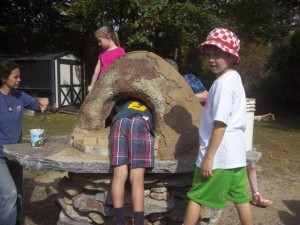 Then, thanks to a great deal from John Kaufhold of Peterborough Granite and Marble Works, along with financial support from the Dublin Community Foundation, our great big piece of Goshen Stone was installed on top of the base. Then Shana Brautigam, of Rooted in Clay, came to work with all the students to build the actual oven. It took four days of work, culminating in a layer of clay mixed with manure (yes, really!) to complete this work of art. Our wonderful PTO paid for our potter. The photo was taken as the fifth graders were removing the sand form that was used to shape and support the oven.
So, what else have we been doing? All kinds of learning in all kinds of surroundings! We've been harvesting, measuring, and saving seeds from our garden — in early October we weighed 66 pounds of potatoes from one garden bed! Some classes are working with the Harris Center, and we've had field trips to Norway Hill Orchard and the Peterborough Historical Society.
Our annual Harvest Supper, sponsored by the PTO, was a big success, and we walked to school too. Our friends at the top of the hill provided treats for all the kids for our Halloween parade as well.
November brings our annual NHDI residency. The students love to incorporate dance into each day for a week. Join us for the performance on November 21.
May Clark is Teaching Principal at DCS. You may reach her by calling 563-8332 or email mclark@nullconval.edu.
News from the School Board
By Fiona Tibbetts
Hello Fellow Dubliners. Cold winds will soon be blowing — so that means the ConVal budget battles are about to begin. Again this year I am on the budget committee so I'll be writing in future months about our attempt to build a responsible budget.
This month I want to tell you about what's up with my other subcommittee, the District Study group. This committee is made up of both School Board and Select Board members from district towns. We are tasked with looking out at the future of the district and coming up with recommendations.
The issue at hand is how to handle the problem of falling enrollment coupled with rising district costs. One can argue about how we found ourselves in this predicament, but there is no denying that our per-pupil costs are rising rapidly over the last few years and this is negatively impacting our local tax rates.
At the October meeting, Barbara Miller, a member of Peterborough's Board of Selectman, made an interesting proposal: that the School Board study the idea of closing both of the District's Middle Schools and redistributing the younger students back to the local elementary schools and sending the older kids to the High School sooner. Presently, the elementary schools handle K-4, the middle schools grades 5-8, and the high school 9-12 (except in Dublin, where the kids stay at DCS through 5th grade).
I'm sure there are lots of impediments to any change of this magnitude and it may turn out to be infeasible, but I applaud Barbara for her attempt to move the conversation along. She recognizes, as I do, that any attempt to close individual town elementary schools would be extremely contentious and that the current cost/student trajectory is unsustainable. I welcome any comments you might have.
Fiona Tibbetts is Dublin's representative to the ConVal School Board.
Dublin Community Preschool at 50
By Dan Millbauer
I am currently in my second term as president of the executive committee of Dublin Community Preschool & Childcare Center. Like the other parents and community members on the school's tiny "board of directors," I fill this role as a volunteer. I would like to tell you why I am committed to helping this special little community treasure.
As certified educators and working parents, my wife Sarah and I wanted to find a high-quality program for our only daughter Megan when she was old enough for preschool. We also sought a convenient location and flexible scheduling.
We checked out nearly every local option between our home in Peterborough and our workplaces in surrounding towns. While some were closer or had lower tuition, DCP's program and its teachers impressed us — and Megan — the most. The first time we visited, she was comfortable and began to play right away. I've met many DCP parents who say the same.
In DCP our family found a perfect balance of learning, play and socialization. Trained and experienced teachers integrate literacy, art, science, nature and music, and foster relationships with townsfolk and the wider community while encouraging healthy habits and attitudes.
Megan attended DCP for three years and by the time she left (reluctantly!), she was more than ready for kindergarten.
DCP was the right choice for our family. It provided such a great foundation for our daughter's success in school that I want to help the preschool thrive so it can continue doing the same for others. This is why I serve. Dublin Community Preschool & Childcare Center has been a real asset not only to the town of Dublin but to the whole Monadnock Region since its founding in 1964, and it deserves dedicated leadership to steer it toward another 50 successful years. That is my goal and the goal of my fellow executive committee members.
As a nonprofit organization, DCP can always use your support, too. Volunteer opportunities exist year-round, and the school's annual fundraising appeal kicks off soon. Please watch your mailbox later in November as well as the December Dublin Advocate for your opportunity to contribute; or see our ad in this issue for ways to get in touch.
Dan Millbauer is President of the executive committee of Dublin Community Preschool & Childcare Center.
Homecoming at Dublin Christian Academy
Dublin Christian Academy had the privilege of hosting our alumni on Columbus Day weekend at our annual Homecoming. Some alumni traveled from as far as South Carolina to be able to enjoy a New England fall day and reunite with friends and faculty.
Homecoming was kicked off by a long-standing senior class fundraiser, where the seniors and their faculty advisors are auctioned off to the highest bidder and become servants to the purchaser one day during the following week. As the festivities continued at the Alumni Field, students were also able to raise money for their future class trips and activities. A food court was set up and each of the classes sold various concessions from baked goods to hamburgers and hotdogs, to homemade mac and cheese. The highlight of the afternoon is always the alumni versus the current varsity volleyball and soccer teams. This year the alumni were victorious in both games.
After the games, several class reunions were held in the main lounge on campus. The Class of 1989 celebrated its 25th anniversary; the Class of 1994, its 20th; the Class of 1999, its 15th; the Class of 2004, its 10th; and the Class of 2009, its 5th anniversary.
Dublin School Hosting Open House for Prospective Students
Dublin School will be hosting its annual Open House on Sunday, November 9, from 1 pm to 4 pm. Prospective students and their families are invited to visit campus, attend mini-classes, see performances, and meet students, teachers, and coaches to learn more about the school. Registration can be completed at www.dublinschool.org/open-house or by calling the Admissions office at (603) 563-7075.
Blood Drive at Dublin School
Dublin School will be sponsoring a Red Cross Bus Blood Drive on Monday, November 3, 2014 from 10 am to 3 pm. Please call 563-1223 if you would like to be scheduled to donate blood or if you have any questions. The bus will be in the parking lot at the top of William North Road. Registration will be in the Student Center in Gillespie Hall. Blood donor card or valid ID is required to donate.
Hike to Scan for Golden Eagles
Join Tom Warren on November 2 scanning the skies for Golden Eagles in a moderately strenuous two-mile round-trip hike to an overlook partway up Mount Monadnock via the Dublin Trail. Bring water, lunch, and binoculars. Meet at 9 am at Tom's house, 19 Pumpelly Lane, in Dublin. Back by 1 pm. Sponsored by the Harris Center for Conservation Education where Tom serves on the board.
Round the Mountain Book Sale
Four second-hand book stores in the Monadnock Region are collaborating in a sale from November 6 through the 9th: Eagle Books in Keene, Homestead Books in Marlborough, Bequaert Old Books in Fitzwilliam, and Aard Books in Troy. You will be entered in a $50 gift certificate prize drawing when you visit all four shops. More information and directions at www.roundthemountain.com.
Rotary Meeting Speakers
The Monadnock Rotary Club, dedicated to community service with a special focus on health advocacy and youth development, meets in the Dublin Community Church's downstairs hall most Tuesdays at 7:30 am. We appreciate the support of Dublin residents and organizations at the club's September 20th Wellness Festival that attracted hundreds of people from all over the Monadnock Region.
Monadnock Rotary Club's meetings include time for socializing over breakfast, a brief business meeting, and an interesting local speaker. Visitors and potential new members are always welcome!
The schedule for its upcoming meeting presentations include:
November 4 — Rita Stanton, Volunteer Coordinator for Life Choice Hospice, will talk about what is involved in serving as a Hospice volunteer.
November 18 — Christine Destrempes, founder of Art for Water, will speak about how she uses art to raise awareness about the global water crisis.
December 2 — Jamie Stein from Healthnet will describe the new insurance networks in New Hampshire that are coming online through the Affordable Care Act.
December 9 — Author, cultural historian, and Hancock resident Howard Mansfield will be sharing information about his new book (and, perhaps, what he loves about New Hampshire's villages and small towns).
To learn more about the Monadnock Rotary Club's projects and membership, please contact President Dale Gabel at dggabel@nullmail.com or Membership Chair Jerry Branch at jerrybranch2@nullgmail.com.
Fall Rummage Sale/Yard Sale
A big thanks from DCC to all the people who contributed to the success of the sales by lugging, unpacking, sorting, folding, stuffing, carrying, setting up, selling, packing, attending and purchasing. It is hard work but so much fun! Mark your calendar for next year 2015, April 27 -30 sorting and folding, Rummage Sale on May 1 and 2 and Yard Sale May 2 to help set up and sell. Looking forward to seeing you all. For information, call Betty at 563-7475.
Retirement Focus of Hub Talk
Health care is an important part of your overall retirement financial plan. Understand the options available to support a physically and financially healthy retirement.
Steve Kim, a financial advisor with Waddell & Reed, Inc., invites you to attend his presentation, "Your Retirement: Medicare & Health Care Options," on December 3 at 6 pm at the Dublin Community Center. There is no charge for this event, and you are welcome to bring guests.
Please R.S.V.P. to Steve Kim at 603-563-0265 or sckim@nullwradvisors.com by Friday, November 28.
Peterborough Players Hosts Auction and More
The theme of Peterborough Players 26th Annual Gala & Auction is "Yesterday — Flashback 1964," which will be held November 1st at 5:30 pm. It was 50 years ago that the British Invasion began. What began as a musical revolution led by The Beatles from Liverpool, soon spread to London, the United States and beyond, challenging and changing the world's ideas of art, fashion, theatre, filmmaking, photography and culture. On November 1st, come back with us to the '60s, and enjoy an evening of hors d'oeuvres, desserts, wine and cocktails, combined with silent and live auctions. Tickets are $75 and can be obtained by calling 603-924-7585.
The Arts on Screen The Peterborough Players Arts on Screen 2014-15 Season continues with four events in November by The Met Opera, The Bolshoi Ballet, and London's National Theatre. A full list of events and how to save on subscriptions can be found at www.PeterboroughPlayers.org.
November 8 at 1 pm – The Met Opera: In Carmen, Richard Eyre's mesmerizing production of Bizet's melodrama returns with mezzo-soprano Anita Rachvelishvili singing her signature role of the ill-fated gypsy temptress.
November 16 at 1 pm – National Theatre: Skylight: Bill Nighy (Love Actually, The Best Exotic Marigold Hotel) and Carey Mulligan (The Great Gatsby, An Education) feature in the highly anticipated West End production of David Hare's Skylight, directed by Stephen Daldry, broadcast live from London's West End by National Theatre Live.
November 22 at 1 pm – The Met Opera: In Il Barbiere di Siviglia, the Met's production of Rossini's classic comedy features some of the most instantly recognizable melodies in all of opera.
November 23 at 1 pm – Bolshoi Ballet: The Pharoah's Daughter: When young Englishman Lord Wilson is forced to take shelter in the nearest pyramid, he dreams that its princess has come to life. This grand 19th-century Orientalist fantasy is one of the most remarkable productions in the Bolshoi's repertoire.
Hope from Books
By Mary Loftis
Every fall for 21 years Nancy Cayford has traveled to the Pine Ridge Indian Reservation in South Dakota. Nancy's work, and the mission of The Friends of the Oglala Lakota, a nonprofit that she founded 19 years ago, is to raise awareness of the poverty on the reservation.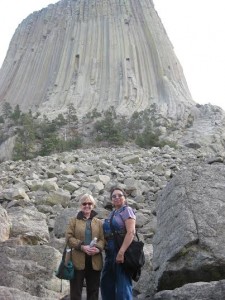 In a recent interview Nancy explained that this poverty — and the social and medical problems it engenders — are the result of the government's failed vision for the Indian population in this country since the last decade of the nineteenth century. After the Massacre at Wounded Knee in 1890, the Indians were to be provided education, medical care and food. It hasn't worked. Since World War II, unemployment and attendant issues of poverty and alcoholism, as well as epidemic-proportion autoimmune diseases such as diabetes, lupus, M.S. and arthritis have plagued the people of Pine Ridge. Nancy explained that a sense of hopelessness transcends the generations on the reservation.
After one of her early trips, she told her friend Moira Burnham, a Dubliner who has served on the board of FOOL since 1994, about a conversation she had had with a little girl. When Nancy asked the child what she wanted to be when she grew up, the response was, "Nothing." Moira's response to that was, "We should send them books!"
And so they have. For 18 years, the organization has sent cartons of beautiful, new children's books to eight school libraries and teachers on the Pine Ridge Reservation as well as additional books to medical clinics and a hospital. The focus of Nancy's annual trips has been visiting teachers and librarians and getting their feedback and requests, which range from books on Indian themes to the Harry Potter series. When she returns, she places a $5,000 order at the Toadstool Bookshop, and she and Moira set to work packing the books into cartons for the eight schools.
The Friends of the Oglala Lakota has a $10,000 annual budget, which is raised through the generosity of friends and strangers around the country. In addition to the book donations, the organization provides scholarship money to college-bound students. This year, seven students were awarded $500 at their high school graduations.
Nancy says that she has "hopes but not expectations" for the children and young people who receive books and scholarship money. She doesn't want or expect thanks, but sees the work of the organization as one way to combat the hopelessness that has led to an alarming suicide rate among the young at Pine Ridge. And she is repeatedly told, "Don't stop sending books!"
Shannon Brady, a reading coach on the Reservation, concluded a recent letter to Nancy about the meaning of the book shipments:
A year ago, a second-grader Adam hated reading. He wouldn't touch it with a ten-foot pole. Now he proudly lists off the books he has read and enjoyed –Ferdinand, Diary of a Wimpy Kid, the Pigeon books by Mo Willems, Spiders, the Goosebumps series. Light shines in his eyes, and I know his future is brighter for being a reader. You have made this possible. Never discount your contribution. Even a single book that we want and need can make a difference.
If you would like to receive a newsletter, send requests to npcayford@nullmyfairpoint.net. And, please visit www.lakotafriends.org.
Mary Loftis is on the staff of the Advocate.
Lost and Found
If you walk/jog/run/ride on Cobb Meadow Rd. (about ten yards
west off Boulder Dr.), along the north side of Cobb Meadow Rd.,
please take note. I found an 'e-mobile' device in that area,
which is in pristine condition. I will be happy to return it to the owner,
upon identifying the logo on the device.
Please contact Larry Foley at 563-8024.
Monadnock Folklore Society
The Monadnock Folklore Society presents "Celtic Roots of the Music of the American West" a concert performed by Skip Gorman with Connie Dover at the Nelson Town Hall on Friday, November 21 at 8 pm. Admission is $15/$12 (senior, youth, or in advance).
Through his music, Skip Gorman brings to life the workaday world of the cowboys of the American West. His music is not the music of the Hollywood cowboy, but rather the simple, yet poignant music that was performed around campfires by cowboys and westward settlers in the 19th century. Gorman brings to the music a scholar's knowledge of the cowboy's Celtic, Spanish and Afro-American roots as well as the personal experience gained by working as a cowboy on a ranch in Wyoming, along with an exquisite touch as a singer, guitarist, fiddler and mandolinist.
Acclaimed by the Boston Globe as "the finest folk ballad singer America has produced since Joan Baez," Connie Dover is a singer, poet and Emmy Award-winning producer and composer. Her crystal-clear voice and inspired arrangements of the music of Scotland, Ireland and early America display a depth and breadth of range that have established her as one of the world's pre-eminent traditional singers.
Get Your 2015 New Hampshire Wildlife Calendar
The all-new 2015 New Hampshire Wildlife Calendar is available from the New Hampshire Fish and Game Department. This award-winning calendar features close-up images of native wildlife, plus hunting and fishing season dates for the Granite State. For the second year in a row, the Association for Conservation Information has honored New Hampshire Fish and Game's calendar as one of the top two wildlife calendars in the nation.
Calendar purchases support N.H. Fish and Game's work managing New Hampshire's natural resources for all to enjoy. Calendars are available for $9.95 and can be purchased online or by mail at http://www.wildnh.com/Shop/calendar.html (shipping is free for 1-5 calendars).
The New Hampshire Fish and Game Department is the guardian of the state's fish, wildlife and marine resources and their habitats.
The open hours at the office of Dublin Town Clerk/Tax Collector:
Mondays 9 am to 4 pm & 6 pm to 8 pm
Tuesdays 9 am to 4 pm
Wednesdays 9 am to 5 pm
Thursdays 9 am to 4 pm
The office is closed on Fridays. Phone 603-563-8859 or email townclerk@nulltownofdublin.org