Articles on the 2015 Town Warrant
By Margaret Gurney
Preparations are made for Town Meeting on March 14, with voting for officers listed in Article 1 on March 10 at the Town Hall (see p. 3 for Candidates for Town Positions). Since Articles 1-3 are standard, all remaining articles follow in brief.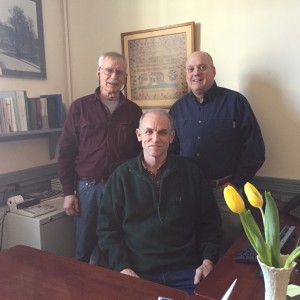 4: Approve 2015 Operating Budget exclusive of amounts in this Warrant $1,862,675
5: Complete repair / replacement of the Charcoal Road Bridge $1,243,855
6: Complete the Phase II Traffic Calming Project $33,549
7: Purchase and install a new heating system at Town Hall $16,000
8: Upgrade generator [Town Hall, Library, Police Station] $7,800
9: Update drainage and pave the Town Hall / Library parking lot $80,000
10: Widen bay doors at the Town Highway Garage $20,000
11: Purchase a Radar Traffic Speed Display sign $4,820
12: Upgrade the Security System at the Police Station $17,800
13: Finish painting and sill replacement of the Post Office $14,000
14: Paint the Town Highway Garage $8,500
15: Establish a Town Buildings Repair Expendable Trust Fund $25,000
16: Appropriate $443,000 from Town Capital Reserve Funds and Unreserved Fund Balance:
a) Heavy Highway Equipment $60,000
b) Police Cruiser $13,000
c) Fire Equipment $80,000
d) Road Construction $140,000
e) Bridge Repair / Replacement $110,000
f) Town Buildings Maintenance $35,000
g) Library Major Maintenance & Repair $5,000
17: Close and transfer Cemetery Expansion Fund to Town's general fund
18: Discontinue a portion of Old Common Road [hearing held Feb. 23]
19: Operation of The Dublin Advocate $2,800
20: Contributions to [eight] advisory health and welfare services $7,679
21: Expendable Trust Funds contributions $9,500
22: Accept Cemetery Trust Funds
23: Hire an environmental consultant for management of town land (By Petition) $2,500
24: Help restore the area between the Town Highway Garage and Cobb Meadow (By Petition) $2,500
Ed. Note: There may be changes to the above after the Advocate goes to press.
Margaret Gurney is editor of the Advocate.
Annual Pre-Town Meeting
Wednesday, March 4, 7 pm
Town Hall, lower level
(snow date: March 5)

Ballot Voting
Tuesday, March 10, 8 am – 7 pm
Town Hall, Top Floor
(handicapped access via elevator in back)
 Town Meeting
Saturday, March 14, 9 am
Dublin Consolidated School
(park at Yankee, take a bus)
Dublin Women's Club Pre-Town Meeting
The Dublin Women's Club invites all interested citizens to attend the annual pre-town meeting forum on Wednesday, March 4 (snow date Thursday, March 5) at 7 pm in the downstairs meeting room of the Town Hall.
Selectmen, Budget Committee representatives and department heads will be available to answer questions on the 2015 budget and warrant.
Refreshments and a short Women's Club meeting will also be held.
Each year this event provides a valuable opportunity for townspeople to become acquainted with the issues before Town Meeting. We hope you will attend.
Your Absentee Ballots
For the Dublin Town Election on March 10, absentee ballots returned in person must be returned by the person who is voting absentee to the Town Clerk's Office by 5 pm on the day before the election. The Town Clerk's office will be open all day on March 9 from 9 am to 5 pm for that purpose. Absentee ballots returned by mail must be received by the day of the election (March 10) using the envelope provided. On Tuesday, March 10, the office is closed for Election Day. Otherwise, regular Town Clerk hours are Mondays from 9 am to 4 pm and 6 to 8 pm; Tuesdays from 9 am to 4 pm; Wednesdays, 9 am – 5 pm; and on Thursdays, 9 am – 4 pm.
Jeannine Dunne, Town Clerk, can be reached at the Town Hall at 563-8859.
Dublin Public Library
March brings the promise of spring. As the snow melts we dream of green gardens, colorful flowers, walks, and the packing up of winter clothes. Check out the gardening books, fitness books, and trail map books at the library so you are ready for spring.
Who Knows When Winter Goes? The title of a book by Mina and Howard Simon says it all as we leave February with four feet of snow and head into the first month of spring. Dublin Public Library story time will have fun activities planned around the uncertainty of it all.
The books, Bear Snores On and The Quiet Book will teach us about too much noise! Learn how construction trucks, backhoes and plow trucks move all that snow and dirt. Soap bubbles are quite fascinating. If we create our own bubble solution, will they float or freeze? If you've been reading about animals and looking for their tracks in the snow, you will love making mud prints.
Story time is held on Wednesday mornings from 9:30 to 10:30 am, March 4, 11, 18, and 25. Refreshments are served.
Books
The Boston Girl by A. Diamant
Sudden Light by G. Stein
In the Bleak Midwinter by J. Spencer-Fleming
Private Vegas by J. Patterson
The Nightingale by K. Hannah
Organic! A Gardener's Handbook by R. Bass
Perfect Witness by I. Johansen
The Whole Life Fertility Plan by K. Phillips
Dog Gone Back Soon by N. Trout
A Spool of Blue Thread by A. Tyler
DVDs
Downton Abbey 5
Alexander and the Terrible, Horrible, No Good Very Bad Day
Gone Girl
Meet Your Candidates:
Have questions? Looking for answers?
Want to meet the candidates running for elected office in Dublin?
Stop in the Dublin Public Library on Saturday, March 7,
from 10:30 am until 12 noon to chat with the candidates.
Coffee and snacks will be served.
Catch the FDPL Book Sale
Now is the time to stock up.
On Thursday, March 19 (5 to 7 pm), and Saturday, March 21 (10 to 12 noon), come to the lower level of the Library for the FDPL Book Sale.
The books at the Book Sale, which is put on by the Friends of the Dublin Public Library, will be priced to sell: beach and airplane books (two pocket books for 25 cents), books for the guest room (hardbound for 25 cents apiece), and books for visiting grandchildren (two for 25 cents). Trade paperbacks will be 50 cents each, and cookbooks and books for the coffee table a buck apiece. There is the usual collection of oddities, along with a box of the children's books that readers of a certain age will remember from reading under the blankets with a flashlight.
Support your library, and give our books new homes. Lots of old movies on tape and DVDs, plus CDs are free.
Annual Easter Egg Hunt
The Dublin Recreation Committee invites everyone to hop on over to our Annual Easter Egg Hunt on Saturday, March 28, at 10 am at the Dublin Public Library.
We will begin promptly at 10 am so arrive early. All Dublin children are invited to participate.
Please enter the Library through the lower level entrance and gather in the multipurpose room prior to 10 am. Don't forget to bring your own baskets or bags for the goodies you collect.
For more information, contact Recreation Committee member Jennifer Bergeron at 563-8308 or jberge@nullmyfairpoint.net.
Town of Dublin Public Notice
Highway Safety Committee
The Town of Dublin is seeking residents interested in volunteering to serve on the Highway Safety Committee.

The Highway Safety Act of 1966 made federal agencies responsible for the implementation of a national highway safety program. The Act provides financial assistance for state and local agencies on a matching basis. The federal funds are funneled through the New Hampshire Highway Safety Agency to the municipalities. This is where the Police department is able to secure grant funding for highway safety equipment such as radars/lasers and funding for salaries to staff additional patrols targeting speed, DWI, and other motor vehicle infractions.
The Dublin Highway Safety Committee will also make recommendations to the Board of Selectman on projects that impact traffic and propose ordinance changes such as stop/yield sign locations, speed limit changes, and any other issues that impact traffic safety within the town of Dublin.
Residents interested in volunteering may contact Stephen Sullivan, Chief of Police at 563-8411 or ssullivan@nulltownofdublin.org. It is anticipated that the committee will meet quarterly.
Monadnock Folklore Society
Fay Baird, Kate Seeger, and Kim Wallach.
Nelson Town Hall on Sunday, March 15, 7 pm.
Admission is $12. $9 (senior, youth, or in advance).
Candidates for Town Positions
Selectman – Three Years
(Vote for One)
Walter Snitko
Allan Pinney
(Write in)
Moderator – Two Years
(Vote for One)
Timothy R. Clark
(Write in)
Library Trustee – Three Years
(Vote for One)
Celeste Kidder Snitko
William B. Gurney
Martin Smith
(Write in)
Budget Committee – Three Years
(Vote for Two)
Judith A. Knapp
William B. Gurney
(Write in, 2)
Cemetery Trustee – Three Years
(Vote for One)
Brooks F. Johnson
(Write in)
Planning Board – Three Years
(Vote for Two)
Bruce Simpson
Todd Bennett
Steven A. Baldwin
(Write in, 2)
Trustee of Trust Funds – Three Years
(Vote for One)
Christopher J. Flynn
(Write in)
ConVal District Moderator – Three Years
(Vote for One)
Timothy R. Clark
(Write in)
Dublin School Sugar Shack
Come smell, taste, watch, and learn about the craft of making pure maple syrup at our first Dublin School Maple Day to be held on Saturday, March 28.
We are joining the hundreds of other sugar shacks open to the public during New Hampshire's Maple Weekend. Our Sugar Shack, located on Dublin Road (the road to Harrisville) will be open from 9 am to 12 noon. Enjoy great old-fashioned outdoor fun for families and friends with free tours, demonstrations, and tastings. Hope you can join us!
For more information, contact Donna Stone at 563-1285 or dstone@nulldublinschool.org.
Not all articles on warrants are recommended
by the Selectmen and Budget Committee.
Among those articles not recommended
by the Budget Committee (Articles 9, 11, 15, 23 and 24),
two entries follow on three articles from their supporters.
The views expressed on these pages are not necessarily
those of The Dublin Advocate or its staff.
Dublin Police Seek Radar Speed Display
By Stephen Sullivan
At the Dublin Budget Hearing (Feb. 10) questions were raised regarding Warrant Article 11, which is requesting $4,820 to purchase a Radar Speed Display Sign and two years' subscription to the ATS SmartApps Suite.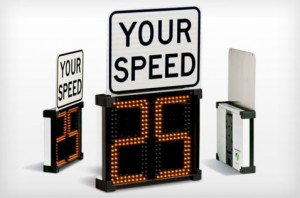 The Shield 12 sign display, manufactured and supported by All Traffic Solutions, State College, PA (www.alltrafficsolutions.com), is 15.5" x 13.5" and 3.12" wide. It weighs 12 lbs. (without batteries) and is easier to manage than the current trailer — even if it did nothing but display the speed of vehicles approaching it.
The SmartApps Suite provides a wireless connection to the sign and offers numerous reports and alerts to the police department. These reports can be used to develop traffic enforcement strategies using actual data from the location. The reports do not identify the vehicles that pass the sign, but they do record the time, date, and speed of the vehicles. With this information the police department can actively patrol a specific area at a specific time instead of wasting valuable man-hours sitting at traffic posts.
The SmartApps Suite does provide an imaging feature that has the ability to take still images from the sign. This feature does not have a lot of value in New Hampshire because New Hampshire RSA 236:130 bans the use of photo enforcement. That does not eliminate the value of this feature because it can also be set up to take still photos if the sign is being tampered with or vandalized.
The SmartApps Suite can send text message alerts to predetermined cell phones alerting the police to high traffic counts, tampering, or high speeds. Again these alerts do not identify violators but simply allow the police to direct their patrol/enforcement to a specific area.
The SmartApps Suite is not an ALR (Automated License Plate Reader) and does not record any vehicle specific information. The reports are the property of the equipment owner and are not stored or used by any other agency.
Stephen Sullivan is Dublin's Chief of Police. He can be reached at (603) 563-8411.
About Articles 23 and 24
By Miriam Carter and Mary Langen
This year's Town Warrant includes two articles submitted by petition by at least 25 concerned citizens in response to the impact of the timber harvesting project that occurred in Fall 2014. The scale and impact of the harvest on the 79-acre Town-owned property (designated as Lot 70, Map 7) attracted the attention of many Dublin residents and brought various issues to light.
The most visible and concerning parcel affected was the area surrounding the Town Highway Garage. In an effort to resolve an issue with pine trees too close to it, trees were harvested. Two and a half acres of land surrounding the building were clear cut. Town trucks, machinery, fuel, building materials, gravel, and salt are stored on this property. The new open land presents an opportunity to design a plan to best manage and store materials and meet current environmental standards.
Most notably, this land abuts Doc's Pond, which is a protected Great Pond.
Responsible stewardship of Town land and water resources affirms the environmental goals outlined in the Dublin Master Plan. The resolution and protection supported by these proposed Warrant Articles extends beyond the immediate neighborhood. Doc's Pond and the surrounding wetlands are valuable natural resources.
These two articles will help resolve environmental issues revealed by the timber harvest and take a proactive approach to resource management in the Town of Dublin.
Article 23* requests $2,500 to hire an environmental consultant to evaluate and recommend the best use and practices for management of this town parcel.
Article 24* requests $2,500 to help restore the area between the Town Highway Garage and Cobb Meadow Rd. (to the west of the driveway) with site-appropriate plantings.
Overall, the timber harvest yielded a profit of $19,919.15 for the town; $17,478.88 was deposited into the General Fund. The intent is to fund these articles out of the profit from the timber harvest so there will be no impact on the amount of revenue to be raised through taxation.
*Edited for length; please see Warrant for entire articles.
Miriam Carter is chair of the Conservation Commission; Mary Langen is a Dublin resident.
In keeping with the tagline of The Dublin Advocate,
"to encourage and strengthen our community,"
our newsletter focuses on the dissemination
of community information and entertainment.
The editor reserves the right to select and edit all material.
March is Maple Syrup Time
By Rusty Bastedo
New England Town Meetings get press attention worldwide in March, and Dublin's Town Warrant is reported on elsewhere in this issue of the Dublin Advocate. But March is also the time for production of maple syrup, a delicacy known to Native Americans long before European explorers of the New World arrived in New England. In order to report on the making of maple syrup in modern times, I interviewed Karen Keurulainen of Dublin's Morning Star Maple business.
Karen and her husband John began tapping maple trees and making syrup in Sharon, NH, in 1988, with 150 taps and an evaporator made from half of a 50-gallon oil drum that was lined with bricks to prevent fire damage to the barrel walls.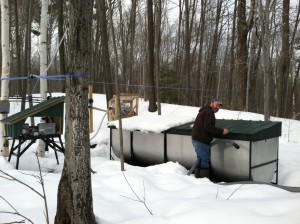 As they explained, it takes 40 gallons of maple sap, with a sweetness of 2% to 3% sugar content, to make one gallon of maple syrup that averages 66% sugar when the "cooking off" processing is complete. By boiling a few gallons of sap at a time, the couple produced several one-gallon lots of maple syrup. The wood needed for "cooking off" was substantial, but their 1988 production met the couple's own needs and permitted a small profit from sales.
Today John and Karen have 5,000 taps, on land leased from owners within a seven-mile radius of Dublin. In preparation for the short (Valentine's Day to early April) sap-to-syrup season, John begins to cut brush on the land in late November, so that the trees will have good sap production and ample daylight. Saplings that compete with trees scheduled for "taps" are removed at this time. Then equipment is checked one more time. Taps were washed at the end of the last season; plastic lines that carried sap were flushed with water powered by small vacuum pumps. At the beginning of the new season, the vacuum pumps hooked up to the plastic lines make pressure checks superior to manual inspections. Pressure in the lines is checked for any damage caused by deer, bear or squirrels.
In February, taps are set in the trees and lines are hooked up to the taps. Small electric-powered vacuum pumps are turned on to pull the early sap into stainless-steel tanks set in the woods. These stainless steel tanks fill rapidly, and the collected sap is piped to plastic tanks carried on trucks parked nearby. The trucks carry the sap to a reverse osmosis machine where, at high heat, the 2% to 3% sugar-content sap becomes a 14% sugar content product. The "sweet water" is then moved to an evaporator, producing a saleable product — maple syrup — that has a 66% average sugar content per gallon.
New equipment has made the work of "sugaring" somewhat easier than "in the old days," when steam and high temperatures in the "sap house" created an uncomfortable environment for workers as they fed firewood into the raging furnace underneath the boiling sap. Modern vacuum pumps also allow trees that could not be easily "tapped" because of upland locations to gain a gravity feed into the steel tanks placed nearby. Plastic lines can now be run through culverts under roads, and vacuum pumps enable sap to be collected from these lines as well.
But difficulties remain, despite all the changes in the business. Maple syrup is an agricultural product, and getting the product to market is still a challenge that syrup producers face today. If the weather turns frightful, a syrup-producing season can be ruined, then as now. Nonetheless, this is a product that Monadnock Region inhabitants have enjoyed for generations.
Russell Bastedo was formerly New Hampshire State Curator from 1997 to 2009. He has served on the staff of the Advocate since 1999.
Dublin Consolidated School News
By May Clark
Big news: Dublin's own Nicole Pease has been chosen to be the new DCS principal! Nicole, a long-time ConVal teacher at the South Meadow School, was also chosen as the Rotary Teacher of the Year last year. Nicole and her husband, Greg, are the proud parents of Zachary, who is a third grader this year at DCS. We couldn't be more thrilled to welcome Nicole to the leadership position of our school.
In other news, February was kind of a blowout, because we had so many snow days and delays. What an amazing stretch of weather! We did, however, host a wonderfully successful WinterFest, thanks to the Dublin Recreation Committee. We also managed to fit in an all-school field trip to the Eric Carle Museum in Amherst, Mass. It was a culmination of a residence week with our art teacher, Andy Shultz and ConVal Arts Enrichment, where everyone made Eric Carle-style collages.
We managed to complete our five-week ski program at Crotched Mountain, only by going skiing in horrifically cold weather. We're tough! Dublin School's Robotics Class visited with our third, fourth, and fifth graders, too, sharing the robot they made, and engendering all sorts of enthusiasm! Steve Lechner, our science guy, has been running his Inventor's Workshop on Tuesdays after school. It's great to see some of the creations coming from that experience.
March brings the annual DCS Talent Show. Our students will soon begin practicing for two performances, both on March 18, at 9:30 am and 6 pm. Everyone is welcome.
May Clark is Teaching Principal at DCS. She can be reached at 563-8332 or mclark@nullconval.edu.
Dublin Christian Academy News
By Sarah Katka
On Thursday, February 5th, the first and second graders had an Author's Party to celebrate publishing their first book, "The Amazing Book of Silly Critters." The authors spent more than a month crafting, editing, and revising two stories each for publication. Despite the frustrations of smudgy paper and a complicated illustration process, the students persevered, and the resulting book delighted the audience of friends, teachers, and parents who joined us for our party. Each author, dressed to the nines, read one of his/her stories aloud. The first and second graders, along with their parents, are very proud of this accomplishment!
Sarah Katka is the first and second grade teacher at DCA.
DCP Goes Live
By Cathy Carabello and Dan Millbauer
Dublin Community Preschool & Childcare Center (DCP) invites you to participate in our first-ever online auction as a fundraiser this spring.
If you have a service to offer or a product to sell, we hope you will seize this opportunity to generate some buzz for your business while also generating community goodwill.
We'll do all the behind-the-scenes work, but we cannot succeed without a variety of unusual and attractive goods and services to entice the public to make online bids. We ask you to donate something unique that will make people want to outbid other participants!
You do not have to be a professional to have someone else enjoy and benefit from your offering. Maybe you are a baker and could offer some homemade goodies. Or perhaps you have a farm and could offer some fresh seasonal produce or a discounted CSA share. Maybe you have an antique car and could offer a ride. Or maybe you have a unique craft that we could put in the spotlight for you. Maybe you could offer spring yard cleanup or cook a special meal.
Since DCP's online auction will run from April 17 to May 17, we will need your donations in hand no later than March 18.
Please send questions to cathy@nulldublinpreschool.org or call DCP at 563-8508.
Cathy Carabello is director/lead teacher at Dublin Community Preschool. Dan Millbauer is on its board.
Men Who Cook: Monadnock Family Services' 13th annual fundraising dinner (all homemade) will be held March 14 in the Zorn Dining Commons of Keene State College beginning at 5:30 pm. It will benefit ActingOut, a program that helps youth build self-esteem while exploring contemporary issues through expressive arts, group and peer interaction. Adults ($25); children (age 10 and under) $7 each. Contact Mary Delisle (mdelisle@nullmfs.org or 283-1568) for details.
Stormwater Runoff Control: Clean Waters, Part 1
By John Morris
In November, Felicity Pool wrote a compelling piece about the need to protect our water bodies and waterways. There are several things each of us can do to help.
Stormwater runoff is the biggest carrier of pollutants into water bodies in many lakes. Dirt/gravel roads contain phosphorus, which is eroded and carried into water bodies. Phosphorus promotes growth of plants and bacteria. Testing of water entering Dublin Lake via road culverts has shown high levels of phosphorus. Other pollutants are washed off lawns, fields, and asphalt roads. Controlling stormwater runoff is essential to controlling pollutants. The worst damage occurs in the most intense rainfalls. Controlling stormwater means controlling the intense rainfall runoff.
Remember that all runoff is going to enter a water body at some point so you should ask what you can do even if you are not directly on the water.
Ask yourself these questions: Have you seen water running down ruts in your dirt driveway? Is this water cloudy? Does it run into town road culverts? Is there gravel washed from your driveway into the road? Have you had to repair you dirt/gravel road regularly due to erosion? Is there erosion on paths? Do you have steep grades? Have you seen cloudy water running into town culverts or waterways?
If you answered yes to any of these, maintenance work is needed. Roads should be crowned in the center to make water shed off the edge of the road. Ditches alongside roads should have turnouts where sediment can settle and dissolved pollutants can be filtered. Driveways should not send water onto town roads. Steep roads need more frequent diversions.
Town culverts can't stop pollutants – we should ensure that the water reaching them is clean. Water bars can be used to divert water if there are no ditches.
For more information, see NH DES (http://des.nh.gov/organization/divisions/water/stormwater/stormwater-mgmt-homeowners.htm) and "A Shoreland Homeowner's Guide to Stormwater Management" (http://des.nh.gov/organization/commissioner/pip/publications/wd/documents/nhdes-wd-10-8.pdf).
Successfully diverting and filtering runoff will keep our water bodies cleaner. I have already contacted a contractor about redoing my road this spring.
John Morris is on the Dublin Conservation Commission, Lake Preservation Committee, and Planning Board. He can be reached at 563-7042 or jamnh@nullmyfairpoint.net.
The River Center Offerings: Our IRS-certified tax preparers can help you figure out if you are eligible for tax credits designed for those with moderate and low incomes. To schedule your tax preparation meeting, call 924-6800 or info@nullrivercenter.us.
Prevent substance abuse among teens: Parents can take a course designed to help them guide their preteens and younger adolescents away from drug use and other adolescent problem behaviors. Five-week session meets Thursdays, March 26 to April 30 (6:30 – 8:30 pm), and costs $15; childcare and dinner offered free of charge. Space is limited, please register at 924-6800 or info@nullrivercenter.us.
DS Student Wins Art Awards
The visual arts at Dublin School has a history of making waves, but this year it was a veritable tsunami. For a school with fewer than 150 students, Dublin won the fourth most Scholastic Art Awards in the state, beating out schools with ten times its population.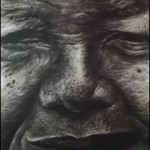 The number of awards won was a milestone in itself, and was made ever more substantial by senior Che Ryeong Jung who won, in addition to six gold keys and a gold key portfolio, an American Visions Best in Show Award and a thousand dollar scholarship to any school she chooses! Ms. Jung singlehandedly won more awards than 15 individual schools in New Hampshire, making her an institution unto herself. The American Visions Best in Show Award is a first for Dublin School and marks Ms. Jung as one of the best young artist in the state.
Some of the winning art will be on display in the Putnam Gallery from May 15 through June 30 for the "Senior Show."
Events at the Hub
By Nancy Jackson
On March 11, from 3 to 5 pm, Monadnock at Home is having a member meeting with a program entitled "Travelog of Ireland." Visitors are welcome. For details, please call 371-0809.
Ongoing Monthly Activity — Open Mic continues, Friday, March 13, from 7 to 9 pm. Come and play, sing, or simply enjoy the amazing local talent.
On March 17, is a community lunch at the Hub from 11:30 to 1 pm. It's free but donations are welcome.
Also on March 17, a Woman's Fellowship led by Candice Reed will take place from 7 to 8 pm. All welcome.
March Winter Forum: A provocative film is being shown on Saturday, March 28, from 3 to 5 pm. In an oil-scarce world, we know there are sacrifices to be made in the pursuit of energy. What no one expected was that a tiny Native community living down the river from Canada's tar sands would reach out to the world for help — and be heard. This unsettling documentary is a journey through the struggle playing out within the major environmental issue of our age. Join us to watch Tipping Point: The End of Oil and participate in a post-video discussion, facilitated by Dublin resident Nancy Nolan, co-founder of the Lexington Global Warming Action Coalition in Lexington, MA. Suitable for middle schoolers through adult. Refreshments will be served.
Nancy Jackson serves on the board of the Dublin Community Center.
Community Supper at DCC
On Tuesday, March 24, the Dublin Community Church will host a homemade-meatloaf dinner from 5:30 to 6:30 pm. Come one and all to join us for great food and wonderful company. (If ConVal cancels school, the dinner is also canceled.)
Monadnock United Way Campaign Results
By Barbara Summers
"Wonder…" was the theme for Monadnock United Way's campaign in 2014-15 and it was wonderful! So far, we have raised more than $1, 837,688 (which is 85% of our goal of $2,106,234).
Here in Dublin, we raised $6,517.00, thanks to the efforts of team members Judy Knapp, Nancy Jackson and Margaret Gurney.
It was another economically difficult year because of the trickle-down effect of the uncertainties of the previous three years. So kudos and appreciation to all of those businesses in town that supported the campaign, listed here alphabetically: Ava Restoration Services, Dublin Health Benefits Group, Dublin School, Farmer John's Plot, Francis McKenna Woodworking, Gammy Bird Consulting, Hedge House, Moose Maple Nursery, New York Life Insurance, Niemela Construction, She's So Fine Hair Design, The Friendly Farm, and Yankee Publishing.
Special thanks and appreciation go to the employees, our friends and neighbors at Yankee Publishing for their support and generosity, and for their company match. They lifted our goal and spirits in Dublin.
As part of the wonder, Dublin residents used the MUW funded agency programs approximately 300 times in 2014. Some of the agencies offering services include Monadnock Family Services (MFS), Home Healthcare Hospice and Community Services (HCS), Big Brothers/Big Sisters of Western NH, Monadnock Worksource, MAPS Consulting Services, and Monadnock Adult Daycare.
It never ceases to amaze us that the money donated to the Monadnock United Way does come back to the residents of the town of Dublin, our neighbors, our friends and our families. That is why the campaign is so important for the Monadnock Region and our town.
It is not too late to donate for the 2015 season. A generous donor has pledged to match one for one any new donation. Therein lies the wonder!
Thank you everyone. For more information about the Monadnock United Way, its services or agencies, please visit www.MUW.org.
Barbara Summers is Dublin's Team Captain for the United Way.
Speakers at Rotary in March
By Sue Copley
The Monadnock Rotary Club meets on Tuesdays at 7:30 am in the basement of the Dublin Community Church for fellowship, breakfast, and to hear engaging, interesting speakers. The March speakers will be as follows:
March 3: Jerry Branch and others, Membership Orientation
March 10: May Clark, "The Important Role of the Small Town Schools in our ConVal District"
March 17: Ben Robinson, "Raylynmor Opera's production of The Magic Flute"
March 24: Bill Gurney, "Keene's Regional Center for Advanced Manufacturing"
March 31: MaryBeth Hallinan, "Two Rivers Community Choir and its Musical Support for those in Hospice/Palliative Care"
Sue Copley is a member of Monadnock Rotary.
Save the Dates: May 1 & 2
Dublin Community Church Rummage Sale
While sorting through your spring/summer clothes, remember
that someone else might enjoy clothes that you have tired of.
Just drop them off in the bays on the east side
of the church in the center of town.
Thank you.
A Remembrance of Richard Meryman: 1926 – 2015
By David E. Howe
"A Loss Survived"
Dick Meryman chose those words as the title for his remarkable story of the talents, love and strengths of his first wife, Hope Brooks. She was a gifted artist in watercolors, oils and woodcut prints and was represented by four galleries. When her life was cut short by cancer in 1975 Dick wrote, "Hopie was the definition of a commitment to art."
And so was Dick! No, he didn't do art, but he shared his father's (Wig's)* love and respect for it. His art was in listening to words and studying voices and faces of people from every walk of life — and then "painting" them in his books and stories as he starred as reporter and editor of Life magazine, and in his personal conversations.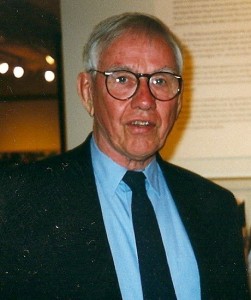 The subjects of his artistry were usually well-known persons from the front pages, ones whom most of us would never meet. He was welcomed by them and they confided in Dick as he asked well-conceived questions, taped their responses and presented a perfect image for all of us to know. Included were "Mank," the wit, world and life of Herman Mankiewicz; "Broken Promises, Mended Dreams," an alcoholic woman who fights for her life; "Enter Talking" and "Still Talking," two introductions to Joan Rivers. Further written portraiture was offered in interviews with Marilyn Monroe, Elizabeth Taylor, Laurence Olivier, Charlie Chaplin, Mae West and Louis Armstrong.
His longtime identity with art became even stronger as his friendship with Andrew Wyeth and his family became closer. His two books on the subject are definitive and renowned.
His interests, skills and achievements extended far beyond the written and painted worlds. A fast and furious tennis player, he surely was the conqueror of Thayer Greene on a good day. Lightning could not beat him in a ski race. His was the only "yacht" on Dublin Lake that stayed upright in a storm that overturned every other vessel during a closely contested race. (There were 20 bottoms, 20 skippers and 20 crewmembers floundering. Only Dick and his crew could be seen.)
Dick was a graduate of Phillips Academy Andover, an All American lacrosse player at Williams College, a Navy Ensign in WWII and an accomplished fly fisherman. His soft sense of humor, generosity and a smile were always there. Most of all, though, his wife, Liz, has been there with him — as partner, counselor, critic, and friend. He would tell us his survival depended on her — and Liz would say the same about Dick.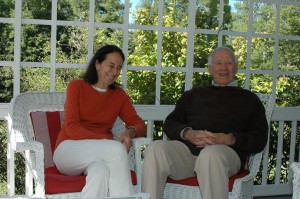 My thoughts are with Liz Meryman and their four children, Meredith, Helena, Ned, and Christopher, their spouses and six grandchildren.
David E. Howe has known and admired the Meryman family since 1935. He moved from Marlborough to RiverMead in Peterborough in July 2013.
* Dick's father, Richard S. Meryman, a well-known artist and member of The Dublin Art Colony, was known as "Wig." He was a student of Abbott Thayer's, was acclaimed for his landscapes and portraits, and was the director of the Corcoran Gallery of Art in Washington, DC.
Rita "Joan" Goldmann: A Remembrance
By Terri Hastings
I remember Joan as a dear friend who loved family and friends here and in her native New York.
When they retired, Joan and her husband Artie moved from Whitestone, NY, to Dublin in 1989. Prior to that they came often for weekends and holidays to visit with Joan's daughter Suzan Dennis and family.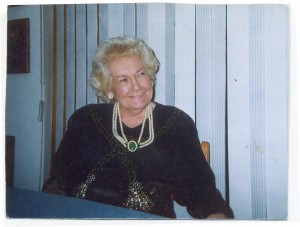 We met them in the mid '80s and spent many fun weekends with them. Joan loved St Patrick's Day probably more than Christmas, and she and Artie had a great party every year. The food, singing, also a little dancing and lots of fun were had by all.
Joan is my definition of a lady: always perfectly groomed, gentle, kind, generous and loving.
She belonged to many organizations in Dublin, Jaffrey, and Peterborough, giving generously of her time.
Joan will be missed by her family, daughters Suzan Dennis and Deborah Cvirko, four grandchildren, four great-grandchildren and many friends. To know Joan was to love her.
Terri Hastings lives in Dublin with her husband Bryan. They are owners of Hastings Real Estate.
The Lady Before the Legacy
By Nancy Cayford
Did Doris Haddock's politics define her? Not according to me. In the last 11 years of her life, she became Granny D and was consumed by the cause of campaign-finance reform, but the other 90 years — before all the politics — made her the woman we knew here in Dublin. Her trek across America, which made her a popular icon, was a standout event, but those of us who were close to her before the walk knew a different Doris. In some ways we lost her to that cause.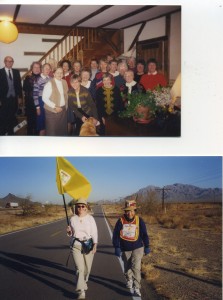 Doris and I belonged to a group of learners and dancers called Tuesday Academy and it was to this group, in 1998, that she announced that she wanted to be a pilgrim and walk across America. We all cheered her on. Our group leader Bonnie Riley told her she needed a cause. She chose campaign finance reform.
In May 2000 I walked with Doris for two weeks in Texas. Following is an excerpt from a note I received after I returned home:
"As much as I hate to admit it I seem to be gaining in celebrity status. And man oh boy, it ain't easy. I have to be so careful to be always "up" always "cheerful" always full of joie de vivre, because how I feel seems to affect everyone around me. Yesterday there was a full 4-inch column down the length of the front page, a cartoon of a tiny Granny D in front of a truck driven by two pigs in another paper, and in a third a long editorial by a former speaker of the house, Jim Wright, calling me a patriot Paul Revere. Oh Boy! Well we asked for it didn't we." Hugs, Doris
Doris was an actress — a very good one. In her earlier days, even with a newborn daughter Betty, she sent out flyers across New Hampshire advertising her one-woman play. It was during the Depression, but she got the gigs. She would take Betty along and perform for Granges, Women's Clubs and such, earning money for her family.
Doris was a working woman. For years she managed the books and business of a shoe company in Manchester. She was a religious woman, devoted to the Dublin Community Church, always serving on a board, standing up for what was right, and sometimes causing a stir! The proposed Rte. 101 bypass was one of her causes that shook up the town. Yes, Doris was an activist. She and her husband Jim went to Alaska in the '60s to join a successful effort to stop nuclear bombing of a bay that needed to be opened. She loved a good cause.
And Doris was a life-long athlete, climbing mountains with her family, skiing with the children, and always walking. Lest I forget, she was also an artist! Her beautiful hooked rugs adorn the homes of all her grandchildren.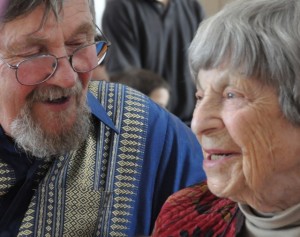 She certainly was every woman's woman. It has been five years since she has gone onto her new life, but every morning I think of her. I can't help it because her photo is hanging on my wall. She looks at me with her placid, half-smiling look as if she's saying, "Well Nancy, let's go to a movie tonight and let's talk about… ".
Nancy Cayford, a longtime friend of Doris', has lived in Dublin for 36 years.
Ed. Note: The Advocate's earlier coverage on Doris were "Remembering Granny D" by Mary Loftis (August 2014) and "Doris Haddock's Response Lives On" (March 2012).
WinterFest 2015 A Great Success
By Jen Bergeron
Mother Nature cooperated this year with the annual WinterFest celebration sponsored by the Dublin Recreation Committee February 7 by providing all the snow we needed. The big new hit this year was fresh, hot pizza served from the DCS bread oven in addition to hot dogs, chili, cocoa, coffee, music and a bonfire — all provided free of charge. Thank you to Shana Brautigam, Kin Schilling and May Clark for cooking delicious pizza.
Throughout the day, the Monadnock Trail Breakers Snowmobile Club provided free snowmobile tow rides into the beautiful woods. Thank you to all Trail Breakers.
At the Box Sled Race, the main event at every WinterFest, 31 children raced on 21 box sleds. After some very close finishes, the final results were Drake Bay in first place (from Greenfield); Ryan Seaver in second (Dublin); and in third, Daisy Ober, Na'yasia and Ada Barbosa (all from Dublin). Congratulations to all racers.
Creative awards went to "The Dragon" by Drake Bay; "The Patriot" by Grace and Emma O'Brien (Dublin); and tied for third: "Dublin Duck Tour" by Carter and Garret Rousseau and Zach Pease and the "Dublin Holiday Duck Tour" by Sydney Rousseau.
Thank you to everyone who helped make WinterFest 2015 possible. We'd especially like to thank John Albano for providing the sound system and music as well as Kelly Blanchette and Chrissy Kastner for cooking in the kitchen. Also our thanks to Tatum Worcester, Dublin Police Chief Stephen Sullivan, and Lorrie Lewandowski.
Jen Bergeron is a member of the Dublin Recreation Committee. Other members include Vira Elder, Chair; Dan Albert, Mike Caron, Ken McAleer, Bec Stapleton, and Winnie Sundstrom.
Other Regional Offerings
Two Bereavement Support Groups: Hospice at HCS will offer a group in Peterborough for people aged 65 or under who are grieving the loss of a spouse or partner (Mondays, March 9 – April 13, 5 pm to 6:30 pm). "Picking Up the Pieces" meets at HCS, 45 Main Street, Suite 316, Peterborough. Hospice at HCS is offering another group in Keene for parents who have experienced the death of a young adult (Wednesdays, March 18 – April 22, 4:30 pm to 6 pm). "Life Cycle Interrupted" will meet at HCS, 312 Marlboro St., Keene. To register for these free groups, call Marguerite Cheney at 352-2253.
Impact Child Abuse: Although child maltreatment (neglect and abuse) occurs in our state, it rarely makes the news. You can make a difference in these young lives. CASA of NH, which provides guardians ad litem to be the voice of these children in court proceedings, offers an independent study, a blended training of classroom and at-home study, in April. Visit www.casanh.org/onlineapplication or call 603-626-4600.
Frost Heaves' Comedy: The comedy show returns to the Peterborough Players March 27 and 28. Nonsense on tap features McYankees (a new semi-fast food chain), the Police Log (actual items from the local news), and more. The Speed Bumps band will play favorite oldies and Fred Marple will bring the news from Frost Heaves, the most under-appreciated town in New Hampshire. Tickets are $18 from the Toadstool and Steele's in Peterborough, Rousseau's music in Jaffrey, at the door, or from frostheaves.com. Call Fred Marple at 603-525-3391.
###