The Wonder of Hands, a book written by Edith Baer, is the inspiration for February's Story Time at the Dublin Public Library. Hands can do all kinds of things and we will use our hands for puppet making, working with clay, finger painting, and more. We will even clap our hands while we sing some songs! Join us Wednesday mornings from 9:30-10:30 am on February 1, 8, 15, 22, and 29.
A special Family Time will be Tuesday, February 28 at 6 pm. If you're on vacation that week, come try your hand at golf or tennis on the Wii. Bring a friend and enjoy a night at the library where the entertainment is always free!
Movies and books are available for checking out and crafts are ready to create. Refreshments served.
New Books:
Tiger's Wife by T. Obreht
The Taker by A. Katsu
A Brief History of Thought by L. Ferry
Love in a Nutshell by J. Evanovich
Annual Book Sale by the FDPL
Friends of the Dublin Public Library announce its Annual Book Sale on Saturday, February 11, from 9:30 am until noon. Free to all!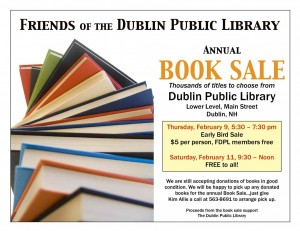 But wait, there's more: if you come two days earlier for the Early Bird Sale, on Thursday, February 9, from 5:30 to 7:30 pm, it will be $5 per person, and members of the Friends get in free.
Dublin Public Library & Friends' News