By Louisa Birch —

The Wildflowers of Dublin, N.H. has recently been added to the Town of Dublin website at the Conservation Commission link. A limited edition publication, it is no longer available in hardcopy.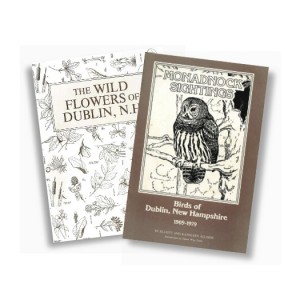 Written by Elliot and Katherine Allison, Dublin's well-known naturalists, and published by Yankee in 1980, it lists the 331 wildflowers the Allisons found in Dublin during their 30 years of searching. They note that, at that time, there had been little change in woodland wildflowers since 1752 when Dublin was first settled. However, they did see a change in the flora of fields and roadsides. Many non-native plants such as dandelion, clover, hawkweed and Queen Anne's lace had been introduced and easily spread. It is interesting to note that now, in 2012, we have several non-native, invasive plants never listed by the Allisons. They did not find Japanese knotweed, yellow flag iris, nor garlic mustard. Japanese knotweed is now one of our worst invasives, and may be found along many roads, overcoming all other plants. Yellow flag iris is less common, but it is here and will spread. Garlic mustard is a newcomer and will soon become common. Purple loosestrife was listed by the Allisons as "uncommon." A common plant now, it is frequently found in ponds, swamps and wet areas where it spreads easily and crowds out native plants. The Conservation Commission is working on the tedious and difficult job of eradicating both Japanese knotweed and purple loosestrife from our roadsides and swamps.
In 1979 the Conservation Commission asked William Bauhan to publish the Allison's booklet Monadnock Sightings: Birds of Dublin, New Hampshire 1909-1979.
In this booklet the Allisons combine Gerald Thayer's 1909 Dublin bird record with theirs made in 1979. The differences in the two records is remarkable because the Allison's record not only contains more than 30 species not seen by Thayer 69 years earlier, but it also finds great declines in population numbers. Tom Warren, a Dublin resident who helped the Allisons with their work, reports that these changes are due to habitat changes in Central and South America where the birds migrate in the winter, and to climate change. Tom says the changes are continuing and increasing, affecting the size of the populations as well as the differences in species numbers. Deforestation and the continued use of DDT in Central and South America, and the warming of our climate are taking a toll on the bird population and causing changes in species variety. Birds once found south of us are now here. One often sees cardinals and mocking birds, which have only recently become common in Dublin.
Monadnock Sightings may be found on the Town of Dublin website at the Conservation Commission link. Hard copies are available for purchase at the Town Hall for $5.00 each.
Elliot Allison (1900 – 1994), a 5th generation resident, and his British wife, Katherine (1904 – 1994) were well-known and beloved citizens of Dublin. They were often seen walking along the side of a back road with their heads down looking for plants, or gazing up into the trees through binoculars searching for birds. Long-time members of the Thoreau Society and ardent followers of his philosophy, they were true naturalists. They contributed to the town as they taught children in the Dublin Consolidated School about nature for 25 years, and wrote many articles about nature as well as these two booklets. When they were younger they spent several years as foresters and fire wardens at Red Hill and Pitcher Mountain. Both were also accomplished musicians and composers, and gave music lessons. The Allison's booklets are a treasure chest of knowledge and an excellent record of the town's changing bird and wildflower populations.
Both booklets may be seen in the Dublin Library or at the Dublin Archives, and both are available at the Conservation Commission link of the Town of Dublin website. Either online or in hard copy, these booklets are valuable records and enjoyable reading.
Thanks to Jamie Trowbridge and Catherine Boeckmann at Yankee for their permission to use the Wildflower booklet and for transforming it into electronic format. Thanks to Nancy Campbell for transforming the Bird booklet into electronic format.
Louisa Birch is a member of the Dublin Conservation Commission.
Wildflowers and Birds of Dublin