—By Larry Ames
The Monadnock Folklore Society presents Tim Eriksen, regarded as the best ballad singer of his generation in concert on Friday, March 2, at 8 pm at the Nelson, NH, Town Hall. Admission is $12/$9 (senior, youth & advance internet).
Tim Eriksen is acclaimed for transforming American tradition with his startling interpretations of old ballads, love songs, shape-note gospel and dance tunes from New England and Southern Appalachia. He combines vocals with inventive accompaniment on banjo, fiddle, guitar and bajo sexto – a twelve-string Mexican acoustic bass.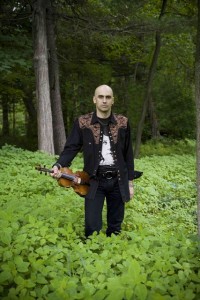 While Eriksen's curiosity and passion have led him on many musical journeys besides American roots, all his explorations are linked by the qualities of intensity, directness, and authority that combine in a music that captures a truth about human experience and expresses it without apology.
Tim Eriksen's work as an ethnomusicologist and teacher has included research on shape-note music in New England and the venerable Sacred Harp four-part harmony tradition. He is a founder of what is currently the world's largest Sacred Harp singing convention, in Northampton, MA. In the words of Paste Magazine editor Josh Jackson, "no one has done more to help revive Sacred Harp singing among a younger generation."
Larry Ames (lsames@nullworldpath.net) writes for the Monadnock Folklore Society (www.monadnockfolk.org).
MFS Presents Tim Eriksen in Nelson